When you're ready to publish your web site with Google Page Creator, you have several options. You can go to the Page Manager and place a check mark in the small box next to the page (or pages) that you want to publish.
Then, from the toolbar click the Publish button. The page will load momentarily and then your page or pages are finished publishing. That's really all there is to it.
Another option is to publish from within a page that you've opened for editing. When you finish working on your page, click the Publish button, shown in Figure 1.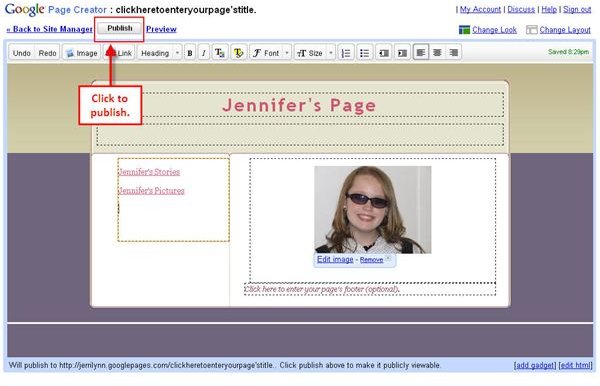 When you're publishing your page from within the page editor, you'll see a new toolbar appear. This toolbar, shown in Figure 2, give you options to see your published site or to share it with friends.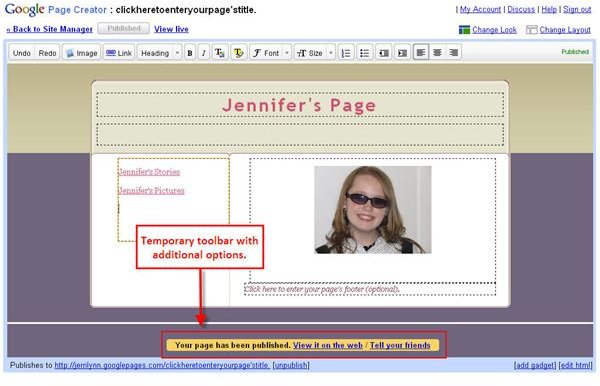 When you click the option to see your page live, you are taken to your web site. When you click the option to share with friends, an email with the link included automatically opens. All you have to do is address it and click send.
Finally, you can also publish your site right from the Page Manager, as long as it has not been published before or has changes that have not been published. If these conditions apply, you'll see a link on the right side of the page, as shown in Figure 3.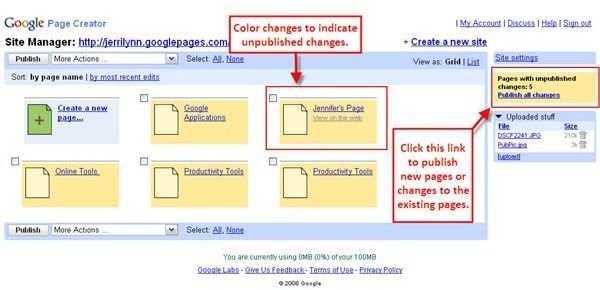 One other neat feature, which is also shown in Figure 3, is that pages with unpublished content will be shown with a different color than pages that have current, published content. This allows you to see quickly which pages have been published or updated and which have not.
Publishing the site with Google Page Creator is much easier than with some other web design programs. All you need to do is choose the page you want to publish and then click the button. There's nothing else for you to do. Google Page Creator handles it all. And because you can access the Publish button or command in a variety of ways, you can work in the way that's most comfortable for you.
[This article is excerpted from Google Powered: Productivity with Online Tools by Jerri L. Ledford (ISBN: 978-0470109656, Wiley, Jan. 2007).]
This post is part of the series: Create Your Own Web Page Using Google Page Creator
Google Page Creator is an easy to use, web-based web page creation and editing software. Pages created using Google Page Creator can then be published in the Google Pages Community. Learn how to use Google Page Creator to start building your own web pages in no time with this article series.