Creating web sites is somewhat of a dynamic activity. The site changes, sometimes before you even publish it for the first time. And instead of jumping through hoops to change something, you would always prefer the easiest way possible to make the changes, right? You're in luck. Even with the links that you've created on your Google Pages web page. Google gives you some simple options for changing the links on your page if you want or need to.
After your link has been created, click it and the Link toolbar appears, as shown in Figure 1. This toolbar contains links that leads you to the page (click the link name), Edit Link dialog box (Change), or to the page to edit it (edit page).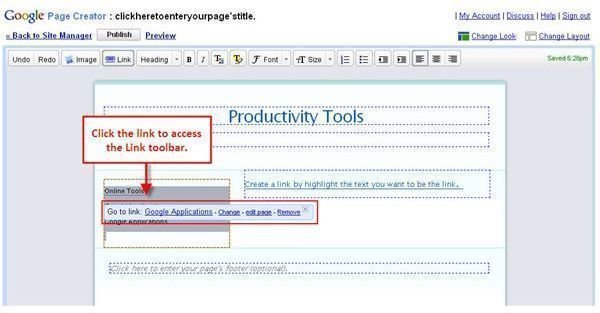 You can also delete a link by clicking the Remove Link button on the toolbar. Be careful when you select this option, however, because it will delete both the link and the text that is used for the link. The link will also be removed completely from the Edit Link dialog box, so if you decide you want to add it back, you'll have to recreate the link completely.
Adding Graphic Links
Not everyone likes to use text as the basis for links. If you prefer to use graphics or pictures for your links, you can use those as well. All you need to do is add the picture, click it, and then click the Link button. Then follow the same steps listed previously for adding the link and you're in business.
That's all there is to working with links in Google Page Creator. It's a quick and easy way to ensure that your site visitors can jump around your web site, or even off the site completely if they're finished. Giving your web site users these navigational controls will ensure that they can surf around your site with ease and won't become stuck in a frustrating circle of dead ends.
[This article is excerpted from Google Powered: Productivity with Online Tools by Jerri L. Ledford (ISBN: 978-0470109656, Wiley, Jan. 2007).]
This post is part of the series: Create Your Own Web Page Using Google Page Creator
Google Page Creator is an easy to use, web-based web page creation and editing software. Pages created using Google Page Creator can then be published in the Google Pages Community. Learn how to use Google Page Creator to start building your own web pages in no time with this article series.