One aspect nearly everyone enjoys when designing a web site is playing with the different colors and effects that are possible with whatever program you're using. However, this is one area where Google Page Creator is a little lacking.
If you want to change the color of your Google Pages web site, you have only two choices. The first is to change the design of the site completely. That's the only way to change the background colors of your (or page). But, if you're happy with your background colors and what you really want to do is change your text colors, then you're in luck, because you do have that option.
You'll find the button for text color on the toolbar above the work are in Google Page Creator. To use it, highlight the text that you want to change, and then click the button. As shown in Figure 1, the color pallet opens, and from it you can select the color you want to use.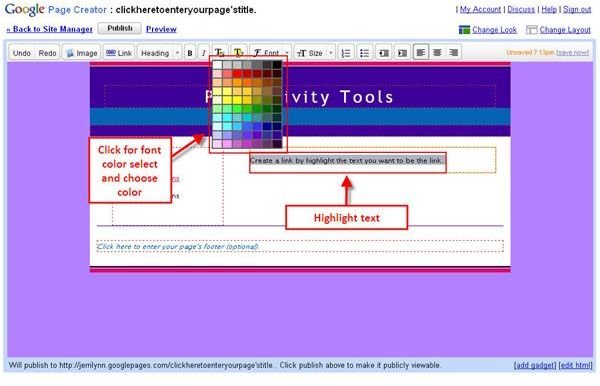 There are also some text effects on that same toolbar. You can add bold, italics, and bulleting, and even change the alignment of your text using the buttons on this menu. But if your'e looking for WordArt, or if you want to customize the colors of your background, you only have one choice — code it in HTML. You can edit the HTML of a page, so it's possible to make any changes that you want to make through the HTML.
However, changing the HTML does require some knowledge of it. As I discussed previously, you can find many great books on the subject if that's how you want to approach building your web site with Google Page Creator.
Google Page Creator isn't designed to be as powerful as some of the other web site creation software packages that you can buy. But then Google Page Creator is a free, web-based tool that allows you to throw together attractive, but simple web pages. If you want something more extensive than that, you should consider learning HTML or purchasing a more powerful web design package and the domain name and hosting that go along with it.
[This article is excerpted from Google Powered: Productivity with Online Tools by Jerri L. Ledford (ISBN: 978-0470109656, Wiley, Jan. 2007).]
This post is part of the series: Create Your Own Web Page Using Google Page Creator
Google Page Creator is an easy to use, web-based web page creation and editing software. Pages created using Google Page Creator can then be published in the Google Pages Community. Learn how to use Google Page Creator to start building your own web pages in no time with this article series.