Even though you only get a quick passing glance at your iPhone's wallpaper, you still get a full screen of it and it's there all the time. Naturally, many people are looking for free iPhone wallpapers. You can easily save pictures from online or take your own pictures and assign them as your iPhone wallpaper, or you can also use an app. A whole host of iPhone background applications have popped up, usually offering a huge number of iPhone wallpapers for little or no money. Here is a look at a few of the absolute best iPhone wallpaper applications.
3D Wallpapers and Backgrounds
3D Wallpapers and Backgrounds is a free iPhone wallpaper application that focuses in on 3D images. These 3D iPhone wallpapers are not a 3D movie quality experience. Instead these 3D iPhone wallpapers are images with a computer generated 3D feel. You are going to get a four panel display of 3D iPhone wallpapers, and then you can select one to view in full. If you like it then save it to set it as your free iPhone wallpaper. There is a nice variety to 3D Wallpapers and Backgrounds, and if you like fantasy themes and a neo-tech feel then you can try out this free iPhone backgrounds application.
Backgrounds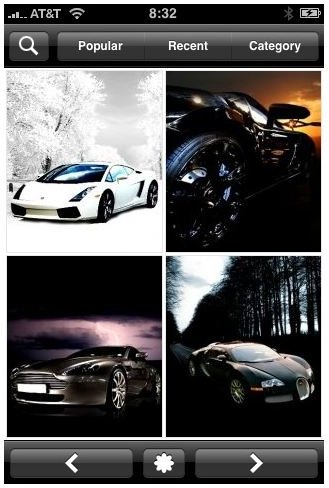 Backgrounds may be the free iPhone wallpapers application with the simplest name. Backgrounds is simply an iPhone backgrounds application that comes with a huge number of different images. You again get the four panel look and simply tap left or right to browse images. Many of these, like in 3D Wallpapers and Backgrounds, are strange images that people tend to think are great for cell phones and computer desktops. There is no particular theme of what free iPhone backgrounds are here, except that a generally surreal look tends to have quite a strong presence.
You do have the option to look at popular free iPhone backgrounds or check out the iPhone wallpapers in different categories, like Artsy, Patterns, Beaches, Animals, Quotes, Sports and Flowers. What is great about Backgrounds is that it may be one of the best general free iPhone backgrounds applications because it has a huge number of iPhone wallpapers and a variety that will hit most tastes.
Cool Wallpapers Free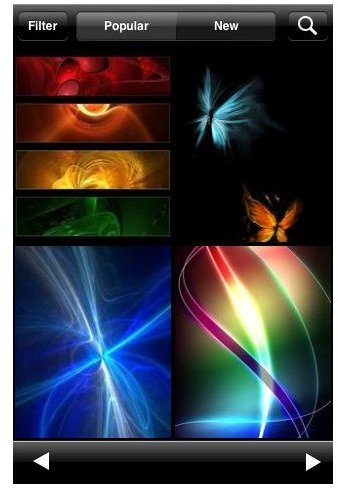 Cool Wallpapers Free does indicate in its title that it will give cool free iPhone wallpapers, and it really does deliver in a certain vein. Like Backgrounds, the free iPhone backgrounds that are in Cool Wallpapers Free are widely varied. Even more than Backgrounds, Cool Wallpapers Free prides itself on having a variable visual style in its free iPhone wallpapers, which means that some may have a hand drawn look, a digital look, an airbrush look, a photo look, or something else. The interface of Cool Wallpapers Free may be a little more basic than Backgrounds and 3D Wallpapers and Backgrounds, but it is quick and easy to scroll through the free iPhone backgrounds and find one that you want. This is even easier than taking screenshots.
iWallpapers Free – Best Wallpaper & Background App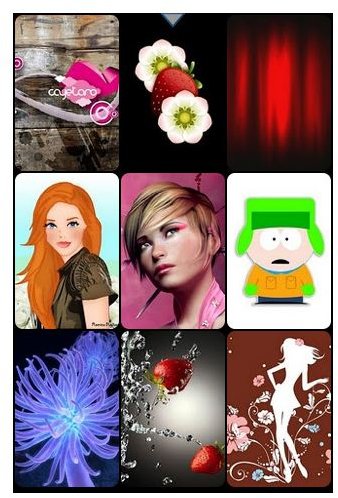 iWallpapers Free – Best Wallpaper & Background App really does remind you that the names of these free iPhone wallpaper applications are really just based on how people may identify them in search engines and when casually browsing. Though iWallpapers Free is identified as the best, it is simply one of the best iPhone wallpaper apps.
The design of iWallpapers Free is actually more involved than in Backgrounds, Cool Wallpapers Free, or 3D Wallpapers and Backgrounds. You start out with a news feed and then get an itemized list of different free iPhone wallpaper categories, each with their own graphic. When you select one of these categories you get a host of panels to choose an image from, which shows more at a time than the rest. This is much more organized than the other free iPhone wallpaper applications, but it also takes more time to go through. iWallpapers Free does boast over 150,000 free iPhone background images, which is impressive for a free iPhone application.
References
This post is part of the series: Top iPhone Applications
Here is a look at the top iPhone applications in specific fields.