Your Options
iPhone messaging is the pinnacle of convenience. You can send out an e-mail to your co-workers, read the PDF attachment your boss e-mailed you, text a picture to your family and text message or IM your friends all from the palm of your hand. iPhone brings all of these convenient messaging services together and makes multitasking easier than ever. With iPhone, you are able to send and receive:
SMS (text) messages.
MMS (picture, video and data) messages.
E-mail.
IM (Instant Messages).
Text Messaging on iPhone

Sending and receiving text messages from iPhone is simple, but can seem a bit foreign if you are new to Apple's user-friendly phone. Both SMS and MMS messages go to your Messages inbox, which is the green icon with a white speech bubble (as shown to the right). When a new message is in your inbox, a small red circle will appear in the corner of the icon with the number of messages that you have.
Check Text Messages
Open the Messages inbox by tapping the Messages icon. The inbox lists previews of each text message, in the order they were received. If more than one message is received from the same person, only the most current message will be shown. You would need to open the string of messages from that person to view all the messages sent by them. To open a particular message string, tap the message. New messages will be marked with a blue dot, indicating that they have not been read yet.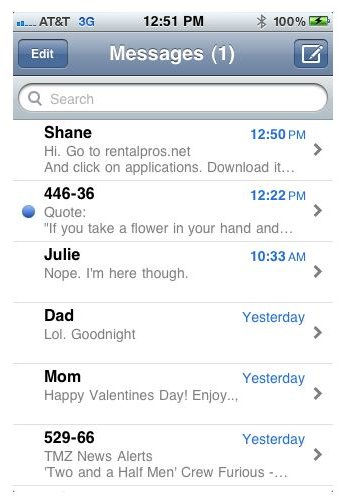 Send Text Messages
To send a text message, open your Messages inbox. Press the button in the top right corner that has a square and pencil. This allows you to compose a new message. Start typing the name of the contact you'd like to send a message to or the phone number. Tap in the text field directly above the keyboard to start typing your message. When you are done, press send.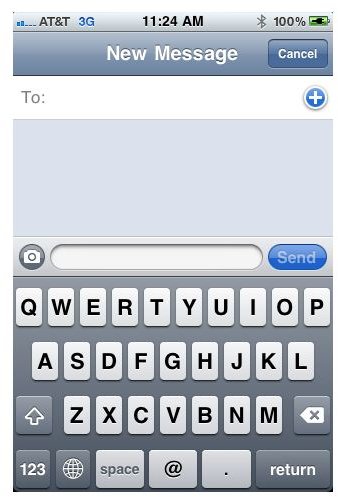 To reply to a text message you've received, open the message string. Tap the text box at the bottom of the message to open the keyboard. Start typing your response. Press send when your message is complete.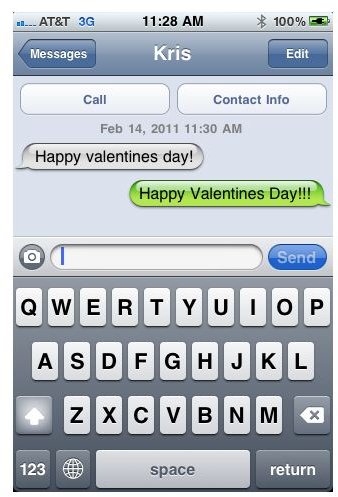 MMS Messaging on iPhone
With iPhone you are able to send and receive MMS messages. MMS messages are also delivered to your Messages inbox and may include: photos, videos, contacts, voice memos or Google Maps locations.
Check MMS Messages
Open the Messages inbox to view a MMS message that was sent to you. Tap on the MMS attachment to open it.
Send MMS Messages
To send an MMS message, choose the send option while you are viewing the item you'd like to send. For example, while viewing a photo tap the send button (a curved arrow) to see messaging options. Choose "MMS". This will open an MMS message with the item attached. Select your recipient, type your message and send. Sending each type of MMS message is slightly different, but very similar. For a detailed step-by-step guide, read the following MMS messaging guide.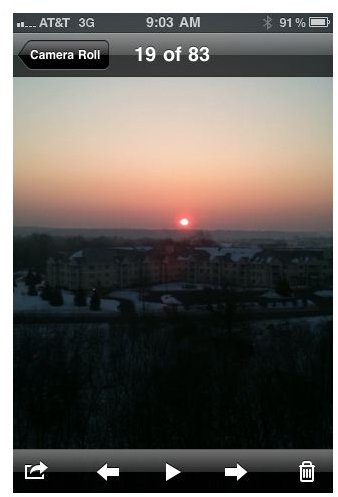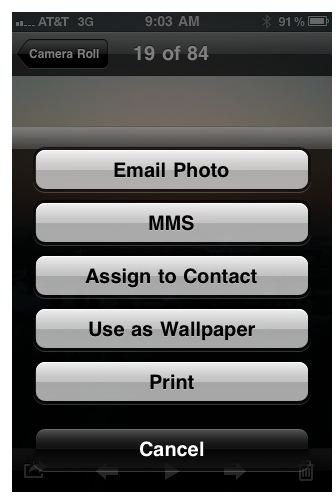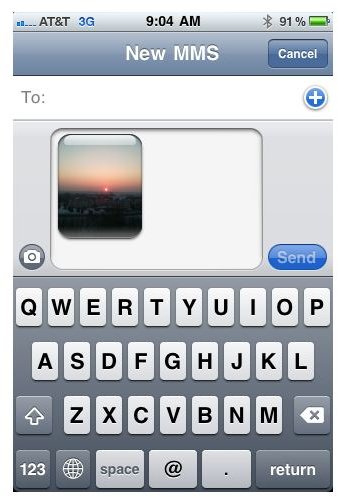 E-mail Messaging on iPhone

The convenience of sending and receiving e-mail from your mobile device can be a deal breaker for some people. Luckily, iPhone has great e-mail management capabilities. You are able to set up more than one e-mail account on your device at a time, making it possible to track your work and personal e-mail together but separately.
First, you'll need to set up e-mail on your iPhone. Once you've synced your e-mail accounts to your phone you can access all e-mails in a shared inbox or view them by individual inbox. The Mail app holds all of your e-mail accounts in one easy to access location. The Mail icon is a white envelope with a blue sky with clouds background (as shown to the left).
Check E-mail Messages
To check your e-mail messages, tap the Mail icon on your home screen. You will be taken to the screen with a list of your synced mailboxes. Select "All Inboxes" to view all e-mails compiled into one inbox or select the specific inbox that you'd like to view. E-mails will be listed with a small preview of the message. Tap on the e-mail you'd like to open to read it.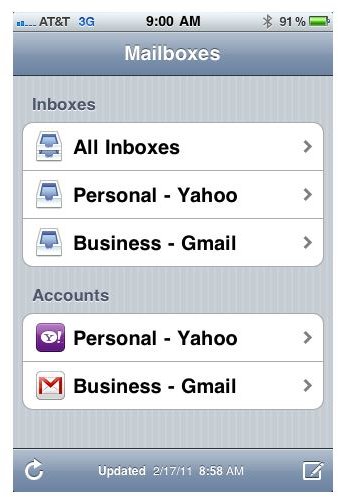 Send E-mail Messages
To send an e-mail, open the inbox you would like to compose the e-mail from. At the bottom right hand corner, press the button with the square and pencil. This takes you to the compose new message screen that allows you to write your e-mail. Enter text in all fields: To, Subject and the body of the e-mail. Press send (in the upper right hand corner) when you have completed your e-mail.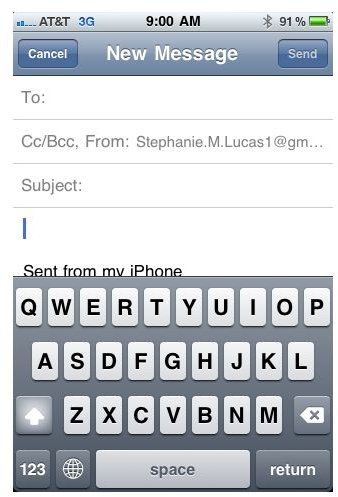 Instant Messaging on iPhone
The one type of messaging services that does not come standard with iPhone's operating system is instant messaging. There are many third-party IM apps for iPhone that will give you that capability. Internet IM services, such as AIM or Yahoo Messenger, have apps to use their instant messaging services on iPhone. There are also other IM apps, such as IM+ that allow you to manage multiple IM services that you may use. To start instant messaging from your iPhone, you will need to select and download an IM app from the App Store.
References