Apple made iPhone email setup easy to do. You can configure your business and personal email accounts to send your messages directly to your iPhone. Outlook, Google, Yahoo, Aol, MobileMe and many other email accounts can be setup on iPhone. Follow these simple steps and you can setup email on your iPhone in no time.
1) Go to the Settings menu on your phone. Select "Mail, Contacts, Calendars". The top of the screen shows a list of email accounts that are currently configured to your iPhone (if any). To add a new email account to iPhone, select "Add Account…" (as shown below).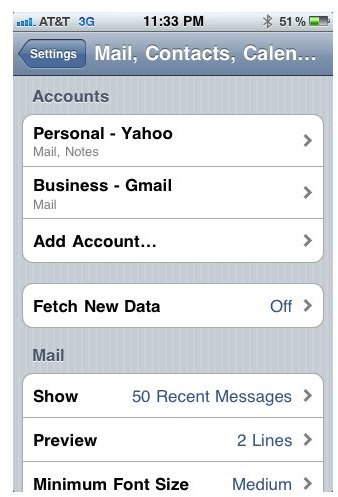 2) Select which type of email to setup to your iPhone from the menu (as shown below). If your email service provider is not listed, select "Other".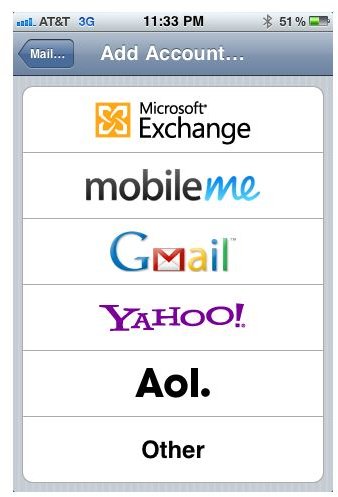 3) Enter your name, the email address, the password you use to check your email and a description name for the email account. Once the information is entered, press "Next" at the top right corner of the screen. Wait while your iPhone verifies and configures the email account.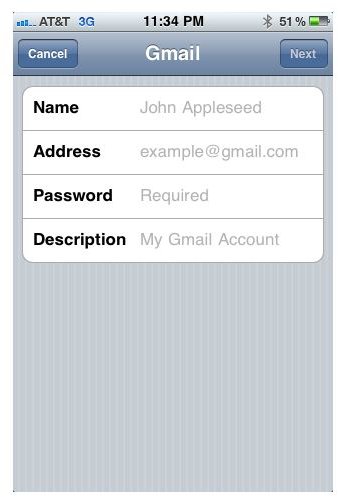 4) Once the email account is setup to iPhone, the email account options for that email address will pop up (as shown below). Set which features you would like synced with your phone. Mail will automatically be turned on, but you must manually choose whether to sync the calendar and notes from that email account or not.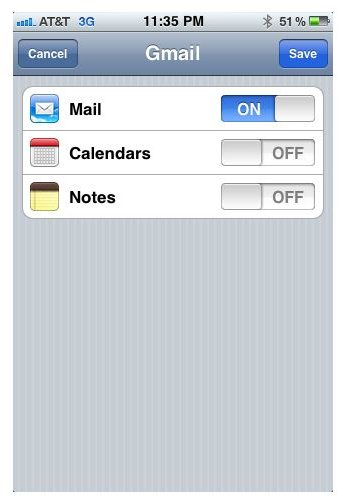 Turn Off iPhone Email
With the iPhone, you are able to disable email accounts whenever you want. If you turn off iPhone email, messages for the account you disabled will stop coming to your phone until you turn the feature back on. You can disable each email account separately, allowing you to pick and choose which email accounts are active and which are not. To turn email off on your iPhone, go to the Settings menu and find "Mail, Contacts, Calendars". Once opened, you will see a list of configured email accounts at the top of the options menu. Select the email account you wish to turn off. You will be taken into a summary page of options for that email account (as shown below). The "Mail" option, listed below the account information, has a slide button that will likely have "ON" selected. Press the slide button to off. This will disable the mail from that account, but keep the information saved to your phone.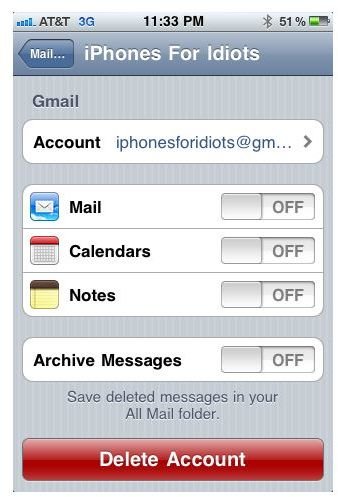 If you'd like to permanently remove the email account information from your iPhone, see the section below about how to delete email accounts from iPhone.
Delete iPhone Email Accounts
Deleting email accounts that have been configured to your iPhone is simple. Start by opening your Settings menu and going to "Mail, Contacts, Calendars". Find the list of email accounts at the top of the "Mail, Contacts Calendars" menu and select the email account that you wish to delete from the iPhone. You will be taken into a summary page of options for that email account (see below for example). Press "Delete Account" at the bottom of the email options menu.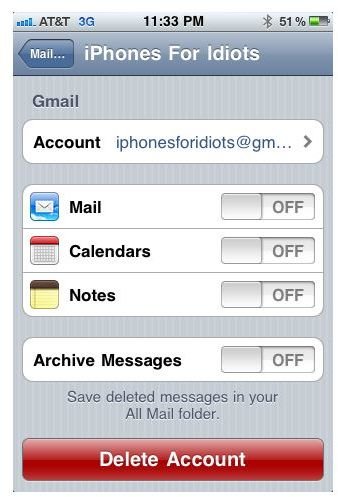 Once "Delete Account" is pressed, a confirmation box will pop up (as shown below) warning you that selecting this option will remove the account's data from your phone. To proceed, press "Delete Account" again. Once pressed, the email account will be deleted and removed from your phone.