Report Overview
The Top Landing Pages report can be found by logging into your Google Analytics Dashboard, clicking on Content, and then Top Landing Pages. The landing pages of a website are the ones people come to your site on, so it is very important to know where the top landing pages are. The report looks something like this: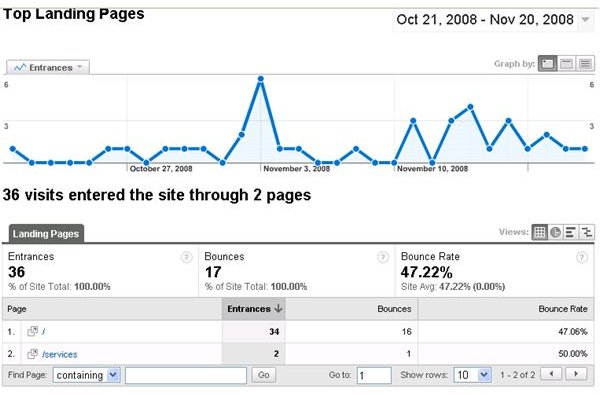 The statistics on this report are:
Entrances:How many different people came to the site on this page.
Bounces: How many people left the site immediately after coming to the page as entrance.
Bounce Rate: The percentage of visits out of total which were bounces.
Making the Report Work for You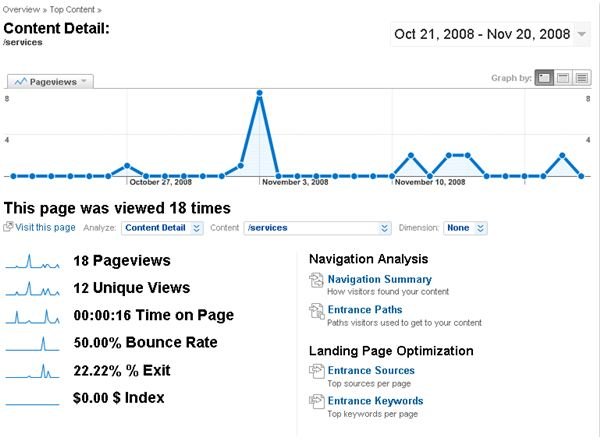 Clicking on any of the entrance pages will provide you with the more detailed statistics report from Top Content, which you see on the on the left. You will see more detailed information in regards to these statistics:
Page Views:This is the total number of page views for the specified date range.
Unique Page Views: This is the number of page views out of the total coming from new visitors to the site.
Time on Page: This is the average time the user spent looking at the page.
Bounce Rate: This is the percentage of people who click onto the site and click on to something else very quickly, because your site did not provide what they were looking for or they did not mean to arrive at it in the first place.
% Exit: This is the percentage of users who exit the site after viewing the page.
Taking heed to the trends you see here, you can make adjustments to your content in order to keep the traffic on your site longer, reducing the bounce rate. Adjustments to the content may also increase the likelihood of people moving on to other pages in the site, which will decrease the % Exit rate. Look at the navigation analysis in the more detailed content report in order to find out more about where people are going after leaving the landing page, and look at the Landing Page Optimization information to ensure you are keeping both SEO and audience temperament in mind.
This post is part of the series: Improve Your Website Content with Google Analytics Report Data
Learn about all the Google Analytics Reports under the Content area. This will help you understand more about your website content and help you make it better to get more traffic and higher conversions.