Report Overview
This report is accessible by logging into your analytics dashboard, clicking Content and then clicking Top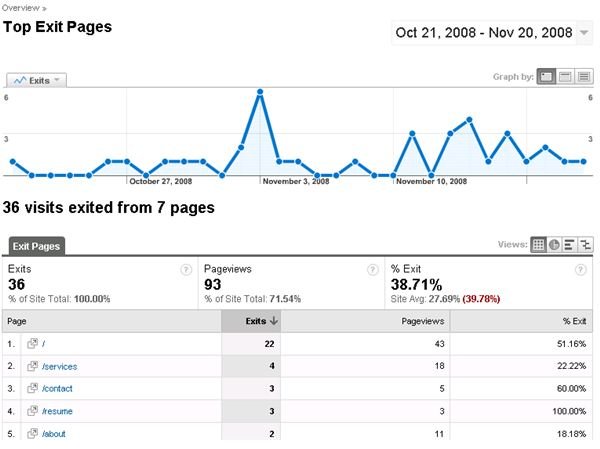 Exit Pages. The report looks something like this:
This report will show you the pages people leave on, the page views, the exits, and the exit percentage. Clicking on each link in the list of exit pages will provide you with the more detailed report with information on t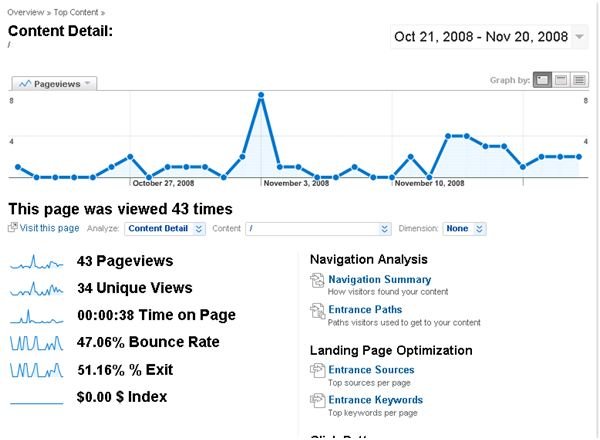 he navigation path, and landing page optimization information.
The detailed report will look something like this.With the information in these reports, you are armed with an arsenal of tools to help improve your site based on what your users are telling you through their browsing actions.
Making this Report Work for You
The information on this report is very valuable to you in regards to the success of your website. For instance, if you notice the entrance page is the same as the exit page, you know people are not staying on the site long enough to look around. If you notice people leaving from the home page, you may want to make some changes, because chances are they aren't viewing many other, if any, parts of the site.
If you see a large percentage of the exits coming from the same page, logically where you want to see your visitors leaving the site, you are doing something right and should not change too much around. The thing to remember is any changes may adversely affect your site metrics, just as any change may improve them. Carefully alter the site based on what research tells you needs to be done, changing one thing at a time until you are sure you have pinpointed the cause of the negative trend.
Pay close attention to your advertising to see if it is affecting the page people are coming in on, as this can also affect the page people decide to leave on.
This post is part of the series: Improve Your Website Content with Google Analytics Report Data
Learn about all the Google Analytics Reports under the Content area. This will help you understand more about your website content and help you make it better to get more traffic and higher conversions.