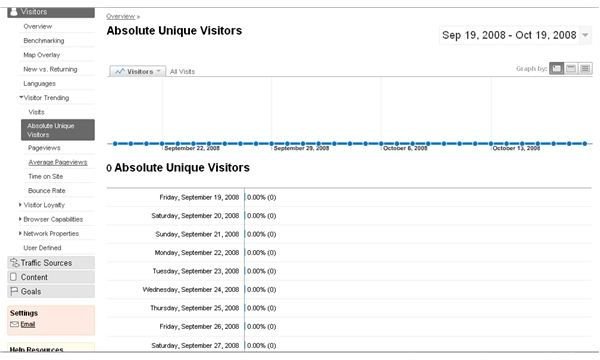 The next article in our Visitor Reports in Google Analytics series is Visitor Trending. This report has six subsections and will help you see the overall picture of how your site is doing in terms of visitors from different areas over time. In order to access the Visitor Trending Reports, click Visitor – > Visitor Trending.
You will see a list of available reports. Each entry is a clickable link. Click one of these options to see a report. It will look something like the photo on the left.
Report Breakdown
Here is an explanation of each report.
Visits: This is the total number of visits to your site during the selected time. A visit counts as any time a person loads your site. If a person has been inactive on your site for thirty or more minutes and comes back to it, it counts as another visit.
Absolute Unique: Since the thirty minute inactivity standard causes another visit, take a look at the absolutely unique visits. This will help you determine how many users were repeat visitors, and how many were fresh visitors, who had never been to the site before.
Page Views: This is the total number of times each page has been viewed. This will help you determine which parts of your site that are working best, and where you may need to rework your content.
Average Page Views: This tells you the average number of page views per user. With this, you can determine how many users like more than just one portion of your site. You'll also find out where you are providing the most relevant content. If the number is low, it means that people are either not exploring the site, or don't need to take the time to navigate beyond a certain number of pages.
Time on Site: Here, you will learn how long users spend viewing your site. You will be able to tell if they are finding something and leaving quickly, or if they are sticking around. Use the time on site along with Average Page Views to help you figure out if users are finding what they want.
Bounce Rate: This gives you the percentage of visits that were "click backs" to whatever page brought the user to your website. If you have a high bounce rate, you likely have users who meant to go to another site, or not finding the information they need on your site. If the majority of your traffic comes from search engines and your bounce rate is high, it's a good indication that you need to adjust your content. If this is not the case, it may just mean that you were visited briefly to see what you were about, or that someone typed your domain by mistake.
Changing Data Views
You can change how you view this information by clicking View, in the lower right of corner of the screen.
Change the date range of the report data you are viewing by clicking the date box in the upper right, and selecting a new range.
To change the graph view to hour, day, week, or month, click the icons next to Graph By at the top right of the graph.
Day-by-day or Hour-by-Hour Breakdown
Below the graph you'll see a breakdown for each interval within the range you selected. There is a whole number and percentage indication so you have a written record of the information represented on the graph.
This report will help you understand the overall trends. Trend information helps you gauge:
if your advertising is effective.
if your recent updates affect traffic.
if you site needs updatedpdate
if you're providing relevant information
generally anything else you can think of to help you better tailor your site toward your audience.
This post is part of the series: Learn More about your Visitors with Google Analytics
This series takes a detailed look at the reports offered in the Visitors tab in Google Analytics. Learn about all the reports, what they track, and how you can use them to improve your site.