Electronic Baby Toys: Finding the Best Present for a Newborn Baby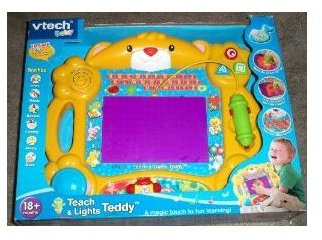 Introduction
Babies aren't getting their own iPhones, yet, so no worries on that account. But toy manufacturers are busily coming up with electronic baby toys. These toys are designed for babies, with bright colors, large keys, and tough, drool-proof construction. Here are four choices just for babies. And if they become bored with them, they'll probably enjoy the box they came in.
VTech Baby Teach & Lights Teddy
The VTech Baby Teach & Lights Teddy Electronic Interactive Writing / Learning Toy is several electronic baby toys in one. It has a large touch screen that lights up, and an electronic "crayon" that helps teach toddlers numbers and letters. There is a joystick built-in that controls the toy's lights, and shape buttons that display stamps. There are four play modes: one each for numbers, games, drawing, and letters that are controlled by a mode selector switch. The VTech Baby Teach & Lights Teddy has letter buttons for learning the letters, as well as a drawing mode. Number mode helps babies learn to count, and the whole thing is totally standalone, so you don't have to have any cartridges or accessories to have fun playing with it. Two parent-friendly features are the volume control and the automatic shut-off system to prevent wasting battery life. The VTech Baby Teach & Lights Teddy costs $49.99 at Amazon.com.
Chicco DJ Piano Electric Keyboard
Electronic keyboards are great electronic baby toys, and the Chicco DJ Piano Electric Keyboard is made just for babies. It's an electronic keyboard that has a built-in microphone and even a mixer. It features lights, drums, plus a joystick and DJ scratch effect. There are three different play modes, and it's designed for children ages 1 to 5 years. It weighs 2 1/2 lbs. and measures 4 3/4 x 14 3/4 x 14 3/4 inches in size. You can get the Chicco DJ Piano Electric Keyboard for $34.99 from target.com.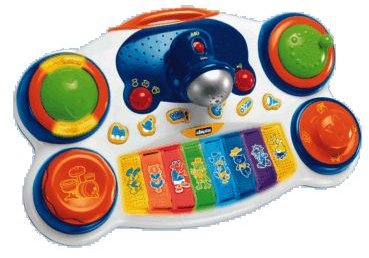 My First Laptop
Since you definitely don't want your infant to get their hands on your real laptop computer, a good substitute is the My First Laptop Developmental Playset, a "laptop" made just for babies. It makes sounds like a real laptop booting up, and has a fuzzy mouse, a sliding star, and a built-in musical touch pad, and the screen has an outer space theme. It even comes with a spaceman action figure suitable for babies. This toy is baby safe from birth to 3+ and costs $17.95 from geniusbabies.com.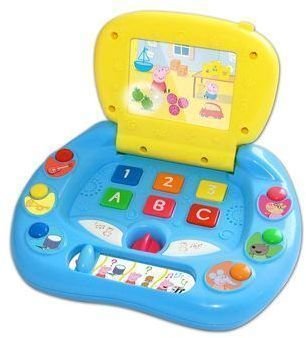 Or, if your child is a little too old for this, the VTech Tote & Go Laptop is another option worth considering. You can learn more about this toy by reading our VTech Tote & Go Laptop review.
Skippy the Smart Pup
As for two-in-one electronic baby toys, the VTech Skippy the Smart Pup toy combines two of man's best friends (the computer and the dog) in one cool baby toy. Designed for babies 18 months and up, this electronic puppy helps your child learn language and motor skills. It also helps teach cause and effect relationships. You can use the wireless infrared bone to control where he plays, and you can use the remote control buttons to make him dance, sing, and bark. He also has a light-up nose button, ears that swing, leg buttons, and his tail is a moving joystick. This is a toy that's cute, educational, and fun all at the same time, with sing-along songs, flashing lights, and entertaining sounds. Skippy can be yours for $44.95 from mastermindtoys.com.