VTech Tote & Go Laptop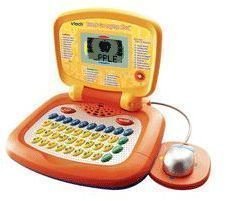 Every smart parent dreams to provide a fun experience to their children that is not only entertaining but educational as well. It seems that VTech, top creator of educational toys or Electronic Learning Products (ELP) felt the same, for they were able to come up with a 21st century tech toy that serves as a learning tool as well – welcome the VTech Tote & Go Laptop.
This laptop almost comes close to the real thing, with some borrowed features like a keyboard, real screen, plus a detachable mouse with a mouse pad, only that it is customized for kids with a colorful design.
Educational Toy (5 out of 5)
Rarely are there fun toys that really aid in the learning process of a child, but the VTech Tote & Go Laptop does the job perfectly for the ages designated. There are more than 30 educational activities installed that are excellent even for kids in preschool or kindergarten, especially those who are struggling in the basic learning skills.
There are 10 activities for alphabets, including letter sounds, 10 for math, 10 for shapes, grammar, music and even mouse handling. Enhancing vocabulary, grammar, and mathematical skills will likely be easy and addicting as the activities are easy to learn and play just right for kids backed by an engaging music and a cute motivating monkey character.
Fun (4 out of 5)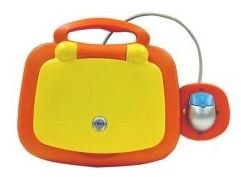 The fun begins when the child can actually feel and own a seemingly almost-real laptop. The detachable mouse that works for either left-handed or right-handed kids is good anywhere and so is the laptop, as it can be easily folded up as a carry-around play thing.
It is the music background that entices the child in having fun with the VTech Tote & Go Laptop. It also has different sound effects and volume control. There are cute animations presented on the screen. However, the downside to the VTech Tote & Go Laptop is that the size of the screen is so small, which is disproportionate to its general structure, and the images presented are not so clear to see. The VTech Tote & Go Laptop could have been better if the screen occupied more space for the child to appreciate the graphics.
Activities are centered on learning and the activities have different levels of difficulty, so as your child learns, the VTech Tote & Go Laptop will offer more for the child. Also, the entire package comes in great bright colors that kids will automatically adore.
To maximize the fun and learning purpose of the VTech Tote & Go Laptop, it is recommended that parents guide the child to understand the installed games. After all, this is a great medium to have an interesting and full-of-learning parent-child bonding.
Durability (4 out of 5)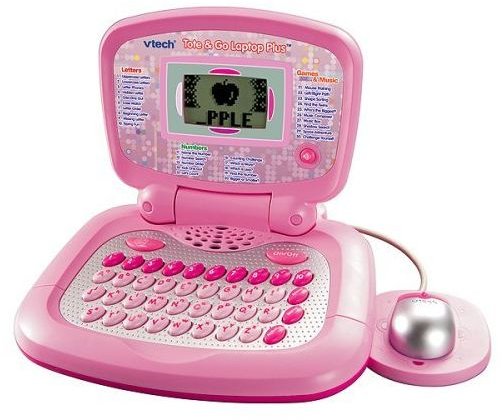 Durability is a great factor for toys and most especially for this one. Real laptops are not ideal for a child to handle, but the VTech Tote & Go Laptop will last long enough to withstand years of playing. Expect long-playing performance with the laptop's extremely durable exterior. It may fall many times yet will still remain intact.
The VTech Tote & Go Laptop is battery operated (AA batteries) which can be either a good or bad thing, depending on how you look at it. The plus side is that there's no electric danger for the child. The down side is that parents will have to get rechargeable batteries to sustain the laptop's life.
Overall Satisfaction (4 out of 5)
The manufacturer recommends the VTech Tote & Go Laptop for kids ages 3 to 6, but with its challenging educational nature, will probably also be appropriate for children ages 5 to 7. With its ability to engage and educate, this laptop-clone toy is definitely a great educational toy for every curious child.
Toys are the best birthday presents that toddlers expect and will truly appreciate to receive on their special day. To be guided carefully, here are some Tips for Purchasing the Best Toddler Toys for Birthdays and Holidays.