VTech Sit-to-Stand Learning Walker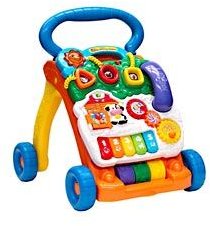 VTech is one of the leading suppliers of electronics devices including the educational toys for children. One of these learning toys is the VTech Sit-to-Stand Learning Walker, a great toy companion for babies from 9 months old to 36 months or 3 years old.
The VTech learning walker motivates your little ones to walk from their cute tiny steps to bigger steps. As a walker, it supports the child to take steps one at a time while he grabs the blue easy-grip handle of this walker. When tired, the child can just sit on the floor and play along with the detachable and colorful play panel. With guidance from parents, this educational toy is full of fun and learning while sitting, standing or on the go.
Educational Features (5 out of 5)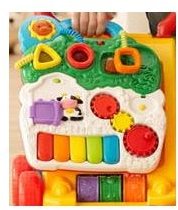 This is one walker with star-studded features. Aside from the typical features of a walker, there is a removable play panel on the front where little voices cheer as the child plays music on the 5 colorful piano keys with flashing lights on every key press. On the upper portion near the easy-grip handle and beside the detachable phone, there are three easy-to-remove triangle, circle and square shapes with attached springs. The baby will enjoy sorting the shapes and return them to their proper places. Since the theme of this VTech learning walker is barnyard, there is a cow in the middle and beside it is a duck hidden inside the fun-to-open and close door. Located below are three rollers in violet, green and orange colors which the baby will enjoy spinning.
This walker is not just for learning how to walk but the child has the option to remove the front base and play on games complete with upbeat sounds and flashing lights. With these fun and educational features, the VTech Sit-to-Stand Learning Walker deserves a perfect score.
Durability and Design (4 out of 5)
The design is claimed to be durable with the "chunky wheels" and a light easy-to-grip handle. It is easy for the baby to take the first steps as it is lightweight and easily controllable with a wide sturdy base. It runs smoothly and allows slow movement, even on smooth floors and it transitions well to carpeted and hard wood floors.
However, it would have been better if the phone had an attached string because it falls easily when moving and there's also a great chance that it will get lost. Since the detachable phone problem is just a minor thing, the VTech learning walker still deserves a good score for its durability and design.
Price to Value (5 out of 5)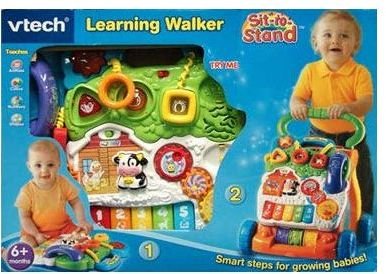 This VTech Sit-to-Stand Learning Walker is composed of a fun and learning activity center and a walker in one. Compared to the price of other educational toys, an activity center alone or a walker alone has almost the same price as the VTech learning walker. So with this multiple fun toy package, excellent learning features, great design and durability, the VTech Sit-to-Stand Learning Walker is an excellent find!
If you can't find it in the malls near you, you can order the VTech learning walker at the official supplier's website, for the price of $29.99. You just need to shoulder the shipping fee for the shipping weight of 7 lbs. It is highly recommended by VTech and parents who have bought this for their children. This toy is highly recommended.
Also check out the VTech V-Motion Review and the VTech Tote & Go Laptop Review for more VTech toys.