Internet Explorer Enable Cookies – Are Cookies Important?
If you enable all cookies in Internet Explorer, you may end up downloading malware onto your machine. Before talking about how to enable cookies in Internet Explorer, let us understand why and what cookies to enable so that you stay safe.
Cookies are small files that store essential information such as login information, information about the website, information about your computer etc. Other cookies may contain codes that send your privacy information to third party websites. It is always better to block down third party cookies. Third party cookies refer to cookies set by partner websites or ad portions on the website that you are visiting. These cookies sometimes keep a track of your browsing habits and hand over the information to websites that set them on your computer. This does not mean that the website you visited is to blame. In most cases, the website you visit is not responsible for all the cookies. It is responsible only for the cookies that it sets on your computer.
The website that you visit may store login information so that you do not need not login each time you visit the website. For example, while logging into a website such as google.com, if you click to select "remember me", it will store a small file that contains your ID and password which will be valid from few hours to few days. Some cookies need to gather local data so that the websites displays properly.
Thus, cookies are both important and dangerous. I would recommend that you should allow only First party cookies and block all Third party cookies. The following section explains how to enable cookies in Internet Explorer.
How to Enable Cookies in Internet Explorer?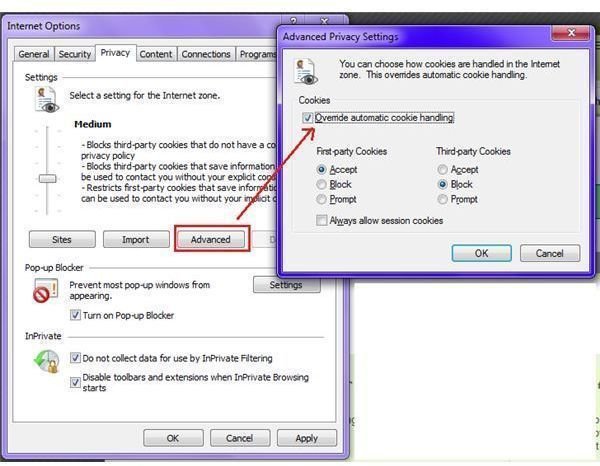 To enable cookies in Internet Explorer in a way that you are safe, you need to block third party cookies. However, if you do not enable cookies in Internet Explorer for the first party – the website you are visiting – you might now be able to view the website and probably get an error as well that would say "Cookies not enabled. Please Enable Cookies". To achieve this, follow these steps:
1 Open Internet Options from the Control Panel;
2 Select the Privacy tab;
3 Click on Advanced button;
4. In the Advanced Privacy Settings window that appears, click to select Override Automatic Cookie Handling;
5. Under First Party Cookies, select Allow;
6. Under Third Party Cookies, select Block;
7. Click on the OK button to close the dialog and to return to the Internet Options dialog.
8. Click on the OK button again to close the Internet Options dialog.
These settings will always block third party cookies while allowing the first party cookies so that you can view the website you wish.
In case you get the message "cookies not enabled" even after you enable cookies for the first party website, you can always go to the Advanced Privacy Settings dialog (step 4) and select the Always allow session cookies. This should enable cookies in Internet Explorer without you having to compromising on security and privacy to view the desired websites.
If you still have any problems or doubts when trying to enable cookies in Internet explorer, please contact us through the comments section so that we can assist you. In case you contact for problems, please mention the Internet Explorer version and Operating System.
This post is part of the series: Troubleshooting IE – More on Internet Explorer Problems
This series is a follow up to How to Repair Internet Explorer 8 When it Hangs. It includes articles containing general information on Internet Explorer and troubleshooting IE for certain problems.