The Need for More Than One Business Plan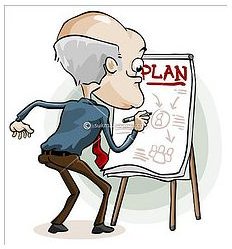 Unlike for-profit business plans, some elements of a non-profit business plan may need to be rewritten and revised when its time to fund a program, project, or when seeking angel funders. Non-profit business plans are also needed at business formation and outline everything about the non-profit, including forecasting. Keep in mind that not every non-profit business plan will satisfy certain audiences.
While items in a business plan such as your visions, values, and structure may remain the same in every business plan, other elements such as financials, specific project information, and items that are geared toward a specific possible funding group may need to be revisited each time you send out your business plan.
A non-profit's feasibility study or mission plan are both documents the board of the non-profit should create and include in business plans. These documents usually remain the same unless the feasibility or mission of the non-profit changes.
Non-Profit Startup Business Plan Elements
According to SCORE, a sister organization of the Small Business Administration, there are certain elements that should be included in a non-profit business plan.
Executive Summary – The executive summary is the part of the business plan financial institutions, private investors, and angel funders will read first. The need for it to be eye-grabbing is key. It must also define why your non-profit is different or unique, especially if there are similar non-profits in your area; a non-profit school for example. To create the best executive summary, get input from all board members as well as a people who benefit from your non-profit. Use these as a guide to help you write what makes your non-profit special and apart from other non-profits.
Organizational Structure – In this section, you will need to list the names of your board and their positions on the board as well as terms. You should also list how your non-profit is structured and that it does indeed qualify as a 501c3 and that you have documentation of its non-profit status. Other items to include might be what your plans are to expand along with what other similar non-profits are doing and how you will do it better.
Offerings – What does your non-profit offer? Is it a shelter for abused women? Is it a non-profit school that promotes a certain type of education? Be as specific as you can and include items that you have copyrighted or are your trademark. It's also a good idea to include what your future plans are for your non-profit.
Marketing – What market do you serve and how do you get the work out? Why do people in your community need your non-profit and what does your non-profit have that others don't? List your clients. For example, if you are a K-8 non-profit school, breakdown how many enrollees you have. If you are a non-violent shelter, list how many families you serve. Lastly, what do you do to promote your non-profit and how do you fund-raise? Outline all fundraisers and include annual fund drives.
Management – Beyond the board of directors, who is responsible for the day-to-day operations at your non-profit? List the qualifications of everyone who makes decisions. Do you have an advisory board? Do the board of directors help fund the non-profit through gifting? What qualifications do board members, advisory board members, and management personnel have to do to be appointed? If staffing is always and issue for you, state it in your management plan.
Milestones – What have you achieved since you opened your doors. Be specific on the community demands you have met. If you are a new non-profit what are you plans for meeting the needs of the people you will serve?
Include Financial Information
A large part of your non-profit business plan is your financial information. Here are some items you should include but keep in mind if you are submitting a business plan for angel funding, make sure you include matching fund information:
Capital – While non-profits are not in the for-profit business, you must still be able to display enough capital to operate your business on a day-to-day basis. List how you plan to do this including upcoming events or projects and include budgets.
Financials – These are especially important and will often vary depending upon whom you are submitting a business plan to. An angel investor may want to see funds matched by other angel investors where banks and lenders may look at how well you manage your funds. No matter whom you intend to send the business plan to, you should include an income statement, a balance sheet, cash flow statement, and at least two years of projected financials.
Project Funding – Include a project-funding plan in your business plan if you seek money from investors. The project must be detailed, explained in your executive summary or cover letter, and list every aspect of the project. For example, a non-profit school's science teacher might want to obtain funds to take students on a field trip to study indigenous plants and trees in your area and then make a film from what they discovered. For this example, you will need to include a project budget outlining every expense and include funds you've already received from other sources.
Grants – If your non-profit has received grants or other types of funding whether they are angel funders or grants from governments, these must be clearly outlined. You should also include why in addition to these funds, you require more.
Exhibits – Exhibits in a non-profit business plan might include short bios on the management, board of directors and advisory board. You should also include achievement graphs and charts that put your non-profit above the rest. If you have a brochure that outlines the purpose of your non-profit, it's a good idea to include that as well.
Where to Get Help
SCORE, or Counselors to America's Small Business Owners, offer great tools for non-profits. You can find much information by visiting a SCORE office near you or reading some of the great tips and articles they offer. We have also included in our Media Gallery, SCORE's Business Planning Tools for Non-Profits.
Writing a business plan for non-profits is not as hard as you think as long as you use the tools available to you. Visit SCORE, talk with SCORE counselors and attend some of their online workshops to help you complete your non-profit business plan.