What is a Business Plan?
Your first-ever decision to start a new venture, or your decision to expand your existing venture into a new line of business, is always preceded by some careful analysis of your own thoughts and an analysis of the various discussions you have had with people close to you. In a large majority of cases, you must have made a mental note of this analysis as well as the discussions you have had, and on that basis decided to plunge into the new business or to diversify into the new line of business. A written document, in addition to your mental recording, needless to say, will go a long way in helping you review your performance at some future date, vis-à-vis what you want to achieve.
Essentially, therefore, a business plan is a written document – a blueprint, if you like – recording whatever you want to achieve in your new venture or new line of business. You will realize that as soon as you begin to put your plan in writing. The dimension of time assumes critical significance, in as much as everything you want to do has to have a target date associated with that activity. Once you put your plan on paper, there are some fundamental questions you will want to ask yourself:
Why have I decided on this product or service?
What is the basis for the volumes that I have planned?
What do I need to do to be able to achieve the volumes?
How will cash flow in and flow out of my venture, and hence how much additional cash will I have or need at different points in time?
What if some of my assumptions do not materialize?
While there may be several reasons behind writing a business plan, the most important reason would be that a formal business plan gives you a structure for writing out what you want to achieve, and with this structure, all your questions will be answered systematically. Most important, your mental picture helps you very succinctly in answering the question of what to include in the business plan.
Structure of a Business Plan
The very first formal step you need to take before deciding to start a new venture or diversify into a new line of business, is to define your vision and mission, followed by the goals. At this stage you are assessing the innovation content in the products and/or services you want to get into, and justifying why you zeroed in on this. Obviously, the product-service mix you want to get into is itself driven by your vision, mission and goals.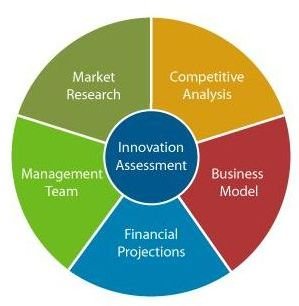 Having decided on the product-service mix, you are now ready for answering the question on how to write a business plan. Your next steps in this process will include market research and competition analysis, in order to determine the demand for your mix, and what strategies your competitors have adopted. This brings you to the business model for your own plan. The business model you adopt will determine the classic Product-Promotion-Price-Place mix (the 4 P's of Marketing), which will then lead to your marketing plan along with the revenue forecasts, the sales manpower plan and the promotion plan necessary to achieve the revenue forecast.
The next two elements in the business plan structure include the manpower plan, which will define your management team and the other support staff required. Putting all these together, you will also then need to define what assets you will invest in to start with, and how you will augment those assets – the capital expenditure Plan. Once you have gone through all these above steps, you are now ready to superimpose the administrative and general expenses, and on that basis prepare the financial projections which should include, ideally a 3-year projected profit & loss statement, balance sheet, and the cash flow statements.
Conclusion
If you now go back to the Why, What and, How questions we had raised in the first section, you will see they are all answered, subject to the assumptions you have made. Generally, a good business plan should also include a contingency plan that will outline how you will address any uncertainties that may arise.
With this you have an overview of everything you need to know for writing a business plan. Refer to the related links below for a more detailed understanding of each of these steps in the sequels to this article.
This post is part of the series: Writing a Business Plan: Step by Step
This series will walk the reader through the steps involved in writing a detailed business plan. The guides have been written using the natural intuitive thinking approach, so that the entrepreneur realizes the structure behind the written plan, and appreciates its value.