Setup Mini-DV Camcorder with Firewire
When I connected a mini-DV camcorder using firewire, and turned it on in VCR mode, nothing happened. It didn't ping, popup, or give other evidence of noticing. MM1, MM2.1, MM2.6 and MM6 didn't recognize it.
The Windows Live suite, with it's Video Acquire Wizard tucked into the Photo Gallery folder with Windows Live Movie Maker resolved it. After downloading and installing the suite, connecting the camcorder resulted in it being recognized. The needed driver was automatically found and installed in a few seconds, and I was ready to start getting camcorder clips.
I'll start with Movie Maker 1, the original version, and work up to the newest ones. I'm running each in XP or Vista compatiblity mode as appropriate, in case it helps.
Record (get video) with Movie Maker 1
Recording video from a mini-DV camcorder typically offers you the choice of a large DV-AVI file or a smaller compressed one in WMV format. I prefer the larger higher quality files up front, for maximum quality. Then when a project is finished I'll save it to whatever file type and quality is appropriate, depending on how I'm distributing it.
The DV-AVI file type recorded by MM1 is type II, a sightly larger file then the newer type I made by MM2 and higher. The type II is the same visually, but has an extra copy of the audio track. Some older software only works with type II files, while newer software accepts either.
The file comes into the computer as a single large DV-AVI file. MM1 then imports it into a collection as a set of clips, auto detecting the scenes and naming each based on time/date info. See the image below, which shows clips from a 6 minute segment. It's interesting that the footage was originally captured using MM2.1 in XP, made into a project there, saved to a DV-AVI file and copied to the camcorder. Now it's coming back from the camcorder tape using MM1 running in Windows 7, and the time/date code survived the whole trip.
Capture (get video) with Movie Maker 2.1
Version 2.1 is the movie making workhorse of XP. It's been around now for about 5 years and has provided endless hours of fun for those engrossed in making custom effects, transitions and title overlays. If anyone is going to miss the current version as they move to Windows 7, it'll be the dedicated users of MM2.1.
The capturing process in Windows 7 worked as in XP. The auto-creation of clips resulted in the same breakdown as in MM1, a dozen clips named after the time/date stamp info. The DV-AVI file is the newer type I instead of the type II obtained by MM1.
Import (get video) with Vista versions MM6 and MM2.6
Movie Maker 6 is in all versions of Vista while MM2.6 was a special release for those whose graphics cards didn't effectively run MM6.
Movie Maker in Vista shells out the importing process to a wizard. MM2.6 is a stripped down version of MM2.1 from XP, with the Capture feature removed.
I couldn't get the Vista capture wizard to work in Windows 7, the only one that didn't.
Import (get video) with Windows Live Video Acquire Wizard
The Video Acquire Wizard in the Windows Live Suite is the default for importing in Windows 7. When the camcorder is plugged in and turned on in VCR mode, it pops up to start the importing process.
The file created is a type I DV-AVI. When the import session is finished, Photo Gallery opens automatically and shows the thumbnail for the new clip. Windows Live Movie Maker doesn't have the collections feature of MM1 thru MM6… think of Windows Live Photo Gallery as the collection library. You bring the clips into Windows Live Movie Maker as needed for a project.
This is the usual and preferred way to get video from a mini-DV camcorder into Windows 7.
Summary
Movie Maker versions 1 and 2 are more self-contained applications than the software app teams of Vista and Windows 7. With a camcorder driver installed, MM1 and MM2 can be used in the Windows 7 environment.to get video from a mini-DV camcorder connected by firewire.
MM6 and the newest Windows Live Movie Maker are more like key players on a team, not stand-alone stars. The Vista team with MM6 uses a CaptureWizard which doesn't work in the Windows 7 environment, while the Windows Live team uses the WLXVideoAcquireWizard in the Photo Gallery folder, something designed to work in Windows 7 (and Vista).
I have more than enough ways to get my mini-DV camcorder tape footage into Windows 7. As my camcorder supports 'pass-thru', analog video sources connected to the camcorder with RCA and S-video cables are converted to DV by the camcorder.
I used a mini-DV camcorder and DV-AVI files to illustrate the process. Having WMV files created instead of DV-AVI is an option with each tool.
The next article in this series will look at the features available in these 5 versions of Movie Maker to create and edit movie projects.
Images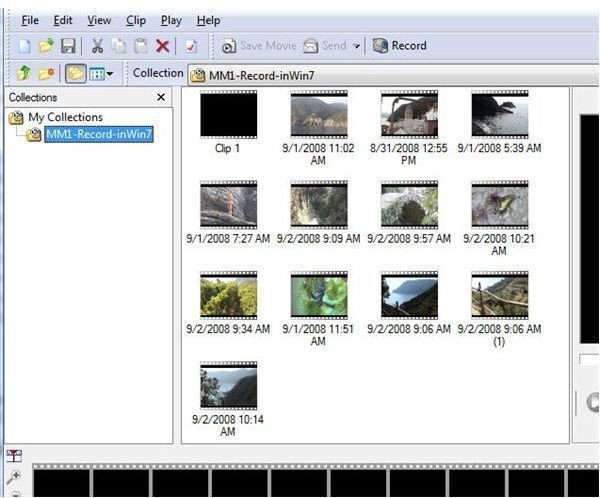 This post is part of the series: Windows Movie Maker in Windows 7
Starting with a clean slate, an operating system with no version of Windows Movie Maker included, I have 5 versions installed and running. This series explores how Movie Maker works in this operating system.