Take It to the Web!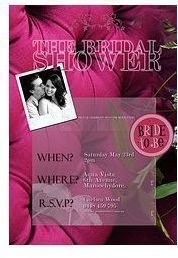 Chances are, you might not know everyone's mailing address, because who uses snail mail anymore? In this day and age, everyone seems to check email, Facebook, and instant messages long before they're willing to make the trip to the postbox. Creating a website and allowing guests to RSVP that way is not only smart, but environmentally conscious as you'll be saving paper and the fuel required to move it from point A to point B!
Be sure to add pictures of the bride and groom-to-be, as well as information on both the bridal shower and the wedding itself. This is also a great place to post online wish-lists to sites such as Amazon.com, allowing people to get you the perfect gift. Just be careful, though, as you might get people RSVPing to your bridal shower who you didn't invite to begin with.
Of course you can't have great graphics without a great font, right? Why not try some of these free Elegant Fonts?
Image Credit: Bridal Shower Invitation by EllyBeany
Cut It Out!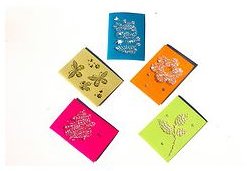 A quick and easy way to instantly add "WOW!" to your invitations is to cut them into the shape of something wedding related. It could be as simple as a cake or as complex as a lace pattern, or anything in between! Just make sure that you make the invitations out of heavier card-stock to avoid them getting crumpled due to being slightly more flimsy. Worried that you can't freehand it? Simply find an image you like, trace around it with the Pen Tool in Photoshop, and then cut yourself a template! Couldn't be easier!
Image Credit: Bridal Shower Invitations by Ohsohappytogether on Flickr
Have Fun With It!
I'd previously written about this technique for baby showers, but it works well for bridal showers as well. Include word scrambles, crossword puzzles, or word search that is wedding and bridal shower themed on the cover or within your invitation! It's a great way to get people excited to come play games at your party.
Just make sure that you don't include important information such as an RSVP address, or location of the bridal shower in a puzzle. After all, you want the people to be able to show up to your party. Not sure how to add a puzzle to your card? Don't worry, there are several online puzzle generators that you can use. Here's my top three to get you started
Word Scramble Maker by Free Math Worksheets
Word Search Generator by A-to-Z Teacher Stuff
Crossword Puzzle Maker by Armored Penguin
Embellish a Little!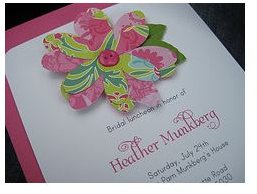 If you're creative and you've got the extra time on your hands, go ahead and attach extras to your invitation. Old buttons can easily be used to make the center of flowers, and scraps of ribbon can be used to lace the sides of cards. Don't want to splurge of expensive scrapbooking paper? Don't worry about it! Simply grab yourself some textures and change the colors in Photoshop. This works great for pastel themed invitations, as it's light on ink and still has a powerful visual effect.
Image Credit: 06.28.10 by zingersb on Flickr