Getting Everyone Hooked on Science
Nowadays, it's quite challenging to motivate kids to get them working toward a common goal while teaching them valuable lessons. Since kids usually get more attracted to lessons that inspire their imaginations, why not have them make a project that would capture their interest and work toward topics that appeal to them? Taking some "rest" from the usual laboratory and lecture science classes is a must. Why don't you enjoy doing a project all together and come up with a science class magazine project?
Creating a science magazine in class means more learning. As a teacher, you are actually giving your kids more opportunity to conduct research on particular topics. For example, if you make them write about the latest inventions that appeal to them, you will inspire students to read science journals. You will also give them opportunities to shine by allowing them to publish their experiments and investigatory projects. Furthermore, if kids also include trivia in the class magazine, they will broaden their knowledge in science.
Read on and learn how to implement this project effectively in class by following these simple points on science magazine layout basics!
Magazine Making Tips
Planning Together and Squeezing Creative Juices
Bring a sample science magazine to school and have your students look through it. Motivate them by telling them that they can also do the same!
Draw a big tree on the board with several branches. On the branches of the tree, have them write the sections they would like their magazine to have.
As a class, decide what magazine sections and articles to write about–trivia, science-based beauty tips, science tricks, latest inventions, interviews, latest medical news, etc.
Give a title to your magazine. Have everyone decide what title to use.

Assign tasks. Divide the class into pairs or groups and make sure everyone has a part. Inspire everyone to participate!
Set deadlines!
Fully Implementing the Project
Give time for students to research and write. Allow them to go to the library and use the Internet.
Motivate each and every student to work. Spark their excitement to finish their tasks.
Collect all the written outputs and photos and, as a class, decide the order in which the articles will go.
Assign someone to make the magazine cover.
Using a publisher, you can help the kids lay out their magazine. You can do this in an instant by simply copying and pasting the text to the Microsoft ready-to-use magazine layout or download the sample layout here. You can modify the layout, change the photos and move the sections depending on what you have decided as a class to do.
Final Look by the Teacher and Class Editors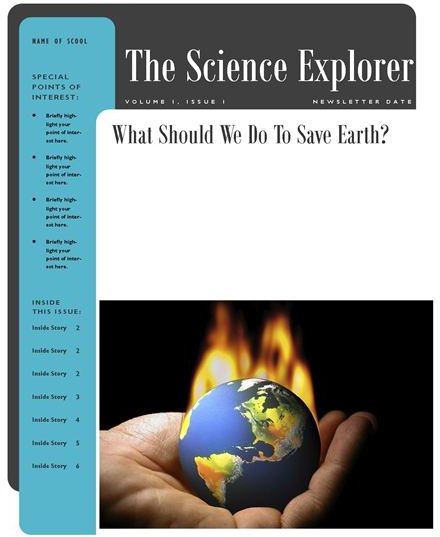 Print a sample copy.
Ask class editors to revise and proofread. Make sure that the conventions are correct.
Check your layout. Is it clean and easy to read?
Mass-print the magazine. Make a couple copies for each of the kids and their parents to read!
Offer sincere praises and have a simple class party for the job well done!
Image Credits:
Magazine layout (like the one you can download) was created by the author. The climate change photo used in the layout is from https://www.whataretheywaitingfor.com/wp-content/uploads/2010/02/Global-Climate-Change.jpg