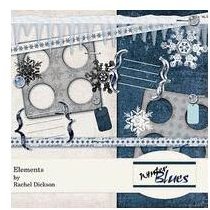 Learning how to make your own digital scrapbook templates has several distinct advantages to going with a pre-made template. First and foremost, it is a free alternative to downloading professionally made templates that can often cost quite a bit. Next, it's a great way to make sure you get exactly what you want out of your scrapbooking layout in terms of colors, themes, and designs.
Lastly, it's a great way to learn new tricks in Photoshop that you can easily apply to other scrapbooking projects or other desktop publishing projects in general. Below are some tips, tricks, and how-to's that should help show you how to make your digital scrapbook templates in no time flat.
Printing
Be sure to set your DPI to anywhere from 175-300 before you begin creating any scrapbooking elements. This will make it so when you print, everything will come out high quality. If you wish to learn more about DPI and printing, here are a couple of articles that can help you.
Sizes
Pretty much whatever you do, you're going to want to design on a canvas that is about 8.5 by 11 inches. Why? This is the size of a sheet of standard piece of printer or specialty photo paper, which means that later on when you go to print, everything will already be the correct scale, so your printer will not have to scale up or down too much. Other size canvases you might want to design on are a 5×7, which is the standard size of a printed picture. Remember that you can always scale down easily for showcasing your work on the web, but you can't always scale up easily for printing.
Formats
One of the most important things to remember is that you need to save in a .PSD or .PNG format, no matter what. The reason you would save in a PSD format would be if you designed a lot of different elements on a single layer. This isn't personally my favorite way to go as you may end up with a lot of things to keep track of, making it a bit difficult to fix later. However, it does have the distinct advantage of making it easier to edit layer styles and/or text layers quickly and easily.
PNG files are a near lossless image format, allowing you to save a high quality image that you can insert in later. Not to mention, as long as you are mindful to save on a transparent background, a PNG file also allows you to add transparency, which is great for photo tags, borders, and corners.
Want to learn more about formats? Check out Explaining Different Image Formats.
Photoshop Shapes
If you're worried that you've got no artistic ability, fret not my friend! Photoshop offers a neat feature called Photoshop Shapes, which are vector-based free-to-use images that you can easily click and drag to suit your needs. These handy little pieces of art range from simple boarders and tags, great for highlighting photos, to shapes of animals, bits of nature, and more. The possibilities are endless! Here's a quick tutorial on how to find and use shapes:
Select Custom Shapes in Photoshop. This is under the line tool/shape tool in the side menu, and you may need to click and hold to see it.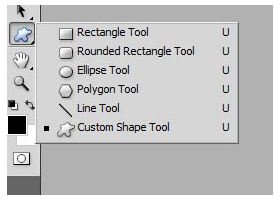 At the top options bar, you'll see a picture and down arrow. Click on the down arrow, and when the flyout pops down, click the small encircled arrow. This brings up another menu. In this menu, pick a name of a set of shapes you might like to look into. I'm going to check out ornaments.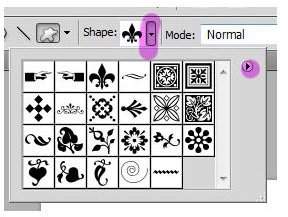 Now, simply select the shape you would like to use, and make sure your foreground color is set to the color you would like your shape to be.

Press this option over here:

Now click and drag out your new shape! Holding shift will constrain the proportions so you don't end up with anything too distorted.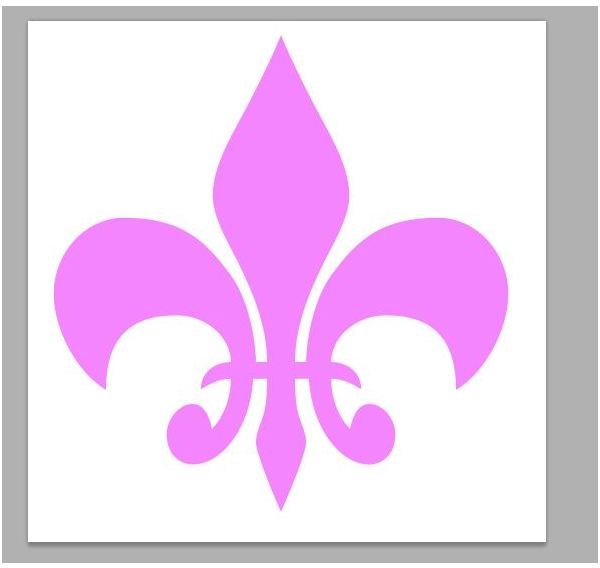 Why is this such a great tool, you ask? Here are some examples of frames, tags, and fun elements that you can create with the Adobe Photoshop Custom Shape tool: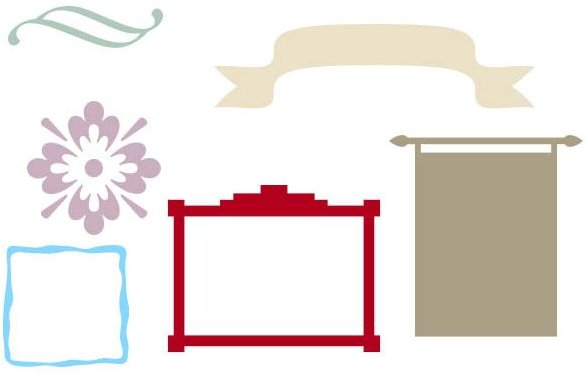 Endless Re-customization!
One of the most fantastic things about creating your own digital scrapbook templates is that you can easily recustomize what you've already created. For example, you can easily recolor elements, change text, and resize frames with Photoshop. Curious to learn how to do all of these things? Check out these fantastic tutorials:
Guide to Photoshop: Resizing, Cropping, Trimming
Guide to Photoshop: Masking Tool for Changing Color
Guide to Photoshop: Changing the Color of Text