Overview of Batch Picture Protector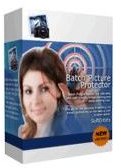 Batch Picture Protector is a compact application with basically one function − adding watermarks to digital photos and other images. While the software only performs that one task, it does it fairly well and offers a number of options that make the watermark application process simple and straightforward.
The Windows-based program allows you to insert both text and image watermarks so that you can protect your images or just mark them for personal organizational purposes. In this review, we'll examine the various capabilities found in the software as well as its usability.
Ease of Use (4 out of 5)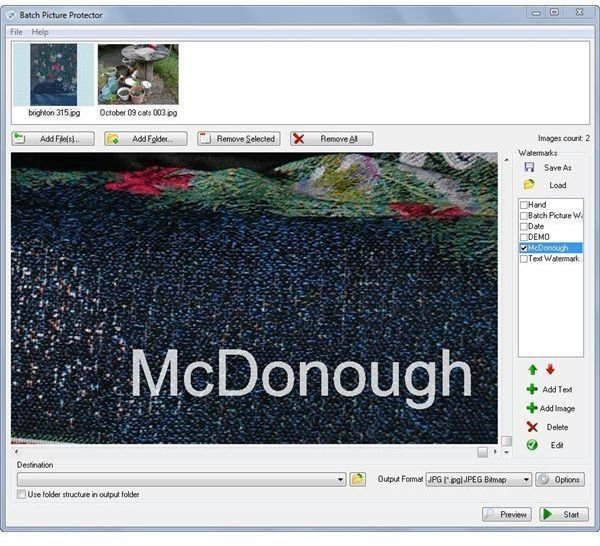 For the most part, Batch Picture Protector is quite easy to use. Simply add the photos that you want to watermark – you can select photos individually or by entire directories – and those images will appear in an "organizer" area at the top of the application. From here, just choose what type of watermark you want to add to the entire batch, pick a destination folder and output type, and start processing. There are also a few other options that you can modify before saving, such as resolution and compression format, if you wish.
Batch Picture Protector comes with a handful of predesigned watermarks that you apply right out of the box, or you can create your own custom design from text, images, or a combination of the two. One nice feature about the software is that you save any watermark created in the application for use at a later date.
Feature Highlights (4 out of 5)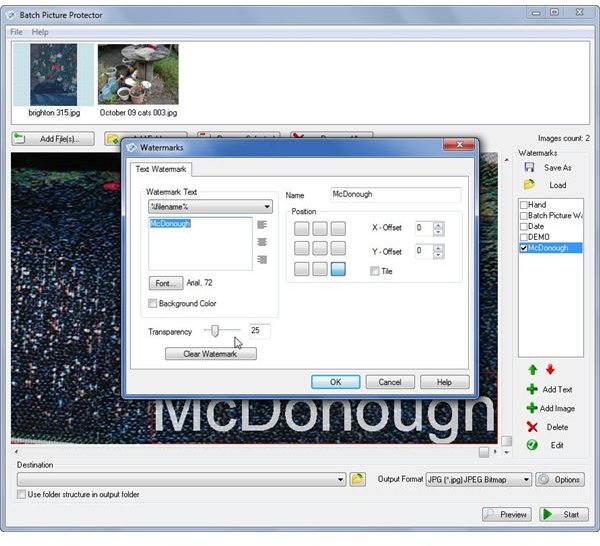 One annoyance with Batch Picture Protector is that it doesn't support panning or zooming. Now, the software does have scroll bars that let you navigate to different areas of the photo, so that does make up for the lack of panning to some degree. However, since there is no zoom capability, it can be a little frustrating to try to find the perfect place to insert your watermark. You can use the application's preview window to see a full view of your photo before actually applying the watermark process, but toggling back and forth from preview mode to watermark mode can get old pretty fast.
If you can live with this one downside, Batch Picture Protector does sport a number of other features that are quite helpful when adding watermarks. For instance, you can click on any watermark effect – text or image – and drag it around to place it in a new position. You can also combine multiple effects so that more than one watermark appears in the same photo. In addition, you can edit any watermark in the software before applying it to change basic features like size, default placement, and transparency. For text watermarks, you can also modify the color, font, and other attributes.
The software also supports macro capabilities that let you design a text watermark that automatically includes the date, filename, and other information associated with the individual photo.
Price to Value (4 out of 5)
Batch Picture Protector lists at a suggested retail price of $29.95, which seems pretty much in line with the application's capabilities. If you want to try out the software first, SoftOrbits does offer a free 30-day trial version.
Overall Rating (4 out of 5)
Despite a few minor aggravations, such as no zoom support and having to manually reload your custom created watermarks every time you open the application, Batch Picture Protector is actually a pretty handy utility that makes it quick and easy to add a watermark to either an individual photo or an entire batch. Additionally, the software is light and compact, so it doesn't take up much room on your hard drive or drain your system resources. The price is reasonable so if you're looking for a batch watermarking application that's a little more robust that some of the free options that are available, Batch Picture Protector is worth checking out.