Candy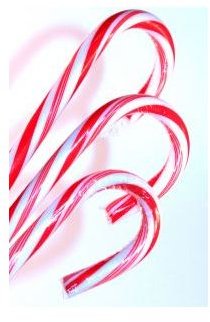 From candy canes to sugarplums, Christmas is all about sweet treats. What's better to use for CChristmas photo props than great big Christmas candies? You can use real sweets, such as oversize red and white striped candy sticks. You can incorporate holiday decorations that look like candy, such as candy canes used to line walkways. There are several DIY candy props you can make, as well. For example, wrap Styrofoam discs in colored cellophane and use wooden dowels to make giant lollipop sticks. Bend red swimming pool noodles into cane shapes and wrap white tape around them for big candy canes.
Cookies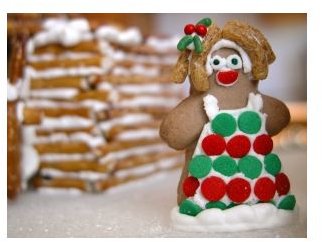 King-sized Christmas cookies are another fun prop for Christmas portraits. If you are or know someone who is an avid baker, you may wish to whip up a few sugar cookies the size of a large pizza (just spread the dough onto a pizza pan). However, the cookies do not need to be real. They simply need to look real. Properly decorated cardboard can look just like gingerbread and Styrofoam can be made to resemble cutout cookies.
Gifts
What is Christmas without presents? Wrap some shipping boxes in shiny paper and tie them with great big bows. Wrap things that are not boxes, as well. If your subjects are posing in front of a wall or mantle lined with framed artwork, wrap these up and add some sparkling ribbon. In fact, the wrapping paper and bows themselves can be used as props. A larger than life bow on a baby's head or bottom, or children in a pile of torn gift wrap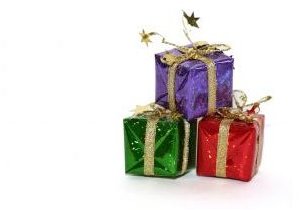 may be just what you need for the perfect shot.
Greenery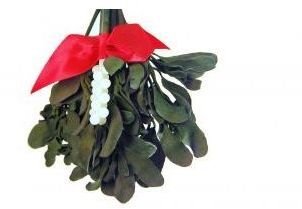 Many types of greenery would make perfect Christmas photo props. Of course, you can use a decorated Christmas tree, whether real or artificial, in a living room or growing through the snow, but other plants and flowers will also work wonderfully. A family encircled by a large green wreath would make a sweet photo card. Newlyweds or toddler cousins kissing under mistletoe is another sweet idea. Holly, poinsettias and even Christmas cacti can all stand in as photo props, as well.
Hats and Stockings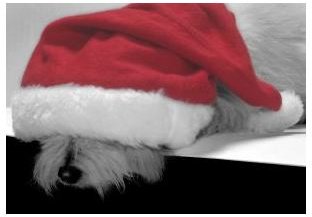 A variety of hats would be suitable props for Christmas portraits. Even a group of friends wearing shorts on the beach will appear Christmassy if they are all donning red and white Santa hats. Dressing a beloved pet or small child in a big Santa hat is delightful as well. Even beanies and other winter caps can provide the holiday appeal you are seeking. Similarly, you can use Christmas stockings. What could be more heartwarming than a newborn baby or a fuzzy kitten stuffed into a stocking? You may want to read Taking the Best Holiday Pet Photos for more tips and ideas.
Lights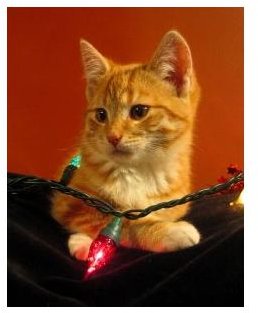 Christmas is all about colorful, glittering lights. Use strings of lights as Christmas photo props. Families trying to untangle a string together could make for a humorous shot. Alternatively, drape lights on and around your subjects. A photo of small children staring at sparkling Christmas lights in awe and wonder would likely become a family treasure.
Nativity Scene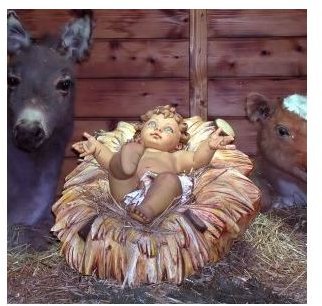 Honor the religious significance of the season and use a nativity scene as a prop. A mid-sized decorative crèche on a table could be used as a prop, particularly for close-up photos of children. Small hands gently placing the baby Jesus into the manger would make a tender scene. Another option is to create a life-size manger scene from wood or cardboard and dress up your subjects accordingly.
Ornaments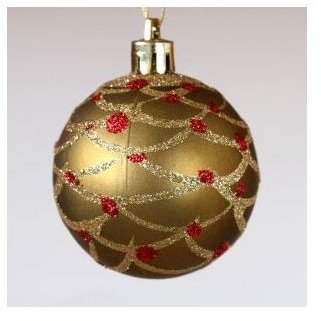 Large, shimmering holiday ornaments are perfect props. Purchase those manufactured for exterior decorations, which are much bigger than standard ornaments. Place them around your subjects or instruct them to hold them. Alternatively, use standard Christmas ornaments and photograph family and friends hanging them on a tree.
Snow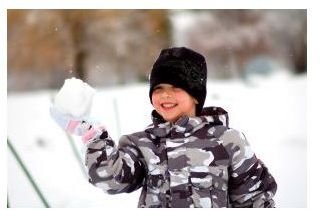 Are you dreaming of a white Christmas? If you happen to live in a frosty region, you can use the real stuff as a Christmas photo prop. Even if you don't have snow or you are taking photos early so that you can make photo Christmas cards, you can use stand-ins for the white stuff. Cut snowflakes out of paper like you did as a child and hang them about the area. Build a snowman out of Styrofoam balls in various sizes. Smaller Styrofoam balls coated with glue and dusted with clear or white glitter will closely resemble snowballs. Drape the area in white and stage a photo-worthy family snowball fight!
Words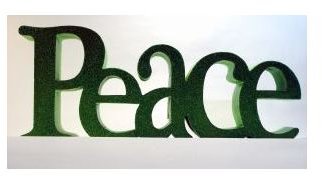 Finally, you can use Christmas photo props that spell out a holiday message. Purchase wooden wall letters or cut them out of pieces of cardboard. Paint them in red and green, blue and white or other Christmas colors. Provide letters to your subjects that spell out Christmas-themed words, such as "NOEL," "JOY," "PEACE" or simply "MERRY CHRISTMAS." A picture might be worth a thousand words, but a photo combined with a heartfelt sentiment is even better.
Image Credits
Candy Canes: sxc.hu/Julia Freeman-Woolpert
Gingerbread: sxc.hu/Arianne van Noordt
Christmas Presents: sxc.hu/Kym McLeod
Mistletoe: sxc.hu/Julia Freeman-Woolpert
Christmas Hat: sxc.hu/Lara Waldron
Christmas Lights: sxc.hu/Rachel Kirk
Nativity: sxc.hu/Debbie Schiel
Ornament: sxc.hu/Christophe Libert
Snow: sxc.hu/Benjamin Earwicker
Words: sxc.hu/alfonso diaz