Emporia Elegance Mobile Phone for the Young at Heart
Emporia Elegance Mobile Phone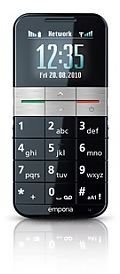 The Emporia Elegance mobile phone is specifically oriented for the elderly; from design, to screen, to physical keys, the Emporia Elegance mobile phone is a simple device which takes no interest in high-tech features and Internet capabilities, but aims to offer an attractive device with the most basic but innovative features.
Not only does the Elegance attract the older generation but it has also caught the fancy of another set of people - people who have poor sight or have difficulty holding a small phone or pressing its buttons. The Emporia Elegance mobile phone operates in such a way that anyone with a disability may be able to use this phone much more easily than any other.
Design (5 out of 5)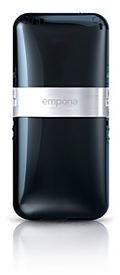 The Emporia Elegance mobile phone has a piano black finish and curved back which are some of its most elegant properties. The phone measures 106 x 50 x 17mm and weighs 92g. The handset is similar in size to other mobile phones but there are several key design elements which set it apart.
The Elegance device is small but has several innovative design accents which make it a capable device. It is available in both black and white and is packaged with a charger cable and user manual.
This mobile phone has a limited feature set because of its older target audience who may find extra settings, keys and additions to be quite troublesome or unwanted. The screen is very small in comparison to other mobile phones at 1.8 inches and features a 128 x160 pixel resolution. As a result the Emporia Elegance mobile phone offers a relatively small number of colors.
Large keys are a must have on any phone marketed towards the older generation and the Emporia Elegance mobile phone does this very well. Most of its face is comprised of large keys which make for more accurate input and dialing. Those who have failing sight or trouble with typing into regular phones will have no difficulty placing a call or typing a text message.
There are extra control keys found on its side. On the right are text shortcuts enabling users to compose, send and check their mail. Users can also find the main menu, alarm function and a phone lock key on its side as well.
On the face of the Emporia Elegance mobile is a silver strip in between the interface and the keypad. This strip houses the directional buttons and two large keys for answering and ending a call.
Interface (5 out of 5)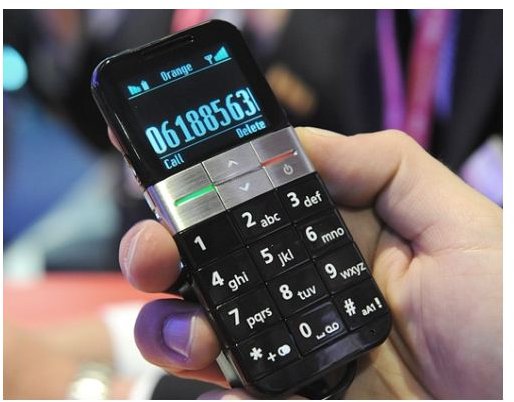 The interface of the Emporia Elegance mobile phone is innovative. It features large font types for easy reading and simple menu options contrasted on a dark background. The menu is not extensive as the Elegance does not offer Internet access or media capabilities. The Elegance's main purpose is its call and text functions and for that the screen is the perfect size. The large font type can also be adjusted to suit a user's preference.
Within the main menu there are four main options, Phonebook, Call Info, Messages and Settings. These four basic options and features make it the perfect pick for the elderly or even for someone looking for a basic but attractive mobile device.
Features (3 out of 5)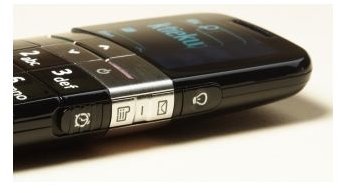 The range of features in the Emporia Elegance mobile phone is limited to making voice calls, creating and receiving SMS and setting alarms. The phone has also been equipped with Bluetooth for connecting a headset. A perfect addition for anyone with a hearing problem.
The Empora Elegance mobile phone also has a torch light at the top of the device which turns on when one of its side buttons are slid to the on position. This is an innovative feature and is especially brilliant on the Emporia Elegance. This LED torch light is great when in need of illumination. The alarm function, when activated, only needs a simple input of time. Once that is set, the alarm will go off at the specified time.
Performance (4 out of 5)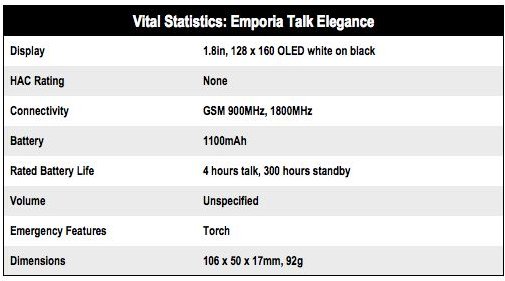 The Emporia Elegance mobile phone does not lend its processor and memory to additional functions so its speed and efficiency is superb. Its call quality is great with minimal static and dropped calls. The Elegance's battery lasts for 180 minutes of talk time and 250 hours on standby.
Input and calling features perform well due to the Emporia's large T9 keypad, enlarged font, contrasted colors and grip friendly body.
Verdict (4 out of 5)
Overall, this handset is stylish, efficient and sharp. Its mix of black and brushed silver, plastic and aluminium build and its curved back and high contrast screen makes for a trendy mobile device. The Emporia Elegance mobile phone is great for the elderly and physically challenged and has also been employed by people who are looking for a phone with minimal features and great call and messaging capabilities.
The Emporia Elegance mobile phone can be purchased for £108.49 at Amazon.com.