Complete User Guide to the iPhone App Store, Including Tips and Tricks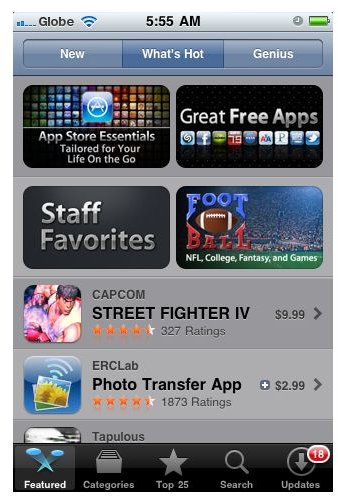 Introduction - Current iPhone App Store Stats
At last count, the iPhone App Store is offering more than 250,000 iPhone apps. More than 6.5 billion downloads for these apps have already been registered. With the introduction of both the iPad and the new iPhone 4 with corresponding new features, current iPhone app developers and would-be developers are certainly going to add more new apps before the year ends. As long as Apple continues to introduce new iPhones and other iOS devices which bank on apps, the iPhone App Store will continue to flourish.
So what are the new things that Apple introduced to the iPhone App Store since its launch in 2009? How does the iPhone App Store look right now and what are the things that you can do with it?
iPhone App Store - Features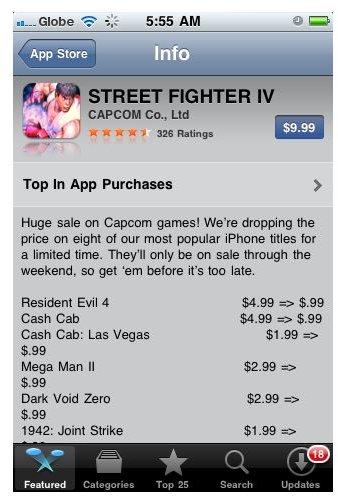 So what are the basic things you need to know about the iPhone App Store? First things first, you can access the iPhone App Store on both your computer desktop and iPhone. On your computer desktop, the iPhone App Store is available as one of the features of iTunes. In your iPhone, the App Store is a native app that comes as a default application. It has its own app icons waiting for you on your iPhone's homescreen. Naturally, if you want to access the iPhone App Store, you need to have iTunes installed on your computer. On the iPhone the App Store and iTunes app are two separate apps. The iTunes app lets you purchase movies, music, and other multimedia content.
To access the iPhone App Store, you simply tap on its icon and you'll be presented with several options on the lower part of your iPhone's screen. These options are - Featured, Categories, Top 25, Search, and the most important of all Updates. Here's a quick rundown of what each of these options contains.
Featured - this is the main App Store menu containing recommended apps by the App Store staff and other special groupings of apps available for you to download. You can filter the viewing of apps on the Featured option by New, What's Hot, and apps recommended by the Genius tool. If you scroll down to the lower part of the screen while on any of the Featured tabs, you'll find the "Redeem" option. Tap on this and you will be able to redeem apps via promo codes or iTunes Gift Cards. Just below this option is another option this time for checking out your iTunes account. More of that later.
Categories - this option lists apps by the different categories in the iPhone App Store. There are currently 20 apps categories available. Tapping any of these categories will bring you to another screen listing the sub-categories and then you'll reach the screen where the different apps are listed. Apps in these sub-categories are further filtered by "top paid," "top free," and "release date."
Top 25 - the next option is for displaying the current top 25 apps based on the number of downloads these apps received so far. You can further expand this list up to the top 50 apps if you think that you need to see more top apps as well as see the listing for the top free, top paid and top grossing apps based on the number of times they are downloaded.
Search - if you have a particular app in mind that you want to check out or you want to find apps based on keywords, the iPhone App Store also has a very useful search function.
Updates - this option gives you the available updates for all the apps installed on your iPhone. Watch out for the red notification badge that appears on this option from time to time as it contains important fixes and other updates to your iPhone apps. You can choose to update apps individually or update them all at the same time.
Next up - The individual app entries and how you can download iPhone apps.
iPhone App Store - App Descriptions, Ratings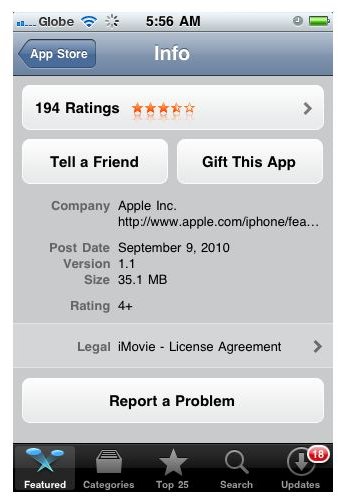 After exploring the different options available for you from the iPhone App Store you are probably now raring to go and get as many apps as your iPhone can hold. So you tap on a particular app and the App Store will display the information available for this app including - the app icon, app name, app developer, star icons for app's ratings, download link, sample screenshots, ratings and comments page, links to "tell a friend" and "report a problem." Below the screen are some important details about the app - company name, post date for the app, app version, app size and Apple's own ratings of the app to indicate the age bracket that the app is suitable for based on content.
The different app ratings are as follows:
4+ - indicates that the app contains no objectionable material.
9+ - indicates that the app may contain mild or infrequent occurrences of cartoon, fantasy or realistic violence, and infrequent or mild mature, suggestive, or horror-themed content not suitable for children under the age of 9.
12+ - indicates that the app may contain infrequent mild language, frequent or intense cartoon, fantasy or realistic violence, and mild or infrequent mature or suggestive themes and simulated gambling which may not be suitable for children under the age of 12.
17+ - indicates that the app may also contain frequent and intense mature, horror, and suggestive themes, plus sexual content, nudity, alcohol, tobacco, and drugs which may not be suitable for children under the age of 17. You must be at least 17 years old to purchase an app with this rating. When downloading this app, you will be prompted to verify if you are 17 or older before you can confirm to proceed with purchasing the app.
iPhone App Store - How to Download Apps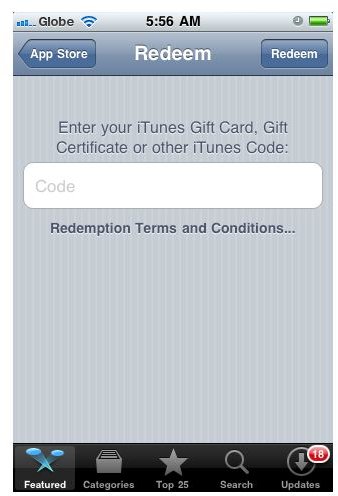 After reviewing the different features of the individual app entries, it's finally time to download apps. So, you tap on that little box on the upper right side of your iPhone screen while viewing an entry for an app that either says - "free" or "specific price." Tap on that little box and you will be prompted to log-in to your iTunes account. If you have an iTunes account already, the download process will immediately commence and your iPhone will go to your app homescreen where the app icon will suddenly appear with an indicator below it that displays how much of the app has been downloaded so far.
If you don't have an iTunes account yet, you can easily create one. One thing to note here is that while you can still download apps and access the iPhone App Store without connecting your account with a valid payment method, you are limited to free apps only. To get the paid apps you need to register a credit card to your account.
Another way in which you can purchase paid apps is by using an iTunes Gift Card which you can purchase from various Apple resellers and from the Apple Store. When getting apps using iTunes GCs, all you need is the corresponding redeem codes and you're all set to go.
Here's an important thing to note, when downloading apps, take note of the app's file size as this will determine whether you can directly download it from your iPhone's App Store. Usually apps with less than 20MB file size can be downloaded directly from your iPhone. If apps are bigger than 20MB, iTunes will prompt you to connect your iPhone to your computer or over Wi-Fi to proceed with the download. Using this route, you need to sync your iPhone and transfer the apps from your computer to your iPhone to install them.
Next - Useful tips and tricks for the App Store.
iPhone App Store - Useful Tips and Tricks
Based on several years of using the iPhone App Store, I could say that I've probably explored it to the fullest. I may have spent thousands of dollars already getting paid apps as well as consumed my iPhone 3GS storage space with equal amounts of free apps. So, based on my experience, here are practical tips and tricks to help you get the best out of the iPhone App Store.
First, don't jump right into the habit of getting apps as soon as you've read something great about them. This applies to games created by major game developers such as Gameloft, Namco, Square Enix and others. More often than not, games offered by these developers are priced more expensively than other games. You might want to hold off for a couple of weeks as there is a big chance that these games will go on sale for as low as $0.99.
Second, don't take the reviews posted on individual apps too seriously. While most of these reviews from actual users are true and valid, you must still consider individual game preferences. So, a user's game preference may not be the same as yours hence that user may be putting down a particular iPhone app which you might actually like.
Finally, the previous tip applies to the recommended apps of the iPhone App Store crew which are categorized as "New and Noteworthy" and "Staff Picks." Like all of us, these people also have different preferences when it comes to the best and most useful iPhone apps. Still, having these apps grouped together as picked and selected by the App Store staff is helpful when browsing for some great apps that you can download. This is faster than browsing the apps categories one by one.
For a troubleshooting guide to the iPhone App Store, check out our previous article on troubleshooting common App Store problems.
Conclusion
There you go. Our ultimate guide to getting the best out of the iPhone App Store. The key thing to remember here is that the iPhone App Store is a marketplace. Just as in a real life market, you must always be vigilant to get the best deals for your money. The last thing you want to happen is to find your iPhone fully loaded with apps which you are not really using at all. So, as much as possible, be selective when getting apps from the iPhone App Store, especially paid apps.