Before You Jailbreak Verizon's iPhone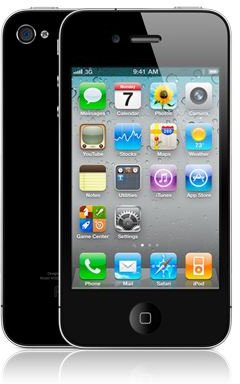 Apple tends to keep customization features limited for iPhone, but hackers have always found a way around this. Jailbreaking your iPhone is a way to work around the limitations built into the operating system of the phone. This gives you a bit more free range in customizing your phone and settings options, not to mention the ability to use Cydia for apps. Jailbreaking sounds difficult and confusing, but it is actually very simple and can be performed by anyone that knows how to sync an iPhone to the computer. If you have a Verizon iPhone, I'll walk you through how to jailbreak the phone; but first we should discuss some things you may want to consider before doing so.
Jailbreaking is legal, but is frowned upon by Apple and may void the warranty for your phone. While the benefits of jailbreaking can be great, it has to be performed at your own risk. In rare cases, jailbreaks and unlocks that aren't performed correctly or for the right software have caused the phone to lock up and become inoperable. In addition, viruses or faulty programs are possible because none of the software or apps are certified by Apple, nor are they required to go through the rigorous approval process. If you do encounter a virus or faulty program, it can affect the function of your device. This doesn't mean that you shouldn't jailbreak your iPhone 4, just that you should be cautious about it and do your research. It wouldn't be responsible to present you with a way to jailbreak Verizon iPhone without warning you about the risks.
Things You'll Need for Verizon iPhone Jailbreak
Once you've decided to go ahead with the Verizon iPhone jailbreak, there are a few things you'll need to do to prepare. You'll need a computer with Internet access, a USB cable and of course, your iPhone. Then you'll want to go through the next three steps before performing the jailbreak.
Create a backup of your iPhone.
Update iPhone software to iOS 4.2.6.
Download greenpois0n (link provided at the end of this step). This is the software used to jailbreak the Verizon iPhone. Once you've gone to the website, select Mac, Linux or Windows at the bottom of the screen to download. greenpois0n – Click the link to download.
Steps to Jailbreak Verizon iPhone
After you've downloaded the software you need and connected your iPhone to the computer, you're ready to jailbreak your phone. Just to be clear, this jailbreak method should only be used on Verizon CDMA iPhone 4.
Follow these steps carefully and in order:
1. Run greenpois0n. When you do, the following text box will pop up.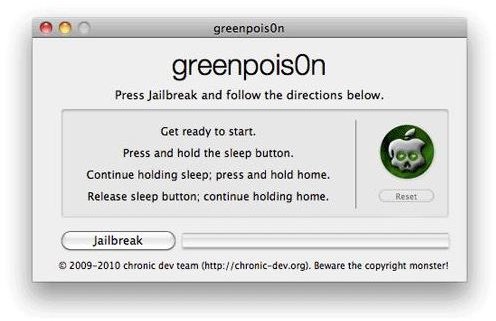 2. Click "Jailbreak". This places your device into DFU mode. DFU mode allows you to change the firmware for your phone, which is necessary for the jailbreak.
3. Once in DFU mode, follow the greenpois0n prompts. You will need to:
Press and hold the sleep button for 2 seconds.
Continue holding the sleep button while pressing and holding the home button for 10 seconds.
Release the sleep button. Continue holding the home button for 15 seconds.
4. When complete, restart your phone.
5. A new Loader icon will be on your homescreen. Tap on it and install Cydia.
Believe it or not, that is it. You are done and your iPhone is now jailbroken. You now have the ability to customize your phone with Cydia themes, custom ringtones, custom lockscreens and many other great features, including cool Cydia apps.
Why the Verizon iPhone Jailbreak is Different from an AT&T iPhone Jailbreak
Many AT&T iPhone users wanted to switch to Verizon with their current iPhone 4 when Verizon started offering the popular smartphone. Unfortunately, they were disappointed to find out that the phones were not compatible with the Verizon network. Verizon iPhone operates on a CDMA network, whereas AT&T uses GSM. Although the Verizon iPhone looks almost identical, some internal components of the phone had to be rearranged to accommodate a CDMA signal. Due to this, a few structures of the phone were slightly shifted. This caused a headache for iPhone 4 case manufacturers who had to make special cases for Verizon iPhone. It also made jailbreakers scramble to develop a jailbreak that was safe for the CDMA phone. Any jailbreak that you perform should use software that is specific to and tested for your model and iPhone software to prevent damaging your device.
Resources and Image Credit
Murph, Darren. "Verizon iPhone 4 (iOS4.2.6) jailbreak now available for Mac and Windows, courtesy of greenpois0n," Engadget.
Apple, www.apple.com
Screenshot Credit: WonderHowTo, www.wonderhowto.com
iPhone 4 Image Credit: Courtesy of Apple