What is Collaboration?
Collaboration, or groupware software like the Sametime app, allows multiple users to work on a project by having individual tasks assigned to part of the project and they work individually, but together to accomplish the tasks to make completion of a project possible. For example, take a football team, who's project it is to win a game. Each individual has specific tasks to perform so that the team can win the game. This is collaboration.
In a business setting, the project goal may be to accomplish a sales goal, or complete an engineering operation, like building a bridge or processing a merger. In these contexts, the software that is used can help manage the project as a whole and the individual task in particular.
What is SameTime?
Sametime is a form of collaboration software. There is a client and server–the Lotus Sametime Connect client is for end-users and the Lotus Sametime server for control and administration. It has a variety of features for working in a unified fashion to accomplish a goal. These include: Presence, Meetings, Instant messaging, Instant meetings, Voice chat, Video chat, Telephony, Location awareness, Connect to public IM networks, Contact information, Emoticons, Customizing, Sending files, Quick find, Time stamp, Polling, and Policy.
The program brings users together for collaboration opportunities and allows for a timely completion of a project. There is, however, one more area that is important, and that is the use of a mobile phone in the scheme of things.
Using the Sametime BlackBerry Client
Once a collaboration project starts, you can use the sametime 7.5 BlackBerry client from different locations. This is important for a groupware application that will involve users that do not stay in the same location. More than that, they may not have access to a PC. But if they have a BlackBerry mobile phone, then they don't have to miss a step. Here is what the Sametime app offers.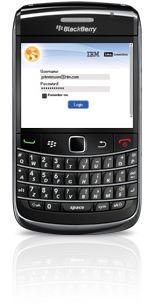 First of all, you have group chat sessions. You have the ability to view which contacts are online, offline, idle or busy. There is a Buddy List that's synchronized with the Lotus Sametime instant messaging server. And you have alert notifications when team members become available.
You can communicate with Emoticons. There is presence management from the BlackBerry smartphone using the home screen. Voice integration is possible with 'Click-to-Call', and Sametime Buddy and Sametime Chat with 'Convert-to-Call'; Group Chat sessions are possible with 3 or more participants.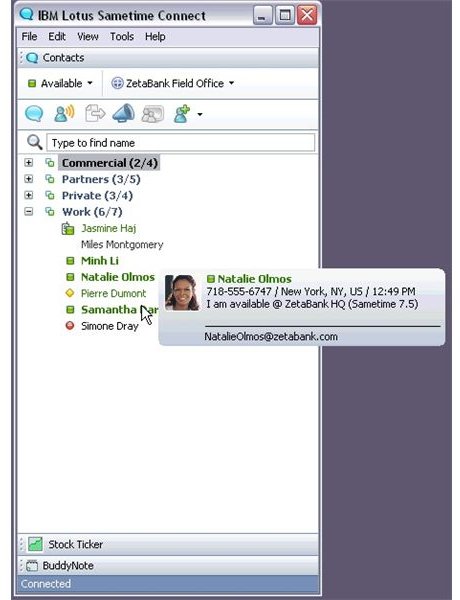 Chat can take place in a point to point Voice-over-IP (VoIP) including video chat, timestamps, emoticons, and chat histories. Users also have the ability to view which contacts are online, offline, idle or busy, which makes collaborative work easy to accomplish. This is called location awareness meaning that the other workgroup members know where the participants are located. Which brings us to web conferencing is possible because of the interaction made possible from the server connection.
Interoperability is made possible with public networks using the IBM Lotus Sametime Gateway. This will feature AOL Instant Messenger, plus Yahoo Messenger, Google Talk and XMPP-based services.

Ups and Downs
Ups: This is a fully functioning collaboration client program that makes workgroup operations possible.
Downs: You must connect to a SameTime server for the collaboration to be possible.
[Download Link]
Summary
Sametime 7.5 BlackBerry client collaboration software offers users many ways to work together on a project to accomplish the tasks that separately work together to accomplish a common goal. In a client server environment this great Blackberry app can perform multiple operations, because at the server level Sametime can control the operations making them real-time performances.
References
Lotus Samtime, https://www-01.ibm.com/software/lotus/sametime/
Lotus Sametime Information Center, https://publib.boulder.ibm.com/infocenter/sametime/v7r5m1/index.jsp
Image Credits
https://us.blackberry.com/apps-software/server/domino/lotus_software.jsp
https://publib.boulder.ibm.com/infocenter/ieduasst/lotv1r0/index.jsp?topic=/com.ibm.iea.sametime/sametime/7.5.1/Mobile/ST75_Mobile_Overview/player.html
Image: https://docs.blackberry.com/en/admin/deliverables/25768/Instant_messaging_process_flows_224469_11.jsp