1. BeeJive for BlackBerry
I chose to start with the best of the best, BeeJive is an application that is offered not only for Blackberry devices, but also for the iPhone and iPod Touch, along with Windows Mobile Devices. What sets BeeJive apart is the fact that the application can run many of the top instant messaging programs available including AIM®/iChat, MSN®/Windows Live®, Yahoo!®, MySpace, GoogleTalk®, Lotus Sametime®, ICQ®, Jabber and more.
Beejive works with your existing mobile data plan and is also WiFi capable in case your in a hotspot or connecting to a private network, which means no per text message fees are included. However, unlike some IM programs BeeJive is not freeware, although only a one time fee is required which will cost you $19.95 for a single device, or $29.95 for a user license which will allow you to install BeeJive on all of your current and future devices. The user interface for IM's is one of the best i've encountered and the program overall is very intuitive. If you're unsure but you're also a big IM user I would highly suggest downloading the free trial version of BeeJive, i'm sure you'll be nothing but happy.
BeeJive Personal Messaging Example (Click To Enlarge):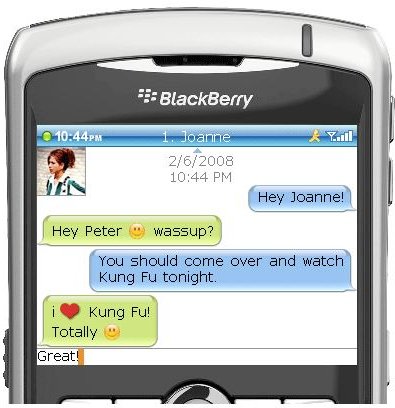 2. IM+ for BlackBerry Devices
While I prefer the Interface found on Beejive, I really like the features offered on IM+. Specifically the ability to send International SMS messages for as little as 5 cents. Just like Beejive the IM+ program features support for AIM®/iChat, MSN®/Windows Live™ Messenger, Yahoo!®, ICQ®, Jabber®, Google Talk™ and MySpaceIM in one client. The cost for IM+ is a high $49.95 for a lifetime license, users do however receive free lifetime upgrades and the program supports nice languages which include English, Dutch, French, German, Greek, Italian, Portuguese, Russian and Spanish.
Users can also send files to their friends while taking advantage of their IM programs most popular features such as Add, Delete and Block users, Group Chats, and Emoticons, among many other popular features. If you're looking for a more long term solution with room for future fadvanced features at no additional cost then i'd suggest taking a closer look at IM+ for Blackberry.
IM+ Screenshots (Click To Enlarge):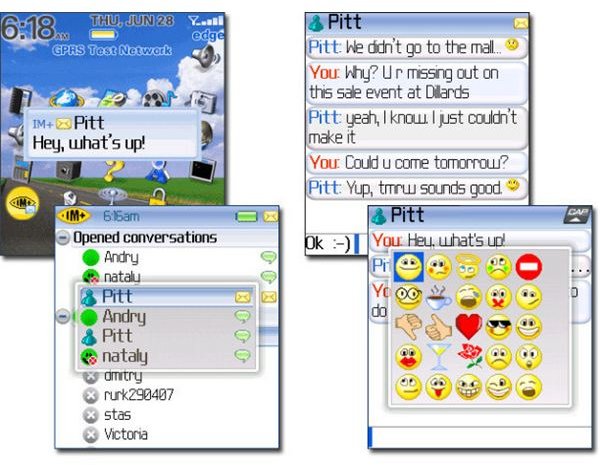 3. BlackBerry Google Talk
While Google Talk has yet to garnet the following of popular programs such as AIM and Yahoo Chat, its still a very formidable application, and with Google Talk for Blackberry Cell Phones users are offered a completely free application that's easy to install and even easier to use thanks to intuitive user menus and a simple login frontend that simply requires your Google Talk username and password.
One important aspect to remember however is that If your device is connected to a BlackBerry® Enterprise Server, your IT Department must have IT Policy set to allow Google Talk functionality.
With Google Talk users can view their friends online status, be added to group discussions, use emoticons, send and receive files, and much more. You can find the application at the official Blackberry Google Talk Page.
Google Talk Example (Click To Enlarge):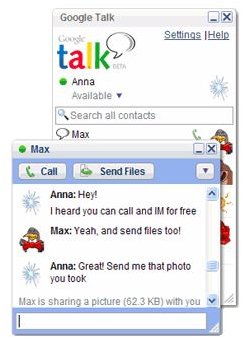 4. WebMessenger for BlackBerry
WebMessenger is a great solution for Enterprise customers, just like the applications listed above WebMessenger offers support for many IM programs including AIM, MSN, Yahoo, Skype and Google. For those applications a free download is available. However WebMessenger also offers enterprise solutions, for instance the ability to connect to Jabber's Enterprise Servers, while also offering private IM networks for businesses that require their own communications platform among their employees.
The customization for WebMessenger comes at different price points and is more closely specialized for each user. If your a small to medium business owner that's requiring secure real time messaging then you may want to check out the folks at WebMessenger for more information on how they can implement an instant messaging program that fits your businesses personalized needs.
5. Yak-On Instant Messaging
For $19.95 Yak-On isn't a bad investment, it supports your major instant messaging programs once again and offers a very simplistic user interface that's easy to navigate. Yak-On also offers a free trial and they really stand behind their app. Using Yak-On users can take advantage of Tabbed Instant messaging while receiving buddy sign on alerts, along with audio tones when messages are received, or if they choose users can have a vibrate option enabled for when messages are received. Users can also add and delete contacts while taking advantage of URL linking and examining buddy online and idle times as well as their buddy info. For unstable connection areas Yak-On also offers Auto message re-send for improved reliability in low connectivity areas and auto reconnect. Overall a simplistic program for users looking for intuitive designs with top notch connection reliability.
Yak-On Tabbed Messaging Example (Click To Enlarge):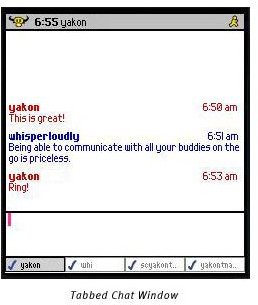 Conclusion
The apps listed above are my favorite instant messaging programs for BlackBerry devices, while there are many other freeware and paid services available these are the applications that I have found offer the most robust services for personal and enterprise use. Whether you want to chat with one person or 100 I hope you'll take a look at the BlackBerry instant messaging programs currently on the market and just remember that each application offers unique connectivity and features some to satisfy personal needs and some to satisfy your business enterprise functions.