I honestly hope that anyone planning to travel, either inside their home country or abroad, is aware that travel scams exist. People love to take advantage of others over the Internet, and those living abroad have the advantage of being far away from usual safety precautions and legal recourse.
A number of these target PayPal, and similar money transfer services. As a rough rule, just be very careful of using anything like Western Union or any money orders. Anything that doesn't offer a secured way to get your money back is a bad idea.
Airline Tickets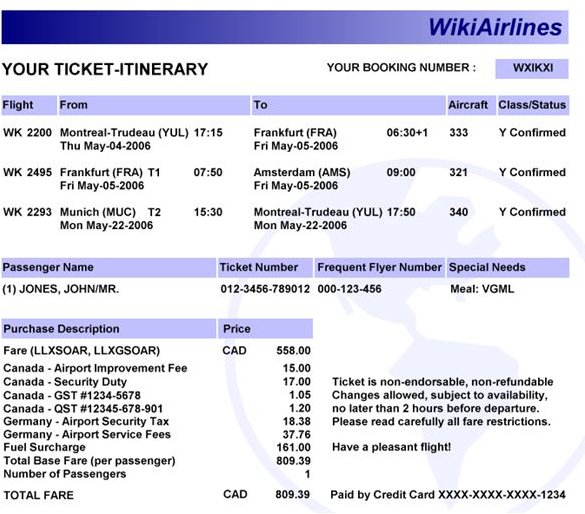 I've seen a few airline ticket scams, although they appear to be somewhat less common than I would have actually thought. For the most part, just note that if someone's selling their tickets or offering to get you a deal, then you really need to be on your guard.
Again, it's going to be quite easy to ask for an "advance" to cover for the fees, or an outright payment ahead of time. They can then just not send the tickets, let the tickets "get caught in customs" or send counterfeit tickets.
Airline tickets are going to be a big target, due to the high costs. I know that deals on airline tickets can look quite good, but it's very easy to lose your money and gain nothing.
Apartments, Hotels and Rentals
A lot of people traveling abroad will find themselves in a rough position. If at all possible, it's nice to get a rental place if you plan to stay anywhere for an extended time. It'll usually be much cheaper than getting a hotel room for stay.
Unfortunately, apartment hunting is a huge den of scams. The same ones that hits local apartment hunters can be even more brutal when you're searching for apartments abroad. There are multiple twists on this. The old standards are out in full force. The "landlord" can have an apartment that they really want to rent out to you, as long as you send them the $50 key fee, or the first month's rent or the security deposit, or sometimes, all three together.
Of course, if you're lucky you'll find out that the apartment had to be "quarantined", "fumigated", etc. at some point before you leave. The more cruel will probably just let you arrive and find out that the apartment is owned and occupied by completely unrelated people.
Travelers also have to be careful of other twists on the scam. While every landlord will use a few tricks to talk up a rental, you're in a bit more vulnerable of a situation. You can't just visit the place and realize that "scenic view" means a hole in the wall. If there are significant problems with the place, you'll find yourself in an unfamiliar area without many other options.
Of course, hotels can suffer from the same risks.
Why PayPal Isn't a Guarantee
For both of these scams, I noticed several variations, but one alarming theme in the advice. A lot of people recommended using PayPal for any advances or payments for a trip, because it offered buyer protection.
I just want to jump in and comment on that. If you're worried about any travel scam or apartment scam, you will find that PayPal doesn't offer much protection. It is better than Western Union, or any other one-way payment, but don't believe that it will shield you much. It's not exactly brain surgery to open a new account, receive payments from a few marks and then close it out and collect the money. PayPal will not be able to magically give that money back to you, or give you a refund. They'll probably just award the dispute in your favor, after the scammer doesn't respond, and then give you anything that's left in the account toward your loss. If they're smart, that won't amount to much.
Also, note that you could even run out of time to challenge them. If they send you a cheap set of keys, I imagine that won't know the truth until you start you trip. Depending on how much of a planner you are, your payments may be more than 60 days old. And even then, it'll be fairly difficult to truly prove your case, especially for a private transaction.
While PayPal isn't a bad option, you shouldn't assume that you're perfectly safe just because you used it.
Protecting Yourself
Protecting yourself against these travel and apartment scams is not too difficult if you go in cautiously.
For the airline tickets scams, I would just suggest avoidance. Unless you can make personal contact or somehow guarantee that the tickets are real, or the person is a licensed broker, then it's just not worth the risk.
Vacation apartment scams are a little harder to avoid (if you don't want to stick to well-known, and expensive, hotels). In order to protect yourself against scams, you should try to request referrals or do some searches for the name and email address used (and possibly the message). Some scammers are lazy, or try to pull the same scam on many marks at once. A Google search can save you a lot of time and money.
Tineye can save you a lot of trouble too. It's worth it to save the pictures and then run them through the search site. A lot of scammers just steal pictures. If you see them coming up for nice apartments far away from your destination, then you should know that something's up.
You should also insist on a phone number to see if they're even in the area that they claim to be in. If they try to avoid talking on the phone, then something may be up, or they may not be who they say they are. If they've set up an identity as a kindly old woman, they may just cut you loose before trying to find someone to talk to you.
If you have any contacts in the area, try calling them ahead of time and ask about the neighborhood and the apartment. If you don't know anyone there, then try using Google Maps to look at the area and then look around for any online communities that might be able to help. There's nothing better than some local opinions.
References
Internet Fraudsters in Rent Scam, https://news.bbc.co.uk/2/hi/uk_news/england/london/7648092.stm
Warning Over Online Property Scam, https://www.bbc.co.uk/news/uk-northern-ireland-10898367
Image Credit: Wikimedia Commons/Pjetter