Once you have populated your contact list (see How to Create a Google Talk Contact List if you haven't done this yet) and are ready to chat with someone, it's easy to do. First, pull up the Google Talk window. Any of your contacts who are online will be displayed at the top of your list with green dots next to their names, as shown in the figure below. Contacts who are offline wiil not have a green dot next to their names.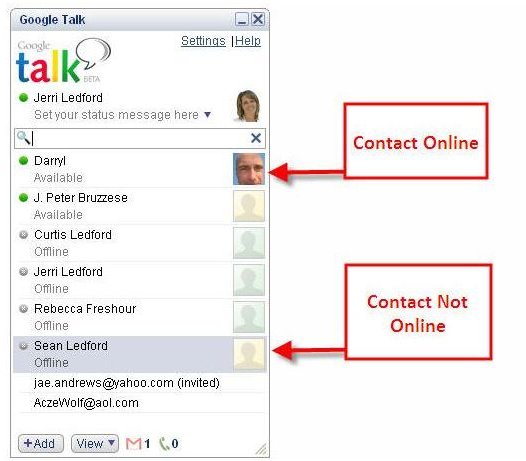 To chat with someone, place your pointer over that person's name. (Remember that you can contact only those with green dots next to their names because those without dots are offline.) If you place your pointer over a name that has a green dot, a pop-out window appears, as shown in the figure below.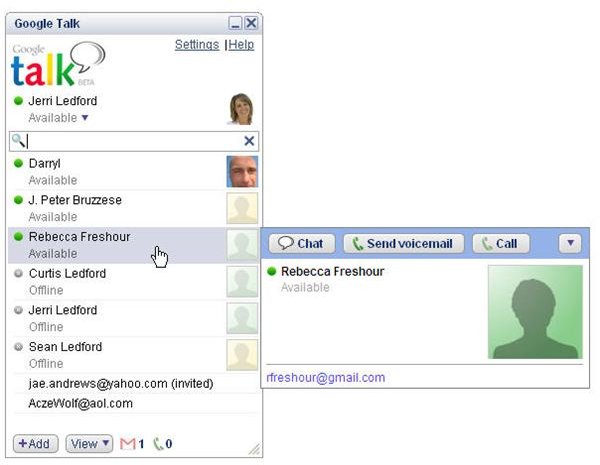 In the pop-out window, click the Chat option. The chat window will open. Type your message into the text box provided and then press the Enter key. Your message will be sent to the person you choose to chat with.
When you're finished chatting, simply close the chat window.
Chat Logs
You can log your chats, which is an especially useful feature when you're using Google Talk to chat with coworkers about projects or with family and friends about some activity that requires planning. A chat log is a record of your conversations.
By default, Google automatically logs your chats and stores those logs in your Gmail account, if you're using one. You can change your automatics log settings by clicking the Settings link at the top of the Google Talk window.
After clicking the Settings link, the Settings dialog box appears. Select Chat from the list on the left. On the Chat Settings screen, you can choose whether you want to log your chats or not.
If you choose to log your chats, you can access those logs anything. From you chat window, click the small downward arrow on the right side of your screen. As shown in the figure below, a pop-out menu appears. Select the View past chats option.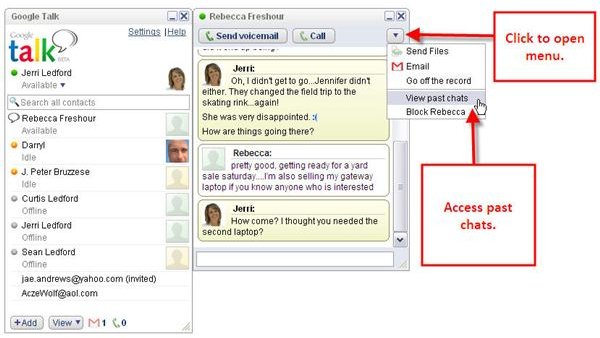 This options takes you to your Gmail account where your chats are logged. From this option, however, you'll only see the chats that have taken place with that person.
There is a way to have unlogged conversations with someone while still keeping regular logs of your chats. It's called "going off record." To go off the record — and chat outside your log — click the small downward arrow that you used to access chat logs. From the menu that appears, click Go off the record. A message appears in your chat window indicating you're off record. WHen you're ready to go back on the recrod, click the downward arrow again and select Stop chatting off the record.
Sending Files by Chat
One more interesting option is the ability to send files by chat. This is a really useful feature if you're collaborating with someone on a project or if you simply have photos or files you want to transfer to someone with whom you're chatting.
To send a file by chat, from the open chat window, click thedownard arrow and select Send Files. A dialog box appears that you can use to navigate to the file you want to upload. When you find the file, select is and then select Open in the dialog box.
The file will be inserted into the open chat window. The other person can then see the file in their chat window, as shown below. If they choose to, they can download the file to their hard drive.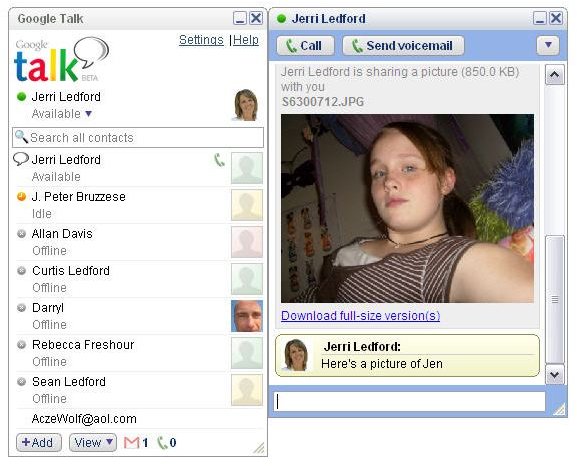 Any file that you can send through email you can send using Google Talk's Send File option. It speeds the way you communicate and makes it much easier to do so without interrupting your work flow.
[This article is excerpted from Google Powered: Productivity with Online Tools by Jerri L. Ledford (ISBN: 978-0470109656, Wiley, Jan. 2007).]
This post is part of the series: Using Google Talk for Communications
Google Talk offers VoIP (Voice over Internet Protocol) phone service and instant messaging, along with other features that help you stay connected to people around the globe. This series of articles covers getting started using Google Talk for all your communication needs.