ASKO T712C ventless clothes dryer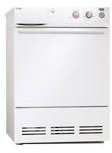 ASKO T712C ventless clothes dryer:
Made in Sweden, with the highest standards, the T712C dryer can be installed anywhere in the house. This dryer is not like a Conventional dryer which draws the air it operates with from your living environment and then blows it outdoors. In this situation, replacement air is drawn back into your house through cracks and openings. This cold air creates draughts and increases the demand on your heating system. This does not happen when clothes dryers that don't require external vents are used. With the T712C all the heat from the clothes dryer stays inside your house and since the air in the dryer is self contained no indoor air is lost to the outdoors either.
The T712C includes a built-in Sensidry™ system. This system includes a temperature sensor which interacts with your laundry to prevent overdrying, shrinking, and creasing. In the large drying chamber clothes are circulated in a figure eight pattern by specially designed paddles. This arrangement prevents clothes from bundling up and from wrinkling. This clothes drying technology is exceptionally gentle. Clothing wears less than it would do in a conventional dryer and the dryer motor sustains a longer life.The T712C and an ASKO washer can be installed anywhere you have water and electricity – they can even be stacked or installed beneath counters.
The T712C dryer includes:
SensiDry drying sensors to prevent overdrying, garment damage and energy waste.
Smooth dial EasyControl operating system with LED display.
Ventless installation
6 different drying programs
Low Temperature Option
Wrinkle Free Option
White or Titanium Finish
Dimensions:
Height: 33-1/2" – 34-1/2"
Width: 23-1/2"
Depth with Door Closed: 24-7/8"
Depth with Door Open: 46-1/4"
To see more information about the ASKO Condensing Clothes Dryer go to: www.askousa.com
A Ventless Drier that you can order online.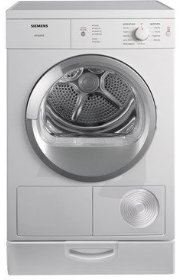 This dryer can be ordered online for $999.00. It is the state of the art in condensing dryer with eleven drying cycles to choose from. I don't have as much information on this dryer, but, it is a beautiful piece of machinery and can be ordered online if you click on the link below.
TO SEE MORE OR TO ORDER ONLINE: Siemens Ultrastack WT46E300US
This post is part of the series: Green Laundry – Heat from Clothes Dryers – How to prevent the loss
The big energy consumer in Laundry is the heat that is used, first for washing and then for drying. There are different ways that we can address this heat use, and loss. The following series of articles looks at different solutions to the problem of Clothes Drying Heat Waste.