Introduction
Garmin chartplotters are known to have functional and elegant designs that accompany sensitive GPS receivers hat constantly provide users with accurate location information in a fast manner. Choosing the right Garmin chartplotter for your needs require some inspection of each model's features. Some are optimized for use on freshwater lake, others for the ocean, and other for both. After determining which models provides the data that is relevant to your needs, design and usability follows. Here are some recommendations to help you make your choice easier. You might want to also reference the top 5 GPS fishfinder GPS combo devices for the best in fishfinding and chartplotting combinations if your really into angling.
Garmin GPSMAP 546 5-Inch Waterproof Marine GPS and Chartplotter
Not only does this chartplotter have a 5" diagonal VGA display with a 480×640 pixel resolution enhanced by 800 nits of brightness, it also has the ability to integrate seamlessly with the Garmin marine lineup, which is one of the most detailed and exhaustive marine maps available. It is preloaded with a worldwide marine basemap and it is compatible with satellite radio and satellite weather, making it one of the most capable chartplotters in the industry.
Price: $743
Garmin GPSMAP 421 GPS Chartplotter
If you are looking for a chartplotter that offers fast map drawing and fast panning speeds, this one fits the bill. Offering quick render times with an ultra-bright QVGA display makes this one of the most viaully stunning and helpful chartplotters available. Of course, the high quality visuals for the directions will mean nothing if it doesn't provide precise information, which is why you don't have to worry about this chartplotter. It has a highly sensitive GPS receiver, guaranteeing you that the high quality visuals represent precise data and information.
Price: $339.99
Garmin GPSMAP 441 GPS Chartplotter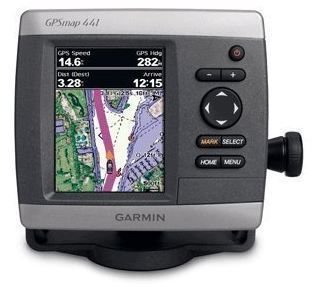 Its built-in BlueChart g2 marine cartography provides detailed location data of the U.S. Coastal areas like Hawaii and Alaska. Right out of the box, this marine electronic navigational chart can provide visuals through an ultra-bright QVGA display in crisp quality. It is of course based on up-to-date map information. It is fast and is easy to learn, thanks to its intuitive user interface. Novices and veteran mariners alike will find this chartplotter extremely efficient.
Price: $419.99
Garmin GPSMAP 640 Waterproof Car/Marine GPS and Chartplotter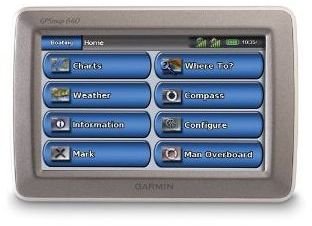 Whether you're on land or at sea, this chartplotter can provide location data quick and easy, thanks to its built-in BlueChart g2 marine cartography that provides location information about coastal areas like Hawaii, Alasks and the Bahamas. If navigating the coastal areas is not your thing, turn-by-turn directions provided by this chartplotter will make you a master of land. Text-to-speech commands make things easier for you, as well.
Price: $799.99
Garmin GPSMAP 430 Chartplotter U.S. Lakes

Navigating in style is achieved by making use of Garmin chartplotters such as this. It is this designed to be compact and sleek with an elegant and intuitive user interface. Ease of use complements the exhaustive location data provided by this GPS receiver. In terms of function and style, the GPSMAP 430 is a clear winner.
Price: $799.99
For comparison, you might want to also take a look at our roundup of marine chartplotter recommendations out of all the makes and models available besides Garmin.
References
https://www.amazon.com/Garmin-GPSMAP-5-Inch-Waterproof-Chartplotter/dp/B002JM3IAQ/ref=sr_1_15?ie=UTF8&qid=1294842697&sr=8-15
https://www.amazon.com/Garmin-GPSMAP-421-GPS-Chartplotter/dp/B002KMXZ9E/ref=sr_1_1?ie=UTF8&qid=1294842697&sr=8-1
https://www.amazon.com/Garmin-GPSMAP-441-GPS-Chartplotter/dp/B002INCHZS/ref=sr_1_2?ie=UTF8&qid=1294842697&sr=8-2
https://www.amazon.com/Garmin-Waterproof-Chartplotter-BlueChart-Navigator/dp/B001HL4YMG/ref=sr_1_4?ie=UTF8&qid=1294842697&sr=8-4
https://www.amazon.com/Garmin-GPSMap-430-Chartplotter-Lakes/dp/B000M9TIOS/ref=sr_1_11?ie=UTF8&qid=1294842697&sr=8-11
Photo Courtesy of Amazon.com