The Hannah Montana Karaoke Machine Review: Not the Best Choice for a Kids Karaoke Machine
Hannah Montana Karaoke Machine with Video Camera: What's Included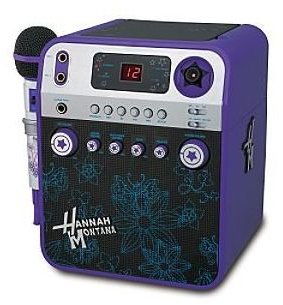 Unlike other Disney games or toys for girls, the Hannah Montana karaoke machine provides a more customized feel to fun. The product comes with a microphone that is very basic, made with very little audio feedback technology as it is not designed for adult karaoke entertainment; it also comes with a master volume, CD player, and a track changing button. The buttons provide single functions, such as play, rewind, skip, etc.
The ease of use in the simple design and features are excellent for children who otherwise would not be able to enjoy the karaoke experience. Read this kids karaoke machine buying guide for tips on what to look for when purchasing a karaoke machine for your child.
Features & Design
The Hannah Montana karaoke machine is compact enough to be stored anywhere in the house and is available for purchase at most superstores, general toy stores, and websites, such as Amazon. Although the item is available everywhere and has a very simple, but amiable look and feel to it, the price is approximately $180. If you're looking for a more affordable karaoke machine, read Tips on Finding a Cheap Karaoke Machine.
The machine's key element that sets it apart from most karaoke machines is the video camera that shows the singer on screen beside or alongside the lyrics, giving the user a more intimate feel. Girls will feel as if they were in a music video of their own and can have hours of fun and play with this device; however, due to its small size, extended play should be monitored as the machine may overheat like any electronic device.
Possible Major Health Hazards
The Hannah Montana karaoke machine is manufactured for younger girls, mostly under ten years old; however, the plastic knobs appear to look very poorly crafted and they are small enough to be swallowed accidentally. Disney has already issued a warning on their product about a possible chemical that may cause some reproductive maladies, but they are vaguely written.
Parents should be aware of toy safety as rumors of harmful substances found in toys have been rising as more and more companies are admitting to poor safety checks. The Hannah Montana Karaoke System uses a substance that is known in the state of California as a possible cause for cancer, birth defects among those expecting, and/or other reproductive harm.
Not a Worthy Purchase
Due to the health hazards of this product and its high price, this device is not worth purchasing. Similar products include, but aren't limited to, the Barbie karaoke machine, which is priced at around $90, but includes the same features and usage of the Hannah Montana karaoke machine.
One of the key reasons of rejecting this product should be the safety of the child's health. Even if the price were to drop, purchasing this product knowing it contains such a harmful substance is probably not a good idea. Although there are warnings stated on the device, parents should be made aware that toys containing harmful substances may still linger on the market and could cause serious complications to one's children or themselves.
One of the positive aspects of this machine, however, was its use of a video camera and the ability to show the singer on screen. If there was a way to take out the harmful substance, the machine would make a very nice gift for a little girl.