Where to Find Free eBooks for the Kindle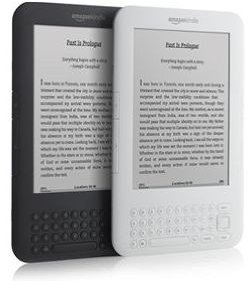 The Kindle Store
The Kindle store on Amazon has more books for Kindle than anywhere else; as of March 2011 they offer approximately 800,000 unique titles available for purchase. That's over three quarters of a million books to choose from. There are thousands of titles available for free (public domain works that have been made available by Project Gutenberg). The Kindle comes with an electronic owner's manual and a copy of the New Oxford American Dictionary complimentary of Amazon. In addition, if you find a format that you need converted to an .amz file there is support from Amazon to do just that. E-mail them the file that needs to be converted and for 15 cents a MB they will create a Kindle readable .amz file.
Image courtesy of Amazon.com
FictionWise
Fictionwise features several e-book only publications from brilliant authors that haven't been snapped up by the mainstream publishing houses yet. With over 40 categories containing hundreds of titles each, there is bound to be something here that piques your interest. There are some big name writers on this site as well including Laurell K Hamilton. They also have a free e-book section where you can get free e-books for Kindle.
Google Books
A source for free e-books for Kindle is Google Books. It only takes a bit of effort to find free e-books on this website. Once you've logged into the browser, you need to choose a genre. After the genre is chosen, look to the right side of the screen and check the 'public domain only' button. Any of the books in public domain are free to download. Of course there are plenty of books that you can buy there too, but most of these are available from Amazon so there will be mostly duplicates. If you like the Google store it has hundreds of thousands of titles to choose from.
Mobipocket
When you want to get a book that you don't have to convert to use on your Kindle, check out Mobipocket. They have a library full of top shelf authors including Stephen King, Peter Straub, Dean Koontz, Nora Roberts and Ken Follett. This site is a no bull, all product store. Yes, they do have specials, but the easy to browse interface doesn't bombard you with extraneous information or tangential suggestions that you "might like." There is also a free e-book section with free e-books for kindle and other readers. An A+ site that seems to be under the radar but is perhaps better than both Google Books and Amazon combined.
FreeBookSpot.com
Didn't find what you were looking for at the Amazon or Google Book website? Here's another one, FreeBookSpot.com. And as the title says, these are free e-books for kindle or other e-readers. This site features technical manuals and non-fiction titles. They do have a fiction section but it is populated with almost entirely science fiction. If that's your thing this may be the only sight you need.
File Converter
Because the Kindle reader doesn't support .lit, .epub., .lrx and .lrz and several other formats, some of the other sites that sell eBooks might not be immediately compatible. There are ways to convert files to the unencrypted .MOBI files, .TXT files, or .AZW formats that can be transferred to the Kindle. An online site that converts documents to .MOBI can be found here. This way all of your free e-books for Kindle can be accessed.
References
https://www.mobipocket.com/en/HomePage/default.asp?Language=EN
https://www.amazon.com/kindle-store-ebooks-newspapers-blogs/b?ie=UTF8&node=133141011