Introduction
The Metz Mecablitz 48 AF-1 flash is a TIPA Award winner, and comes in versions suitable for Canon, Nikon, Olympus/Panasonic/Leica, Pentax/Samsung, and Sony cameras. For the purpose of this review, the tested version was a Nikon camera flash model. The closest Nikon equivalent to this flash is the Nikon SB-600.
Features (5 out of 5)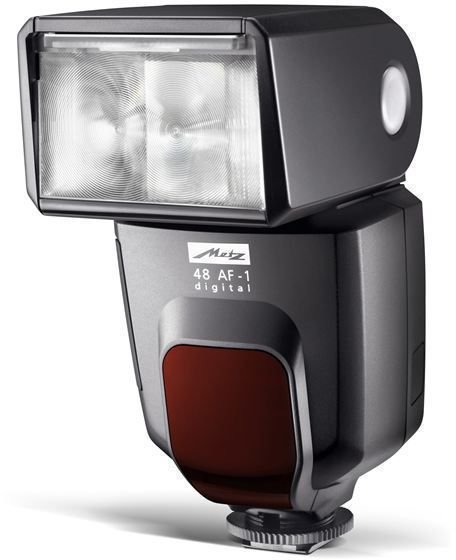 This feature packed Metz flash has all that you need to create professional looking flash photographs. The head tilts and swivels and comes with a built in pop up reflector (see picture below). The integrated power zoom covers a 24-105mm range, but a flip out flash diffuser allows you to achieve an 18mm wide angle coverage if you need it. The rear LCD display lets you access all the settings and modes you need, including the wireless remote flash mode.
The Metz 48 AF-1 can be used as a slave flash and triggered remotely by your camera's pop-up flash, or by another flash in a multiple flash set-up. Nikon DLSRs with a built-in commander mode, (D90 models and up from the current range), can wirelessly adjust the power of this flash from the camera body by assigning the Metz 48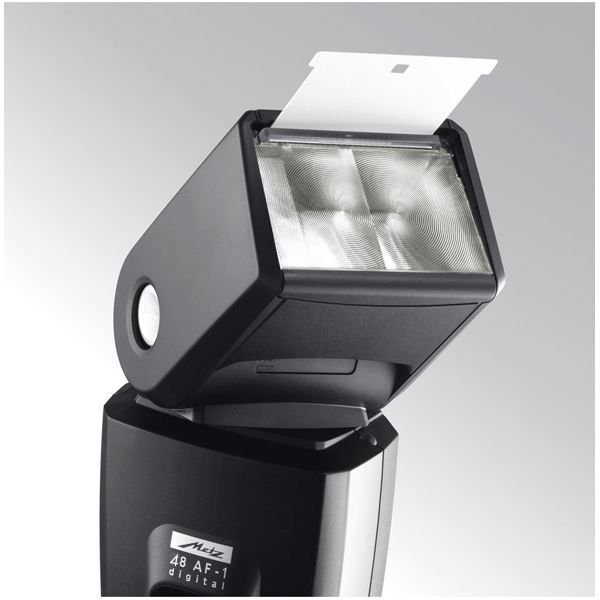 one of the built-in flash channels. This functionality is the same as what you would get from using the Nikon SB-600, SB-800 or SB-900, but note that a flash stand is not included for table top or tripod use.
It even has a USB interface for firmware updates. This allows Metz to update the functionality of the flash and make sure that it syncs seamlessly with new models released by manufacturers. There has been several updates for each version of this flash, so make sure you check the Metz website to ensure you have the latest version.
A guide number of 48m/157ft for ISO 100 @ 105mm means that this camera flash is a capable mid range flash with power that compares well with the Nikon SB-600 or Canon Speedlite 430EX II. It is a flash with enough power to light all but the biggest rooms.
Performance and Ease of Use (5 out of 5)
So far, the Metz 48 has produced some very even exposures that balance the light well. When bounced, a natural and pleasing light is produced, and good skin tones are maintained. The TTL BL mode, provides additional help with exposure and is available to use with all modern Nikon DSLRs. Switching between flash modes is as simple as pressing a button, or combination of buttons. The LCD screen is a little on the small side, but is still clear and easy to read.
Build Quality (4 out of 5)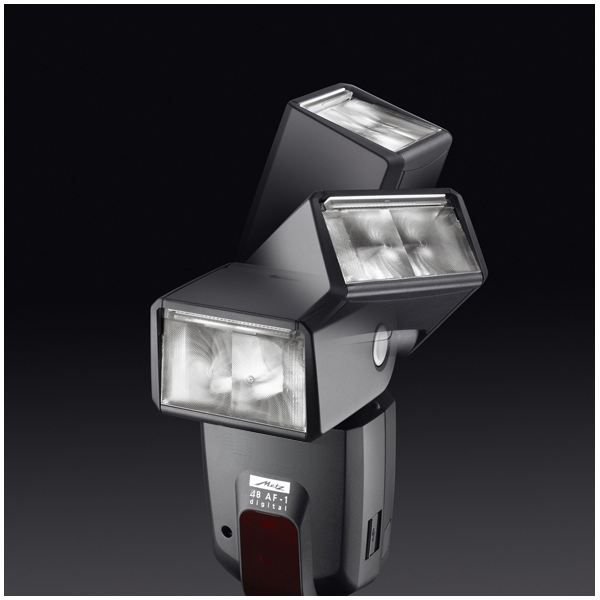 Metz have made a very solid and clean looking flash unit. The 'Made in Germany' moniker is stamped proudly below the flash head on the rear of the camera, and anyone familiar with German manufacturing techniques will know that this is essentially a stamp of quality. Everything works just as it should, and nothing is loose or badly fitted. The flash fits securely to my Nikon D90 via the twist collar lock, and I have had no problems with maintaining the electrical connection between camera and flash.
The only complaints I have, in terms of build quality, are small. The battery door is a little stiff to open and close, but this may get better over time, and the power button on the back of the Metz 48 could be a little more positive with its on/off action. I have had no problems with the power switch, it just could have been firmer, in my opinion.
Everything else works exactly as it should. The auto zoom quickly and quietly finds its range, the tilt and swivel head works great, and the flip out reflector and diffuser are easy to operate.
Value for Money (5 out of 5)
As stated in the introduction, the only flash that comes anywhere near the Metz 48 AF-1 in terms of features and price is the Nikon SB-600. At present, the Metz flash can be bought for around $200 on Amazon, while the Nikon SB-600 is currently $218, but it is worth noting that the Nikon does come with a soft case and speedlight stand. The Metz does not. Overall, it is great value for the features and specification it offers, and you will not be disappointed at the performance you get from this great camera flash.