The XF300 by Canon is a professional grade camcorder that is ideal for videographers of all kinds. Whether they are corporate, wedding, documentary, independent film or TV news videographers and filmmakers, this is one piece of equipment that can handle their needs.
Design (4 out of 5)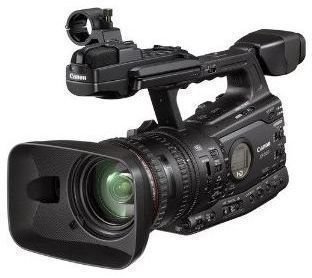 Weighing in at a mere 6.5 lbs, the Canon XF300 is among the lightest and most compact video cameras that are fit for professional production. This size makes it ideal for all kinds of uses, ranging from personal film projects to backup camera work in professional TV news productions. It has a four-inch LCD monitor, two channel microphone input, manual audio level control, a headphone jack, a speaker, support for wireless remote, slots for CompactFlash memory cards and video output for HDMI, composite and component.
In terms of hardware and design, it is all packed in a tidy compact body that provides mobility and portability to professionals and amateurs alike. Its range of control buttons is understandably wide because it is, after all, an advanced professional grade video camera, but the design lends itself to easy control navigation because the buttons are strategically placed for optimized ergonomics. The only drawback on its design is the location of the power button which is in between the play mode and the camera mode. It takes more practice and adjustment to hit the off position without sliding over to the play mode.
User Interface (5 out of 5)
This camcorder has a four-inch LCD widescreen display which moves freely from side to side. It allows the user to adjust the display angle depending on his style. The .52 inch camera finder focusing system is also quite useful for stabilization. The XF300 also makes it easy for users to navigate the different controls, both in full manual mode and in full auto mode for fast and continuous shooting. This makes it ideal for wildlife or in sports videography.
It has intuitive user controls on its body which users can personalize to make it more manageable. With 13 customizable buttons, you can assign your favorite features for easy access, helping to keep you from returning to the main menu. You can also set the XF300 operation to match your shooting style by adjusting the Shockless Gain, White Balance, Iris Limit, Iris Ring Direction, AE Response, Control of Focus Ring and Character Record. Switching between resolutions, frame rates and bitrates are not just easy to do, but is quick thanks to the camcorder's ability to switch between these modes without restarting the entire system.
Features (4 out of 5)
With three independent rings that are dedicated to zoom, focus and iris control, built-in ND filters and an 18x HD L-Series lens, this camcorder offers excellent video and image quality, whether you are shooting indoors or outdoors. This range of optics features is easily controllable, making them more valuable to the overall usability of the camera.
One of the best features of this camcorder has to be its solid state recording capability with a three second buffer. This means before you even hit the record button, there are already three seconds of video being recorded that will be inserted into the front of your recording when you hit the record button. You can record continuously as long as you have Compact Flash memory cards at your disposal, which is a great feature for people who are filming events for a continuous and tapeless recording.
Performance (4 out of 5)
It is an almost perfect piece of equipment when it comes to performance. The only thing that prevents it from being perfect is the delay in the zoom function. As the zoom function is used, it is operated by motors that cause lags. Everything else, like selecting shutter speed, aperture, white balance and gain, are efficient and responsive enough for filmmaking equipment.
Verdict (4 out of 5)
The Canon XF300 may not be capable enough to be the primary camera for TV news broadcasts or high definition summer blockbuster movies, but for its medium-cost price tag of $6,945.79, it is with great value in the professional level marketplace. Its range of features and video quality makes it ideal for all kinds of projects and this versatility makes it worth the price.
References
Canon, https://usa.canon.com/cusa/consumer/products/camcorders/professional_camcorders/xf300
Amazon, https://www.amazon.com/Canon-XF300-Definition-professional-widescreen/dp/B003GCR5O8
Photo Courtesy of Amazon.com