FinePix X100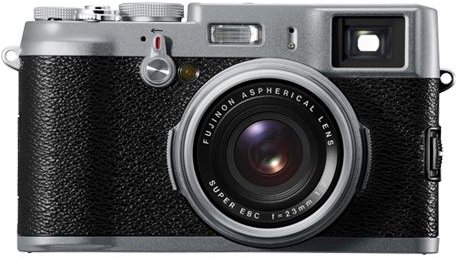 This Fujifilm digital camera's major feature is its Hybrid Viewfinder which basically ofers expanded freedom in the composition and enjoyment of your photos in various shooting conditions. what this feature does is to let you see a range of shooting data projected on its integrated HD LCD panel. This camera's optical viewfinder display your photo's subject in maximum clarity. While the Electronic Viewfinder (EVF) to confirm focus, exposure, white balance and depth of field. For the Fujifilm Finepix X100's technical specs, you'll have a 12.3 MP image sensor, a 2.8-inch LCD monitor, 20 MB internal memory and SD/SDHC/SDXC memory card support. The camera also record 1280p HD video at 20 fps with stereo sound. Other features include – motion panorama, auto red-eye removal, one-touch RAW playback functions, image rotate, image search, and more.(Price: $1000)
(To be released in March 2011)
FinePix S4000/S4050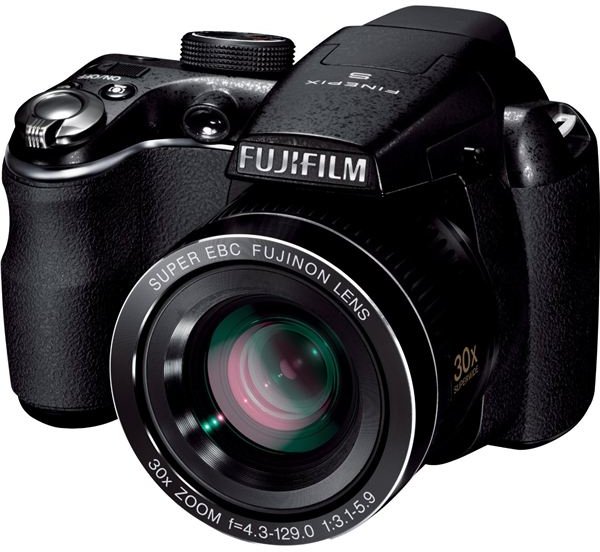 Featuring a high resolution 14 MP CCD, a 3.0-inch LCD screen and the Fujinon optics, this Fujifilm digital camera gives value for your money with its many nice features. These include – 30x optical zoom, 24 mm wide-angle to 720mm telephoto lens, high ISO sensitivity, Panorama mode, HD movie capture, face detection and easy web up uploader. These feature more than make up for a handy shooter that is easy to use for any photo enthusiasts.Additional features of the Finepix S400 include tracking auto focus, i-Flash intelligent Flash, full manual controls, instant zoom and zoom bracketing, and continuous shooting mode up to 8 fps for 20 frames in S mode. (Price: $279.95)
FinePix XP30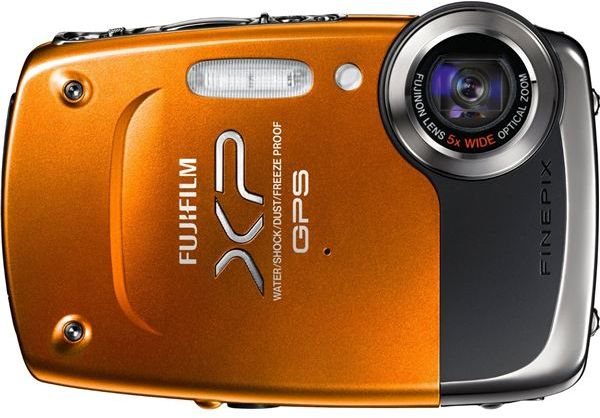 Here's one of Fujifilm's waterproof and ruggedized digital camera. The Finepix XP30 is geared for photo enthusiasts who focus on the outdoors or sports activities. It has GPS and rugged form factor and design, and wide-zoom with optical image stabilization for shooting sharp images. As a ruggedized Fujifilm digital camera, the FinePix XP30 is made from advanced material with 4-way protection from water, shock, freeze and dust. It is sealed with waterproof that can withstand 5m water depth and fall up to 1.5m. Other specs of this digital camera include – a 2.7-inch LCD, reinforced glass cover, glass lens, shockproof bumper design shields, folded zoom lens, and anti-slip rubber grip. (Price: $239.95)
Buy the Fujifilm FinePix XP30.
FinePix T300 / T305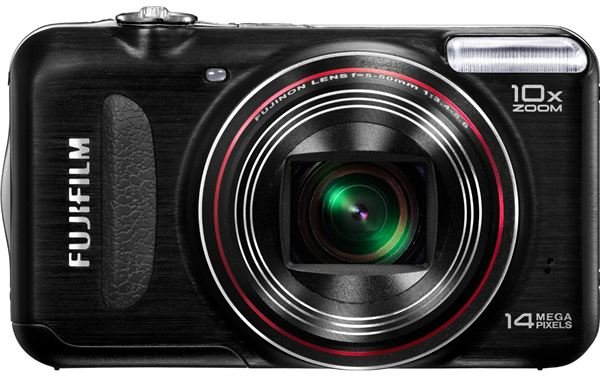 With a FUJINON 10x long-zoom lens and a 14MP CCD sensor, this Fujifilm digital camera provides you with a set of advanced features not normally found in thin and slim digital shooter. In fact, the Finepix T300 is so small that it can fit any pocket or small bag. Some nice features of this Fujifilm digital camera include – image stabilization, HD 720p video capture capaility, tracking auto focus, face recognition,and image search tool. (Price: $199.95)
Buy the Fujifilm FinePix T300/T305.
Finexpix F550EXR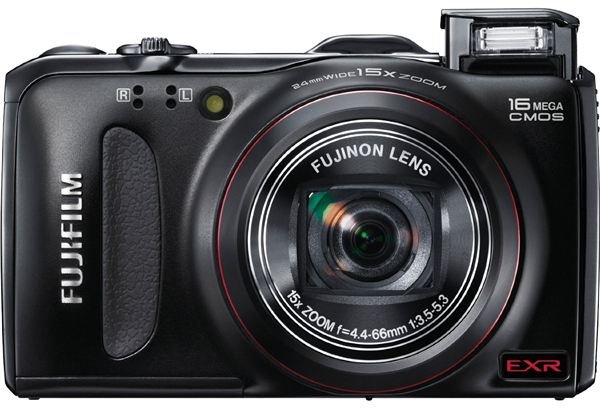 Here's another nice Fujifilm digital camera, this time with the new BSI (Back Side Illuminated EXR CMOS sensor which produces outstanding image quality. The camera also has advance scene recognition feature which enables it to identify 10 basic types of scen and then check whether or not a person is present and how much light is available. It also recognizes what type of scene your shooting and then optimizes exposure, white balance, focus, color and tonality accordingly. The camera also captures photos and video in HD 1020p format. Technical specs of this Fujifilm digital camera include – a whooping 16.0 MP image sensor, 39 MB internal memory, SD/SDHC/SDXC support, and a 3.0-inch LCD screen. Finally, the camera boasts of some nice photography functions including – EXR mode, face recognition, intelligent face detection, auto red-eye removal, film simulation, dog/cat protection, and more. (Price: $279.95)
Buy the Fujifilm FinePix F550EXR.
FinePix Z90 / Z91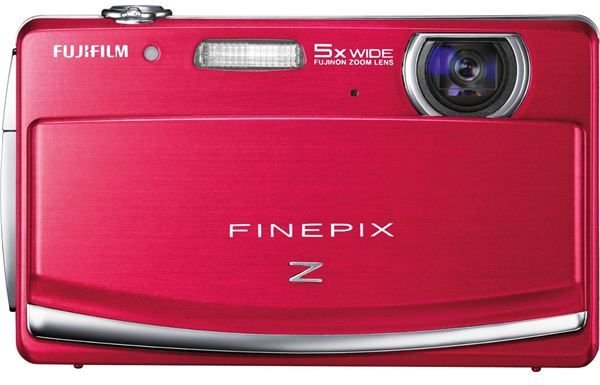 This Fujifilm digital camera has a 3.0-inch Innovative Touch Screen with dual image display. It automatically detects how you are holding the camera and automatically rotates the display of portrait orlandscape view. So, if you hold it sideways, the view will rotate to landscape view, and hold it verticall and the display will shift to portrait view.Its touchscreen display is also easy to use when focusing and capturing images instantly. The touchscreen feature also makes it easier for you to navigate through your picture collection with a swipe of a finger. Adding more convenience is the image search function which search your pictures by face, favorite rank, scene, type of data, upload mark and date. Another nice feature of the Fujifilm Finepix Z90/Z91 is the variety of color design which you can choose – pink, purple, red, blue, black, and silver so it's easy to choose which design and color fits your style. Other specs of the Finepix Z90 include – 14 MP CCD sensor, 5x wide-angle optical zoom lens, 720p HD video capture, one-touch movie button, easy web upload to Facebook and YouTube, and SD/SDHC memory card support. (Price: $169.95)
Buy the Fujifilm Finepix Z90/Z91.
FinePix JX400 / JX405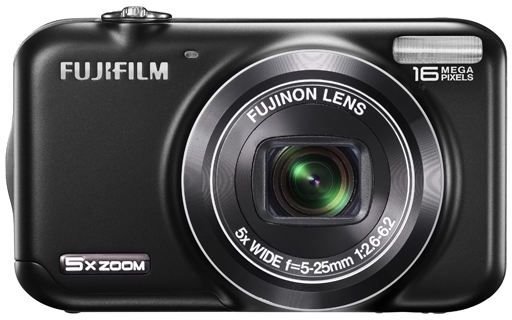 This Fujifilm digital camera captures alluring photos and HD movies supported by Fujifilm's Fujinon lens. It is available in sleek and slim design and form factor measuring only 23.3 mm thick and are available in silver, black, red, blue, pink and champagne gold.It features a 16 MP CCD sensor with 5x optical zoom, high ISO sensitivity up to 3200, digital image stabilization, and HDTV support.Additional features include face detection, automatic red-eye removal, scene recognition, motion panorama mode, smile/blink detection, and photobook assist. (Price: $199.95)
More details about the Fujifilm FinePix JX400/JX405.
References
Fujifilm: https://fujifilm.com
Amazon: https://amazon.com
Image credit: Fujifilm and Amazon.com