Quattro Pro Overview
Quattro Pro X4 is the spreadsheet application that comes bundled with Corel's WordPerfect Office X4 suite. Just like its sister product, WordPerfect, its biggest competition on the market today comes from Microsoft. How does it compare in terms of functionality and ease of use? And, how compatible is Quattro Pro with other applications of its type?
Ease of Use (5 out of 5)
Just as with other products in the WordPerfect Office X4 suite, Quattro Pro allows you several choices for the workspace look and feel. This is a big bonus to new users of the software who are defecting from other spreadsheet applications. In particular, you can make the choice of working in standard Quattro Pro Mode, Microsoft Excel Mode (based on Excel 2003 and earlier), or Lotus 1-2-3 Mode.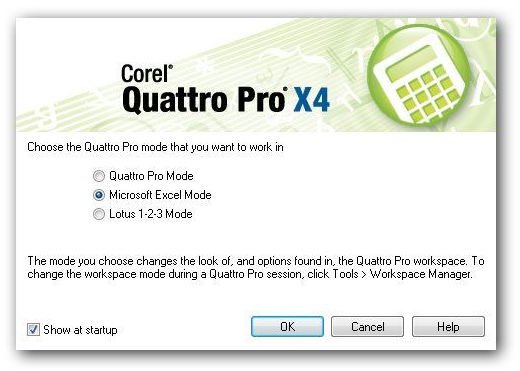 If you have any familiarity with spreadsheet applications at all, you should find Quattro Pro's user interface and on board help system easy to navigate. To benefit the true spreadsheet novice, an instructional CD containing an excellent collection of video tutorials comes free with the purchase of the WordPerfect Office X4 suite.
Features (5 out of 5)
While I am a fan of templates in other types of office applications, I rarely use them in spreadsheet programs. In most cases, I generally find it quicker to create my own layout than spend hours browsing through predesigned documents that don't look anything like what I had in mind. With that being said, I found the project templates included with Quattro Pro, ones that might actually be of use, especially to those looking for items to help analyze their personal finances.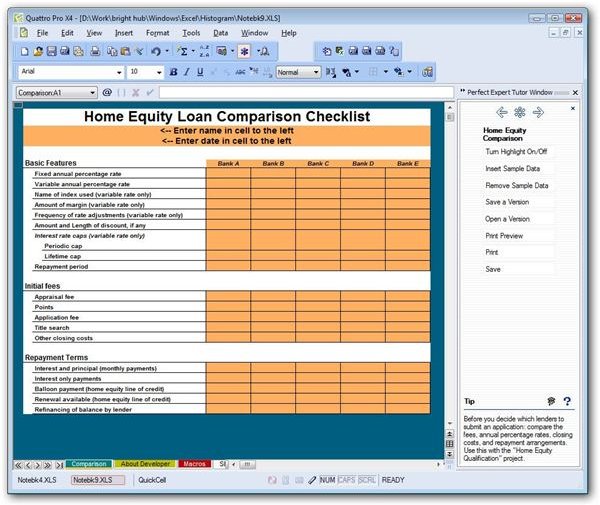 One thing that particularly caught my attention in Quattro Pro was the large number of chart options available, many of which are not found in Excel. Although it is possible to create items like histograms and Gantt charts in Excel, it can't be done with the click of a button or easy use of a chart picker, as it can in Quattro Pro. (See Creating Quattro Pro Gantt Charts for more details.)
Another nice feature in Quattro Pro's Chart Expert is the Advisor's Choice button. If you don't know what type of chart would best represent your data, you can click this button and Quattro Pro will make a recommendation for which type of chart to use.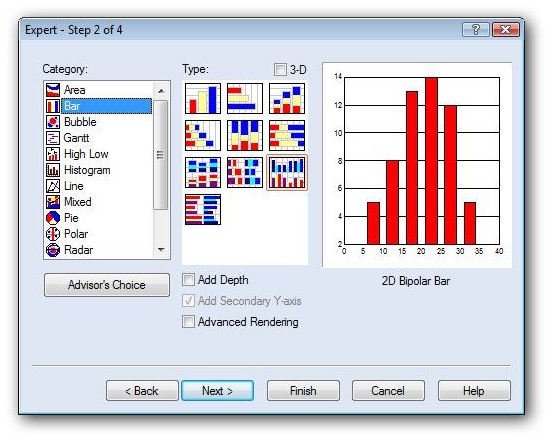 In general, the fundamental capabilities of Quattro Pro are very much in line with other major spreadsheet programs today. As in Excel, there are a multitude of pre-defined functions with sometimes less than obvious names, but the Functions dialog box makes it easy to find and pick the one you want.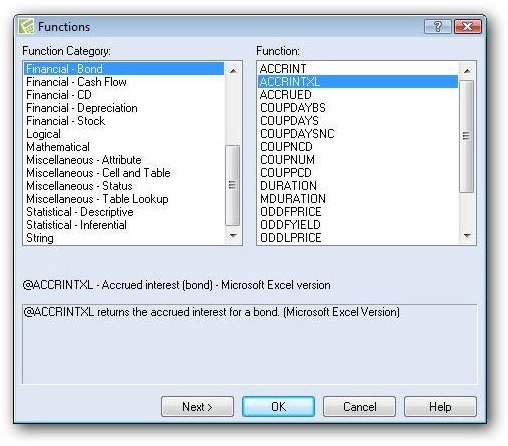 Continue on to the next page, where we look at the compatibility and overall rating of Quattro Pro X4.
Compatibility (4 out of 5)
At first, the question of how compatible Quattro Pro is with other spreadsheet programs didn't seem as important as the analogous situation in word processors. After all, you can always export your data as a CSV file and read that file into the other application, right? That's fine if all you have is a bunch of lists of data, but what if your spreadsheet includes tables, charts, and other inserted images? Then, compatibility really does become an issue unless you want to recreate all those objects from the base data.
It should come as no surprise that Quattro Pro handles this issue extremely well in most cases and is even capable of opening the Excel 2007 files that make other spreadsheet applications cry.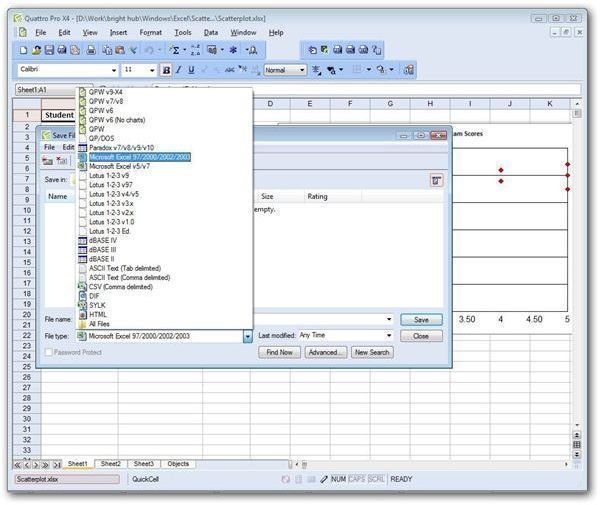 Even though Quattro Pro does seem to handle the importation of Excel charts very well, I did run into a bit of trouble when opening Excel workbooks containing non-basic formulas. However, even in these cases when the formula itself could not be imported, the result of the computation was expedient, and I appreciated the fact that Quattro Pro used colorful red highlighting to let me know which cells had been converted from formulas to static data.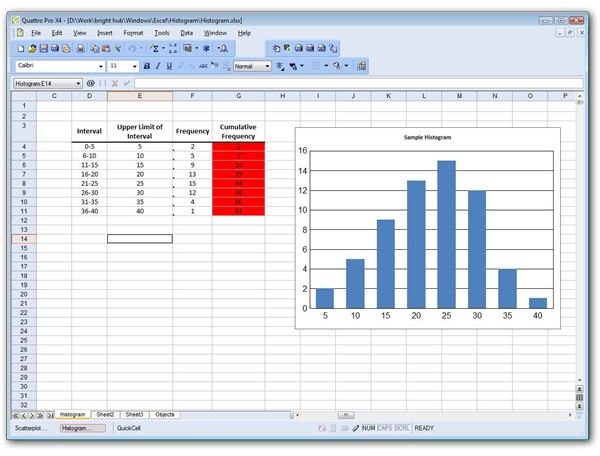 Overall Rating (5 out of 5)
Though Quattro Pro X4 may not have the fresh colorful face seen in Excel 2007, it definitely matches it in terms of functionality and data analysis, and in many cases, it's actually superior. I've quickly become a fan of the "what-if" scenario options that you can create in the application, and I am very impressed by the number of chart options and formula/function classes available.
Those who have been using Excel 2007 for awhile may need a little time to adjust to the interface, but users of prior versions of Excel will be happy to see the familiar toolbars and menus when working in Excel Mode. Quattro Pro is most definitely a full, feature-rich spreadsheet application that is capable of holding its own in the war of the office suites.
This post is part of the series: Review of Corel WordPerfect Office X4
This series takes a look at the features available in each of the major applications that make up Corel's latest release of WordPerfect Office X4. Can this suite give Microsoft Office some good, solid competition?