Tip #10 Disable Vista's Side Bar
The Windows Sidebar, with its cool, mini-applications called gadgets, is one of the snazzy features that come integrated with the Vista operating system. Along with its gadgets, the Sidebar is also a memory-hog that eats into valuable system resources, considerably slowing down performance. If you do not use either one of them much or just want to speed up your system you can easily disable them.
.

How to Disable the Vista Side Bar
The Window's Vista sidebar is a widget engine for Vista's gadgets, and it is typically anchored to either the right-hand side (default) or left-hand side of your Windows desktop.
The Sidebar does take up valuable system resources, using between 12MB to 20MB of RAM to run the 3 gadgets that come integrated with it. If you do not use it much, you can disable it. Here are two methods for disabling it:
Method #1
Right-click on any un-used area of the Sidebar. Select Properties from the context menu that opens.
Un-check the option: Start Sidebar When Windows Starts. Click OK to apply the settings.
Right-click on an un-used area of the Sidebar and select Close Sidebar from the context menu.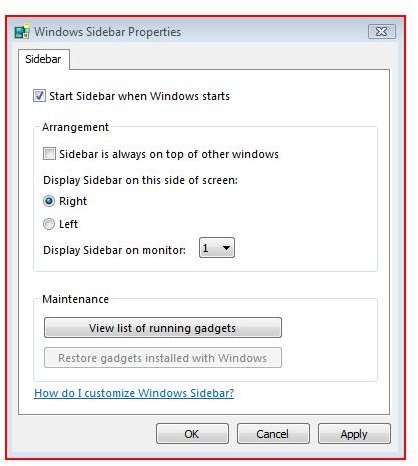 Method #2
Right click on the Windows Sidebar icon, which is in the System Tray (bottom, left-hand corner).
Click on Properties in the context menu. This opens the "Windows Sidebar Properties" window.
Un-check the checkbox next to Start Sidebar when Windows starts.
Click the Ok or Apply button.
TIP: To get back the sidebar, simply click on the Start button, type "Sidebar" into the Search text box, and then hit the Enter key.
Tip #11 Remove Un-used Gadgets
Microsoft added visual gadgets to Vista to make your Windows experience more pleasant and productive. Each of these gadgets is a mini, single-purpose application that is designed to perform a specific task, such as display the date and time. They can be docked to the side bar or they can "float" on your desktop.
Windows Sidebar comes with a set of 11 gadgets, three of which are displayed by default (the Clock, Feed Headlines and Slide Show) when you install Windows Vista. Each one of these gadgets taps into your CPU resources and may affect performance, particularly on an older PC. Removing some or even all of the gadgets from your desktop will free up space on your hard drive, and improve performance. Here's how:
How to Remove Gadgets
Click on the ~ezentity_quot+ezentity_quot~ sign at the top right-hand corner of your Sidebar. This opens the Gadgets window, displaying a list of all your installed gadgets.

Right click on the gadget that you want to un-install.

Click on Uninstall, and then close the Gadgets window.
This post is part of the series: 21 Ways to Speed Up Vista
Want to speed up your Vista PC? This series will tell you how – from the basics to more advanced techniques. Soon you'll have your Vista PC humming along in tip-top shape.