About Windows Live and Requirements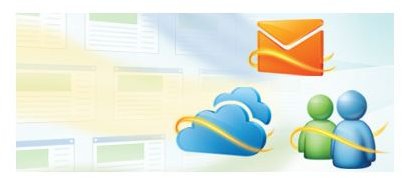 Windows Live by Microsoft is free of charge online and software programs. Most services in Windows Live are accessible using a browser in a personal computer or mobile device. Some of Windows Live service requires installation on a PC.
Some Windows Live services require a Hotmail or Windows Live ID account (aka Passport) before using the service or software. The Windows Live software runs on Windows 7 and Vista operating systems while some will run on XP.
Users of Windows 7 will notice integrated Windows Live programs, allowing customers to easily download and install available Windows Live software e.g. Windows Live Messenger, Windows Live Mail.
What are Windows Live online services?
Each time Microsoft releases a new version or wave of Windows Live, you will notice new services or software. Below is a list of current online services from Windows Live.
Family Safety – an online and desktop parental control software. You can also use Windows Live Family Safety when using Zune.
Safety Scanner – this service is previously offered as OneCare Live service. It's now part of Windows Live, providing free online virus scan, registry cleaning and tune-up in Windows.
Hotmail – free web-based e-mail account that you can access using a browser or email program such as Outlook with the help of Outlook Connector.
SkyDrive – an online storage that features sharing with contacts or the public.
Office Web Apps – create, edit or publish documents online.
Admin Center – website or domain owners can host free e-mail service using Windows Live.
Contacts – sync or update your contacts using Windows Live contacts.
Groups – create user or social group to share or discuss.
Calendar – an online calendar that you can access anywhere, at any time.
Bing – online web search service.
My Phone – free mobile phone back-up solution, share or access contacts for free.
What are Windows Live desktop applications?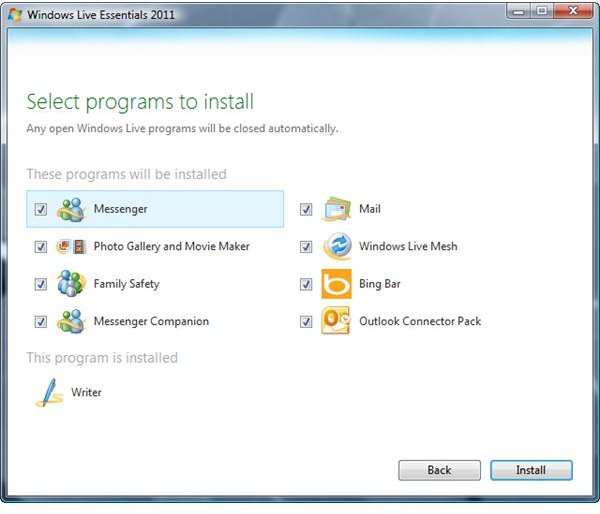 Microsoft is also offering the following Windows Live software to Windows and Mac operating systems:
Writer – create and publish blogs using free word processing software, Windows Live Writer.
Messenger and Messenger Companion – online chat, video chat application and conferencing software.
Microsoft Security Essentials – free antivirus and anti-malware software for Windows.
Movie Maker and Photo Gallery – enhanced Movie Maker that is available in Windows operating systems, and also the enhanced photo editor that is available in Vista and Windows 7.
Mail – this replaced Windows Mail in Windows Vista or Outlook Express in XP.
Mesh – access or share files using PC to cloud synchronization service.
Bing Bar – free add-on for browser to search the Internet, get data about weather, take advantage of auto-fill, instant sign-on tool and more.
Outlook Connector Pack – access Hotmail or Windows Live e-mail account and stay in touch with social networking friends.
Silverlight – create or view interactive contents online.
Game – play online or desktop games e.g. Microsoft Tinker with many levels.
All of the above is available in Windows Live Essentials 2011 installer, except Windows Live Game and Microsoft Security Essentials software.
Image credit: Screenshot taken by author.
Why Use Windows Live service or software?
For Internet users who want free software and service to connect, share, communicate and secure the computer, Windows Live is something to consider before throwing cash at similar commercial services. However, free services and software come with limitations. Some software or services may be discontinued while adding new programs and services as replacement or no replacement at all. Examples of discontinued Windows Live services include Windows Live Alerts, Agents, Live Call, Expo, TV and Wi-Fi Center.
Using Windows Live
Downloading, installing or using services or software from Windows Live website is free. You don't have to pay for any of the above services or software. Some service requires Windows Live ID before you can start using. If you don't have Windows Live ID, you can simply create one — free of charge, as well.
Below are some of Windows Live websites where you might want to get started:
Sign-in with your Windows Live ID
You can use the Live ID to sign-in with Hotmail, SkyDrive, Xbox, Live Games, Windows Live Mail and many other Windows Live services or software, including third-party web-services. If you are using social networking services such as Facebook, MySpace, Flickr, WordPress, YouTube, Photobucket, CNET, Dig, Last.fm, StumbleUpon and many others, you can use Windows Live ID to connect, share and start getting updates from your network. It's recommended to use different passwords of the third-party websites that you associate a Windows Live ID to prevent hackers in taking control of all your accounts, in case any of the services will become compromised.
Note that if you already have a Windows Live ID, you can create another one and then associate it to the existing Live ID or Hotmail account. This allows you to choose which Live ID to use when playing online games, using messenger service or other online Windows Live services.
If you will experience problem in using Windows Live ID, don't worry because there are solutions to it e.g. Solution for error message, "Windows Live ID isn't available at this time" or Error code "0x800ccc0e when using Windows Live Mail"
Windows Live ID is your key to access many services by Microsoft which contains personal information you've entered in your profile. You should keep the password strong and secure to prevent hackers in using your account. See the article, "Creating and Using Strong Password".