Arrange By Color, Chuzzle By Cuteness

Chuzzles are adorable furry creatures that go *poof* when three of the same color are aligned directly adjacent with one another. It veers away from PopCap's other popular match three genre games in that instead of using inanimate game elements, like jewels for example, Chuzzle makes use of quirky and velvet round critters that can appeal to kids and grown ups alike.
Aligning Chuzzles can be achieved by rotating the row or column of your choice. At least three of the same color will remove the involved Chuzzles and give way to more possible combinations and pave the way for banking more points.
As you progress from one level to another, the game introduces additional hurdles and challenges that increases the game's difficulty. From time to time, Chuzzles will get locked in place disabling you from moving the row or column where the locked Chuzzle is located. They can only be freed when matched with two more Chuzzles of the same color. Also, big Chuzzles appear on the screen encompassing two rows and two columns. As a result, moving big Chuzzles around will affect more than just one row and can get in the way when locked Chuzzles are involved. Luckily, when you end up finding two more matches for these big critters, you get higher points for the inconvenience they bring in.
Graphics and Gameplay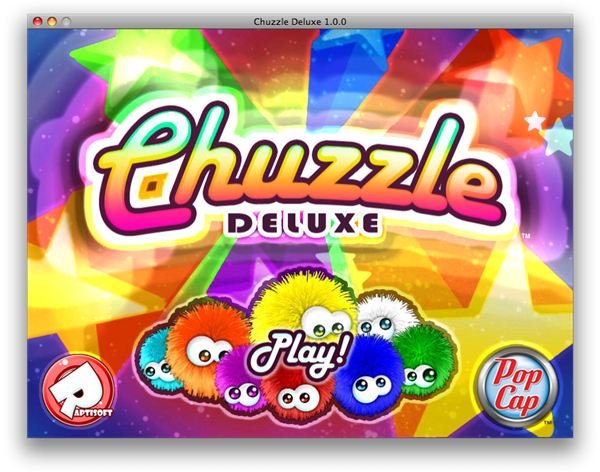 The game's furry animation, flashy sound bits, and well drawn characters entertain in a way only PopCap can, it is simply entertainingly eye-candy. If you're a fan of match three games, or simply enjoy casual games, Chuzzle should be spicy enough to make you want to try out and play.
The game has a lot of built-in mechanisms that should keep you entertained for hours. You can collect trophies according to your achievements and keep them for later viewing in the trophy room, and you can keep track of your awesome highscores.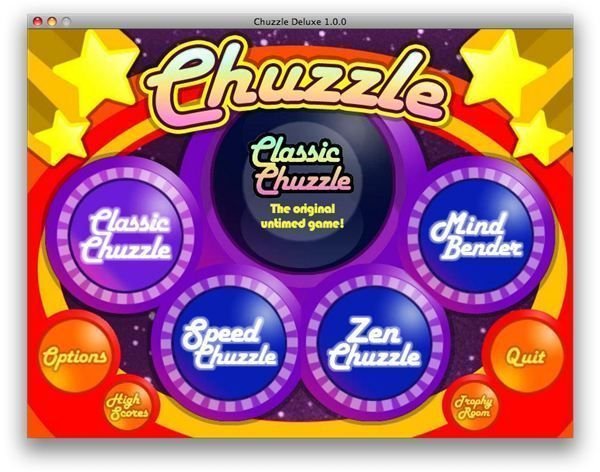 Chuzzle also gives you four modes of gameplay: Classic, Speed, Zen, and Mind Bender. The Classic mode lets you play Chuzzle level by level, where the difficulty increases as you progress. Speed mode is a faster-paced rushed mode, where you need to make matches as quickly as possible before time runs out before you know it. Zen is a game mode where you can play at your very own relaxed pace. Mind Bender is the puzzle feature in Chuzzle, where the critters are arranged in a predefined fashion – like a puzzle – where you need to clear out the board by arranging the Chuzzles with a limited number of steps.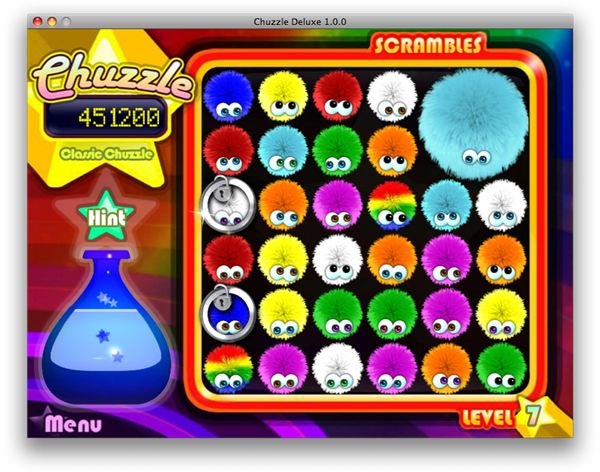 Chuzzle is one of those great games that can appeal to many kinds of gamers – young and old alike, and you might find yourself feeling difficult to leave these furry creatures behind once you start playing.
Available Online
You may download a trial or purchase Chuzzle directly from PopCap Games. Hopefully, PopCap comes out with an iPhone / iPod Touch version so you can bring Chuzzles around in your favorite mobile device to keep you entertained wherever you are.
Enjoy!
This post is part of the series: Casual Games For The Mac
There is a wide array of casual games available for the Mac – from classic board games, classic card games, puzzle games, board games, to action/arcade games. This series of articles discusses a handful of great casual games that can entertain all kinds of users of all ages.