Guide to Using Windows Live for Mac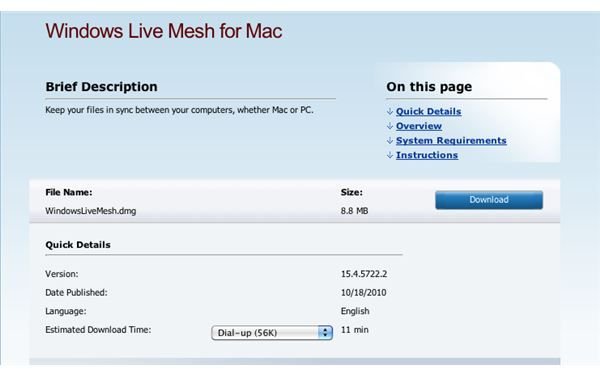 What is Windows Live for Mac?
Windows Live is a series of applications available for Windows computers that bring additional features to the operating system. This includes a movie editor, as well as Microsoft's latest incarnation of Messenger, an email client, some security tools and a photo management and editing app.
Interestingly Microsoft has also made a version of Windows Live available for Macs. However this is a largely stripped-down version which only features Microsoft Messenger for your desktop and various web apps.
Clearly this is a much stripped-down version of the suite, but along with Microsoft Live Messenger, these tools can be used to good effect on your Mac.
What's Included with Windows Live for Mac?
Applications for Mac users with Windows Live include tools that can be accessed from the desktop and web applications.
Messenger for Mac – the latest version of the popular text, voice and video chat client
Windows Live Mesh for Mac – a desktop file sync tool to back-up your vital documents to your Windows Live SkyDrive
Windows Live SkyDrive – 25GB of storage in the cloud for all Windows Live users
Office Web Apps – the web-based versions of Microsoft Office applications Word, Excel and PowerPoint, documents created with these tools can be saved to your SkyDrive
Windows Live Hotmail – access to the popular Hotmail web-based email.
How Do I Get Windows Live for Mac?
Strangely, Windows Live for Mac is a group of pretty disparate applications. Only Windows Live Mesh for Mac can be downloaded while SkyDrive, Hotmail and Office Web Apps are all available through the browser (links for which are available when you sign in to a Windows Live account on the web).
Meanwhile Windows Live Messenger is only available to Microsoft Office: Mac 2011 users, something that might seem strange to many users. Clearly Microsoft are targeting Office users that have moved to Mac OS X from Windows, but this seems to needlessly exclude the many domestic users that have switched from Windows to Mac OS X and might like to install Windows Live Messenger on their Macs.
So How Do I Access Windows Live Messenger from a Mac?
The main reason for bundling Windows Live Messenger with Microsoft Office: Mac 2011 seems to be to restrict video chat to corporate users. But where does this leave every other Mac using Windows Live account holder?
Restricted to the old web-cam free MSN Messenger (available from softonic.com), sadly, a very unusual decision from Microsoft in this day and age of free web-based versions of their excellent office tools, free online storage and effective desktop sync software.
Windows Live for Mac certainly seems to be a case of Microsoft releasing software specifically for Mac OS X, but in the end it is curiously nothing more than access to a series of web apps.