Yes, it's eye candy, but since Ubuntu (and other Linux distributions) allow us to have multiple virtual desktops with one screen active, we may as well liven up things a little.
So if you have Ubuntu freshly installed and want to try out the cool 3D desktop cube effect, you've come to the right place.
Obtaining Compiz Settings Manager
First of all, you'll need to have the appropriate hardware. Pretty much any recent graphics by Intel, Nvidia, or ATI should do as long as there is an Ubuntu driver for acceleration. Generally you'll know if you have the drivers because Ubuntu would have asked you about installing "restricted" drivers for the video card chip shortly after installation.
A test to see if you have compatible video is to select System → Preferences → Appearance, click the "Visual Effects" tab, and select "Extra" and "Close." Then drag any window somewhere on the desktop. If the window edges are "squiggly" then graphics acceleration is working.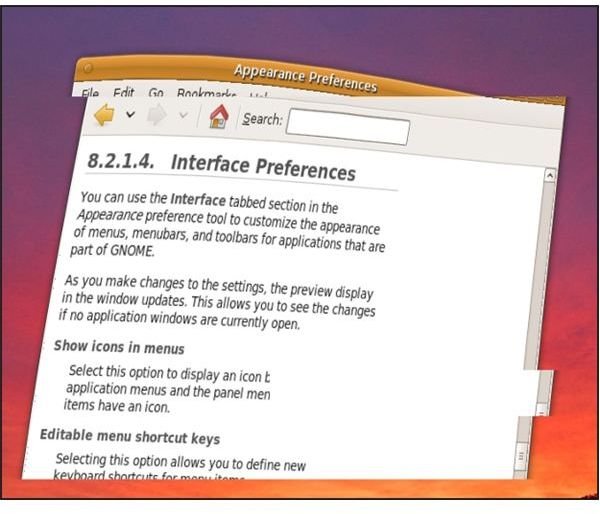 Next, you'll need to add the effects manager. To do this, open Synaptic Package Manager under the System → Administrative menu. Using the "Quick search" field, enter
compizconfig
You should see "compizconfig-settings-manager." If it's listed under the "Installed Version" column as already installed, you're good to go and can skip down to the next step.
However, if you need to add it, check the box and click "Apply" in the toolbar. Then follow the prompts to complete the installation.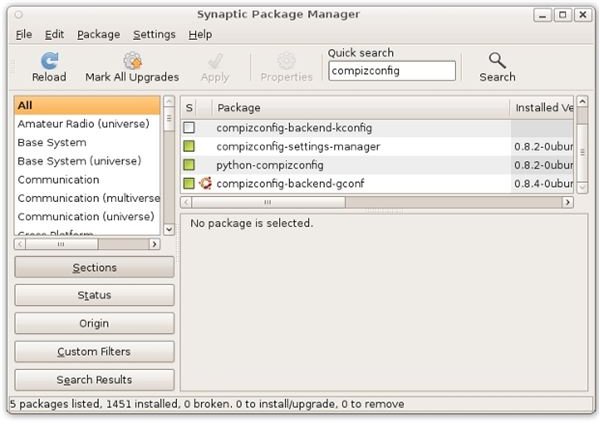 Or, alternatively, if you know that you haven't previously installed it, you can open a terminal and enter
sudo apt-get install compizconfig-settings-manager
and then follow the prompts to complete the installation.
Enable the 3D Cube in Settings
Start CompizConfig by selecting System → Preferences → CompizConfig Settings Manager.
The first step will be enabling four virtual desktops (in order to have a cube). In the left-hand menu, click on "General" and then click "General Settings" on the right. Click the "Desktop Size" tab and adjust the "Horizontal Virtual Size" slider to four. And then click "Back."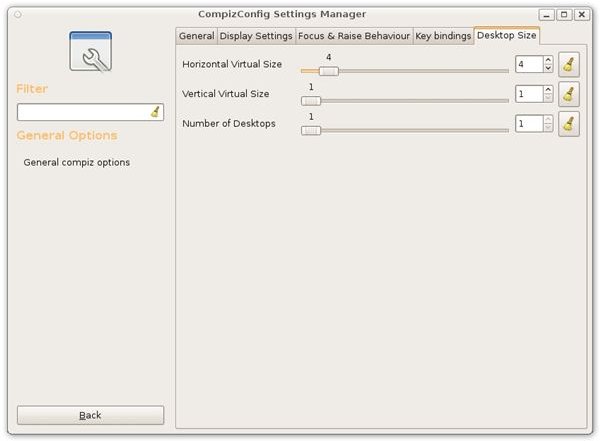 In the left-hand menu, click "Desktop." Then select "Desktop Cube" (this will de-select "Desktop Wall"- that's fine) and "Rotate Cube."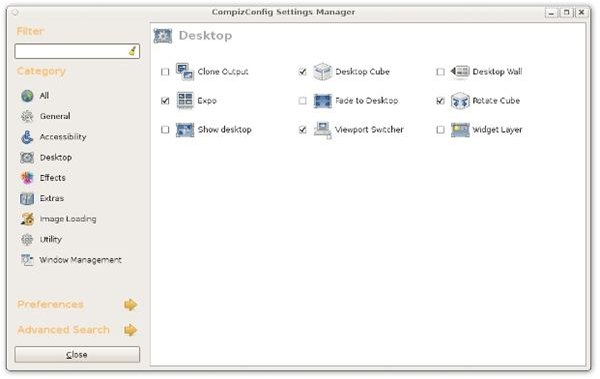 And that's it. Click "Close" to exit CompizConfiz.
Starting the 3D Cube in Ubuntu
To start the 3D cube, press Ctrl + Alt + left-mouse and drag the desktop to left or right. And, yes, that's a handful using a navpad on a laptop, but it's not too terrible.
Here's what the cube looks like.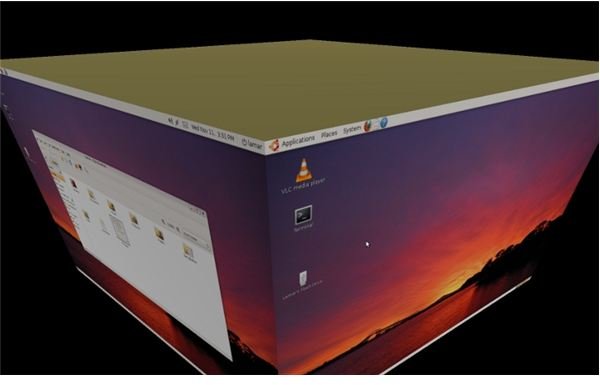 As a variation, you can also get a circular effect, as shown below.
This is done in CompizConfig Setting Manager by selecting "Cube Reflection and Deformation" under "Effects." Unselect "Desktop Cube" and "Rotate Cube" first in order to avoid some confusing error messages, and then go back and reselect each.
In the image below, that's Hulu Desktop running in 64-bit Ubuntu. Although the system resources of the application are a bit high, it continued to run in full motion and sound as the desktop was rotated.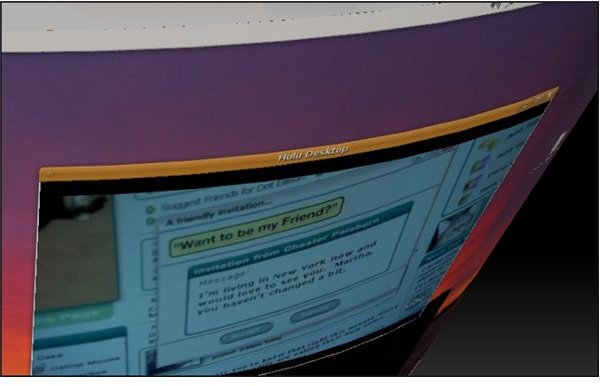 And, in case you're wondering, to get a screen shot when the 3D cube is active, press Ctrl + Alt + left-mouse and drag the desktop to where you want to make the snapshot. Without releasing the mouse or the Alt key, release the Ctrl key and press PrtScr.
Related Reading
How to Install "Device Manager" in Ubuntu – Is there an Ubuntu equivalent for the Windows Device Manager application? Yes, there IS a similar application, but it's not installed by default, and the focus of the program has less to do with drivers than it does with properties, which are, in fact, types of different messages in Linux.
Adjust or Turn Off Screen Inactivity Dimming in Ubuntu (Blog) – If you like to work with your laptop running Ubuntu nearby, you may object to the way Ubuntu likes to dim the screen after a few minutes, even when the laptop is plugged in. In Windows, you'd go poking around in the screen-saver settings to find this. In Ubuntu, look in Power Settings instead. System → Preferences → Power Management…
How to Undelete Files in Ubuntu – Although there's no common "undelete" command for a Linux EXT3 file system, you can recover many types of accidentally erased files, including documents, graphics, and system files using the "Foremost" console application. Here we'll look at installing it in Ubuntu and giving it a test run.