AT Motherboard Power Connector
Although not commonly seen anymore, the AT motherboard power connector was once an almost universal connector for PCs. This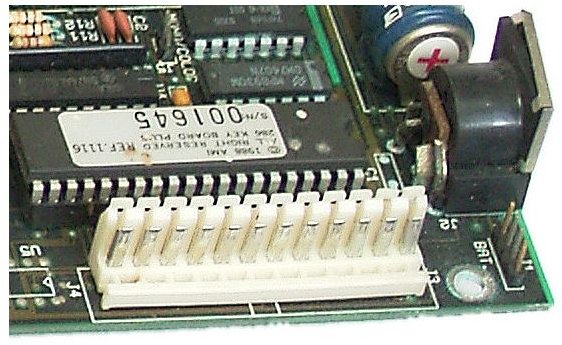 connector was one continuous header on the motherboard and matched two matching connectors coming from the power supply.
One half of the AT power connector included a pin for the Power Good signal, positive 5 volts, negative 5 volts and ground. The other half featured ground, negative 5 volts, and positive 5 volts.
Unlike the ATX power connector that superseded the AT-style connector, the AT power supply had no pins that enabled the computer to power on or off remotely based on signaling from the computer. Power was manually switched via a push on / push off switch that was wired directly to the power supply.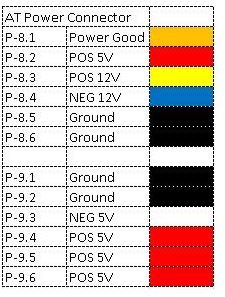 ATX motherboard power connector pin out image credit: Bruce Tyson
ATX motherboard power connector image credit: Wikimedia Commons/smial
ATX Motherboard Power Connector
The ATX motherboard power connector was first implemented by Intel in the mid 1990s and has since become the standard for PC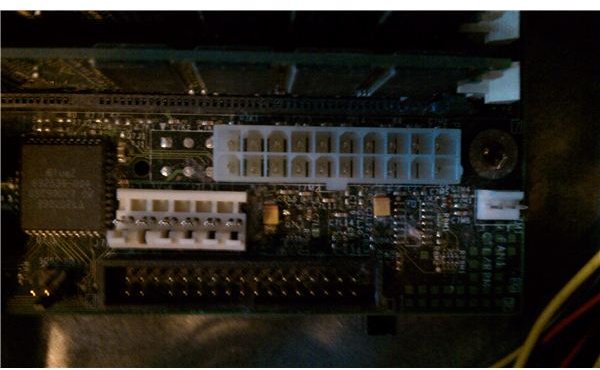 motherboards. The ATX power connector differs from the AT power connector primarily because it has 20 pins arranged in two rows of contacts in a single, rectangular connector, rather than a single row of pins.
The ATX power supply and motherboard power connector has since been modified to include a separate four pin connector (bringing the total pin-count to 24) that offers two additional sources of ground and positive 12 volts.
On the main connector, four special wires offer enhanced power control to ATX devices: Power On, Power OK, 5 volt sense, and 3.3 volt sense. These are used to keep voltages within 5% of their specified values. Negative voltages on the ATX motherboard power connector are acceptable within 10% off their stated values.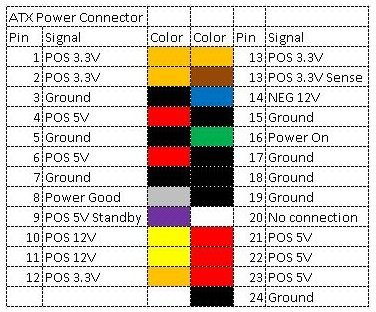 Dell ATX motherboard power connectors use compatible plugs, but may involve proprietary wiring that works only with a Dell-supplied power supply. Computer owners working with Dell computers should verify whether or not the power supply used with them is a standard ATX power source or if it is a proprietary unit.
ATX power connector image credit: Bruce Tyson
ATX power pin out image credit: Bruce Tyson
ATX12V and Beyond
The ATX motherboard power standards have evolved since first introduced to accommodate the increased power demands of modern CPUs and other hardware. ATX12V became the standard for ATX power connectors around the year 2000 when the 4 pin, 12 volt connector was first introduced.
Since then, the primary ATX power connector changed to 24 positions in 2003, removing the six pin auxiliary connector. After that, modifications to power and efficiency ratings have been incorporated into the ATX standard, but have not physically modified the ATX motherboard power connector. The 5V white wire connector was removed in version 1.3 of the ATX12V specification.
The ATX12 v2.3 update from 2003 included new efficiency and 12 volt load specifications to update the standard to accommodate Energy Star 4.0 requirements, but the connector remains the same. However, the shift away from 5 volt and 3.3 volts in favor of 12 volts suggests that it is important to check the electrical requirements of a motherboard against a power supply's ratings before installing a replacement power supply unit.
The ATX specification is very old, but modifications and enhancements to it suggest that the ATX motherboard connector will continue to be used on our computer motherboards for a very long time to come.