Core i5 Has Arrived
Finally, Core i5 has arrived, bringing Intel's new Nehalem architecture to mainstream computers. With it comes a new motherboard chipset, the P55. Those familiar with Intel's past chipsets will know from the name that P55 is aimed at mainstream products. That means affordable motherboards to go with an affordable processor. There are a few new things to know about the new P55 chipset. Among other differences from X58 motherboards, they offer the new LGA1156 socket and they use dual-channel rather than triple-channel memory. With this in mind, let's take a look at the three best P55 motherboards available today.
MSI P55-GD65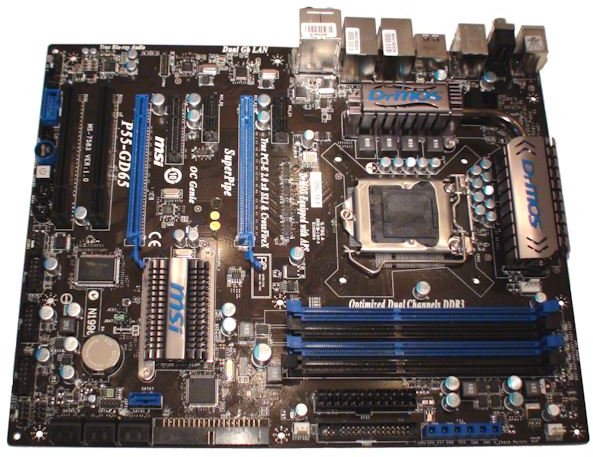 MSI has been trying to recover from a period of relative obscurity, and their motherboards for Nehalem (Core i(integer)) processors are steps in the right direction. The MSI P55-GD65 is another good example of why. At first glance, it is not likely to stand too far out from the crowd. It has a good layout, not one that is incredibly unique in any way. This should be expected, as it is a mid-range motherboard.
What is interesting, however, are the extra software and BIOS features. All mainstream motherboards seem to come with a few extras these days, but the MSI's are particularly good. The O.C. Genie seems to be one of the more effective auto-overclocking schemes available today, and there are some basic fan controls in the BIOS. The power management also does a good job.
Considering the price tag of $160 dollars, the MSI P55-GD65 is one of the best mid-range P55 motherboards.
Gigabyte GA-P55M-UD2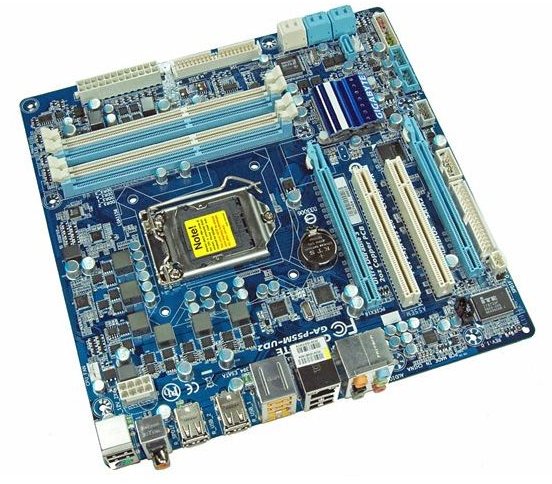 Considering the mainstream aim of the P55, it isn't too surprising that we're already seeing micro-ATX motherboards arise. In truth, these motherboards are some of the most capable micro-ATX motherboards to ever be made. They offer performance rivaling their larger cousins, good, solid layouts, and so far there doesn't appear to be any difference in overclocking potential between these small boards and the largest, most expensive models.
Getting more for less is great, but it also leaves less room for boards to stand out. Ultimately, the Gigabyte GA-P55M-UD2 gets the nod mostly because of its layout and Gigabyte's top-notch reliability reputation. The UD2 offers plenty of room for a large LGA1156 heatsink. In fact, most heatsinks won't make adding or removing RAM difficult in the least. The UD2 also uses Realtek audio, which is common on Gigabyte boards and often gives them an advantage. Granted, the UD2's $110 dollar asking price is about $10 bucks more than the cheapest micro-ATX board. But hell, that's the price of two venti frappuchinos. I think the expense is worthwhile.
EVGA P55 FTW200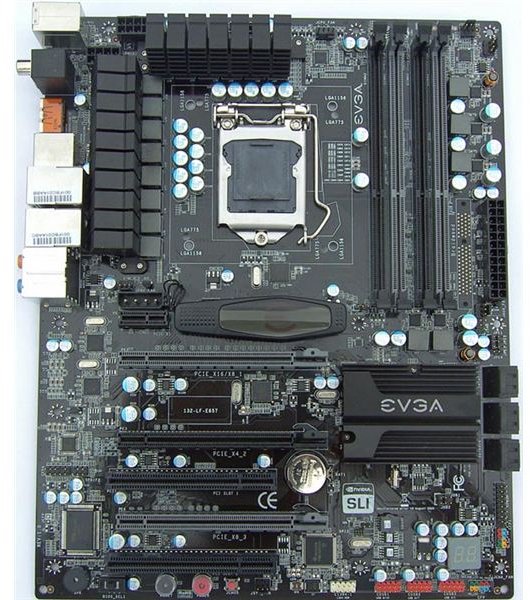 There are limited reasons that one might want a high-end P55 motherboard, eventually it makes more sense to go all the way to X58. But if you're looking for the best of the middle-ground, it would be wise to consider EVGA. EVGA has a reputation as one of the best gaming-oriented hardware manufacturers, much of which they earned by putting out a board for Nvidia's 680i, a chipset beloved by enthusiasts and gamers, that could go up against the best Asus and Gigabyte had to offer. The P55 FTW200 is another example of a great, gamer-focused, product. It is loaded with every feature one could want. This includes not only the overclocking and power-management features found in other boards on this list, but also a tri-BIOS configuration that allows for maximum protection against BIOS corruption, LED CPU temperature readouts, a clear CMOS button, and jumpers to disable PCIe slots and help configure SLI setups.
The EVGA P55 FTW200 also includes the special nForce 200 SLI chip, which provides 32 PCIe 2.0 lanes (but only when using Nvidia cards). This means it can run two cards in SLI at full x16 speed or three at speeds of x16/x18/x8. This makes it clearly better for hardcore gamers than other motherboards, as P55 motherboards without this chip only have enough PCI bandwidth to run one card at full x16, having to split lanes for dual-cards to x8/x8 and triples to x8/x4/x4. Crossfire does not gain the advantages of the chip, but can still be used.
These are features that only an enthusiast could love, and are well in excess of what most will need, and the features cause the P55 FTW200 to retail at $300 dollars. At that price a X58 motherboard is a viable alternative. This motherboard is best for high-end gamers, but workstation users will appreciate the triple-channel memory and upcoming support for upcoming Core i9 processors offered by the X58 chipset.
This post is part of the series: Intel Core Series Motherboard Guide
Considering an Intel Core i3, i5, or i7 processor? If so, you'll need an Intel chipset motherboard. This guide to Intel's motherboards will help you pick the right motherboard for your processor.