The Ultimate In Enclosures
High-end cases are something even enthusiasts rarely see. Not only are the cases listed here over $200 dollars, making them potentially more expensive than a CPU or GPU, but they're also likely overkill, with massive amounts of space and the ability to move more air than an Apache helicopter. That said, these luxury cases are not without reason. They are beautifully constructed and long-lasting, as any of these three cases will last you until the death of the ATX format, whenever that might be. And, while their features are beyond what many will need, there are people out there – you know who you are – which truly do need to have room for 3 video cards, 8 hard drives, and a PSU large enough to supply a city block. No matter your reasons, if you're in the market for a high-end case market, here are three top pics.
Coolermaster Stacker 830 Evolution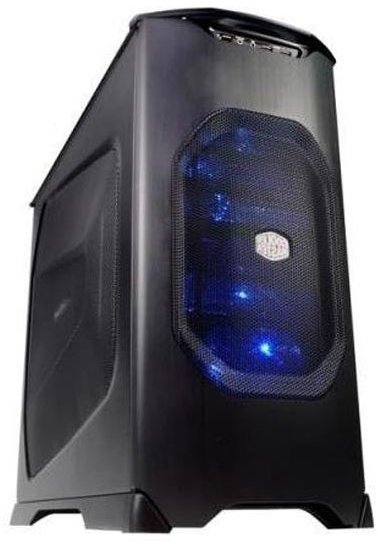 The Stacker is a classic, first arriving in 2004. Back then, it was one of the only cases to support the now-dead BTX format, and it also was one of few to completely erase 3.5" external drives as an option. Neither of those seem like benefits, but it is now 2009, and the Stacker lives on in various forms. This long life-span has been well earned, as the Stacker remains a fundamentally strong case. Its latest incarnation, the Stacker 830 Evolution, refreshes the old chassis, giving it modern features while keeping the price just slightly over $200 dollars.
When it comes to cases of this caliber, looks are important, and it is here that the Coolermaster slightly stumbles. Large and stout, the Stacker looks like the PC-case equivalent to a heavyweight wrestler, but the overall finish is notably blander than many other high-end cases, making it look like a wrestler with his good tights at the cleaners. Open up the Stacker, however, and you'll find plenty to appreciate. As you would expect from a case of this price, the interior is cavernous and expertly finished. No sharp edges are to be found, nor is there anything that obviously rattles. In comparison to some other high-end units, the current Stacker's format looks somewhat outdated. The power supply is at the typical top location, and there is only one compartment inside. That downside noted, the Stacker otherwise lives up to much more expensive high-end rivals by providing completely tool-less installation, a battery of USB and audio jacks located at the top, and massive vents on every side of the case.
And that reveals the ace up the Stacker's sleeve – Airflow. With huge vents on the front, top, and sides, there are plenty of ways for air to come and go. The stacker includes, in addition to the typical front and rear fan mounts, a total of four 120mm side fan mounts. In this configuration, the entire case practically becomes a fan. The aluminum materials and separate compartments for drives and power supplies found in other cases are notable, but no case compares to the Stacker when it comes to moving air.
Silverstone TJ07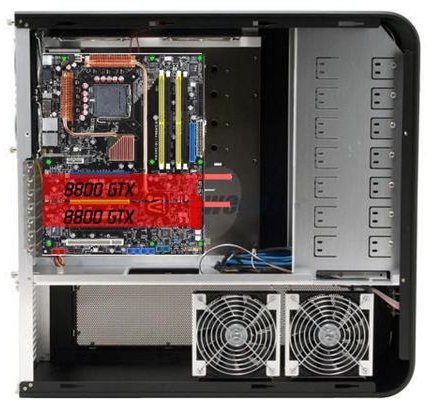 The blandly named Silverstone TJ07 is easy to pass over at online retailers. It lacks the massive fan mounts, transparent side windows, or LED backlighting many cases offer. But, that is Silverstone's point. Finished in a silver or black aluminum case, with clean, smooth lines displayed from any angle, Silverstone's TJ07 is like a luxury car; twenty years from its debut, it'll still be looking good.
The TJ07, at less than two feet in both height and depth and less than 9 inches in width, is very reasonably sized for a high-end case. However, it still has plenty of room inside, thanks to a unique layout. The power-supply and the hard-drives remain on one level at the bottom of the case, kept in a separate compartment from the motherboard and the external drives. There are numerous reasons why this is good, not the least of which is that it will significantly help with case temperatures. The HDDs, Motherboard, and Power Supply are all kept in their separate areas, with fans that send air directly to those components – and only those components. And most of the other features you'll typically want in a high-end case are here as well, including a tool-less design, room for 6 3.5" internal drives and 7 5.25" external drives, and full support for E-ATX.
The only downside to the Silverstone is that its front panel is not as well designed as the Stacker's. There are only a few ports, and most importantly, they are located rather low on the case. This will likely mean a longer distance of cord strung between your perpheials and your computer. The elegance of the Silverstone TJ07 will attrack some users but likely turn off others who would like to see their money buy some more flash.
Zalman Z-Machine GT-1000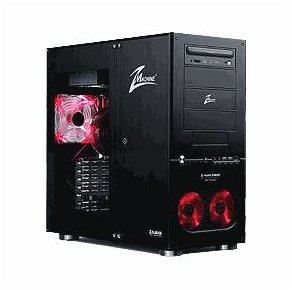 Zalman is best know for their coolers and fans. But they also offer high-end cases, perhaps the most famous of which is the Z-Machine GT-1000. If the Stacker is a heavyweight wrestler, the Z-Machine is a heavy tank. Although built out of aluminum, the panels are incredibly thick. This gives the impression that the Z-Machine could double as an infant's bomb shelter, but it also makes the Z-Machine a bulky, heavy computer to work with. But even so, the heft may be worth impressing friends – one look at this, and you'll realize why it costs around $400 dollars.
Despite its bulk, the Z-Machine isn't hard to work with. This is thanks to a very unique split-door design which allows the user to access the motherboard area or the drive bays without opening the entire case. The feature itself is thoughtful, but the solid, well-built doors make it truly helpful. Need to upgrade a hard drive? No problem at all – simply open the door, put the hard drive in, and close, without sliding off the entire side panel of the PC.
The Z-Machine is also showy, which some users will surely enjoy. The two 92mm fans in the front, when fitted with LED fans, look very attractive or very menacing, depending on the color you choose, while the rear fan offers the same effect for the motherboard area, which is shown to the world through a high-quality side panel. If the Stacker and the Silverstone are too plain for your tastes, then the Z-Machine should fit the bill.
There is one problem. In comparison to other cases in this size and price category, it doesn't have that many drive bays and it doesn't fit anything larger than an ATX motherboard. The 6 3.5" internal bays is fine, but 4 5.25" external bays is rather skimpy. There are fewer fans, too, as the Z-Machine only fits one 120mm fan in the rear and two 92mm fans in the front. For a case with such a high price-tag, these are odd over-sights, but they likely represent the compromise needed to create a case that will probably outlast human civilization.
This post is part of the series: Home, Gaming & Office Desktop Cases
Wanting a standout case for your Home, Office or Gaming PC. Here we discuss what to look for in computer casing? And review the best budget and high end cases.