Internet Connections: Marriott Hotels Rates and Resources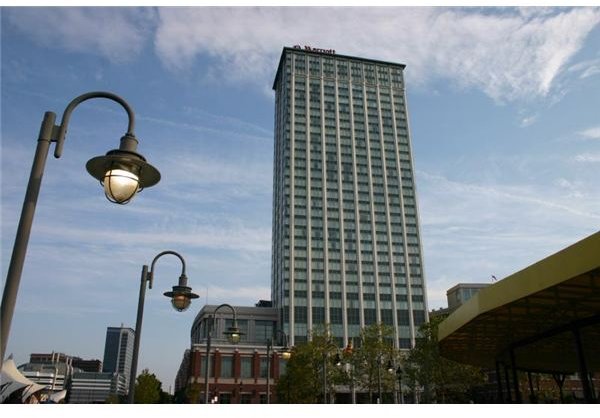 Internet connections at the hotel are more than a just a convenience these days, they are a necessity, especially for business travelers. Choosing a hotel for a stay may come down to this very amenity. Every Marriott hotel offers an Internet connection of some sort and depending on your preferred customer status with them it may come free with the room.
Internet Connection Marriott Hotel Rates
The variable nature of the Internet rates at CourtYard by Marriott**,** Fairfield Inn & Suites; SpringHill Suites; Residence Inn; and TownePlace Suites are dictated by location. For travelers who are not part of the Marriott Gold or Platinum customer club these rates stay in the range of $9.95 to $12.95 a night (this fee also includes unlimited local and long distance calling). This rate will get you access to the Internet security code for the hotel server so that you can attain access.
Insider Tip - If you are lucky you might get complimentary access if you ask for it from a particularly nice front desk member or concierge.
Wired and Wireless Internet Connections at Marriott Hotels
While most of the larger market locations offer wireless access throughout the hotel there are still small markets that are stuck with temperamental Ethernet connections that are at the whim of inconsistent providers. There are numerous horror stories on travel websites about horrible internet connectivity in some of the Marriott locations. Do a quick Google search to identify if the Marriott you are looking to stay at has had any of these complaints.
TownePlace Suites offer free Internet connections in the lobby only while participating CourtYard Hotels may offer both lobby and in room access when you book rooms online.
Fairfield Inns offer free Wi-Fi in the lobby and free wired connections in every suite while Residence Inns offer Wi-Fi in both the lobby and suites.
Insider Tip – Although the majority of Marriott Hotels have no problems with Internet connectivity if it is a necessity for you call the hotel and verify the typical access speed and any issues that may cause loss of connection during your stay (internal remodeling or external construction are typical reasons).
Deals on Internet Connections at Marriott Hotels
Enrolling in the Gold or Platinum customer club will earn you free internet access every time you book a room. According to the Marriott website "Internet access for Gold and Platinum Elite members is available at the following full-service brands - JW Marriott Hotels, Marriott Hotels & Resorts, Renaissance Hotels, and Autograph Collection Hotels."
ABNsave members can get free internet by reserving online at Courtyard by Marriott.
Insider Tip – Travel Agents are great assets when planning a trip with stays in multiple locations. Let them find you the perfect Marriott and find the best deals for you on internet service. Often they can get deals that a regular customer cannot.
References
https://www.marriott.com/news/detail.mi?marrArticle=179606
https://www.marriott.com/marriott/high-speed.mi
https://www.flyertalk.com/forum/marriott-rewards/518256-internet-connection-problems-fs-marriotts.html
Image courtesy of Showbyphotos