Shopping for 22″ LCD Monitors
Modern technology offers incredible amounts of screen real estate at incredible prices when it comes to computer monitors. Here we look at a Dell 22" LCD with Webcam and two other competing monitors that offer their own strengths. Use the information below to help get your shopping effort started.
Dell SX2210T
The SX2210T is a Dell 22" LCD with Webcam that also features a multi touch screen. This energy efficient monitor comes with a stand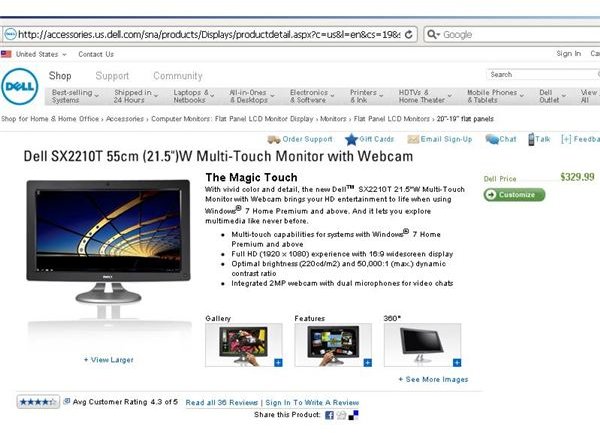 and is backed with a three year warranty, making it a preferred solution for business and home-based customers of all types.
This high definition monitor displays video at 1920 x 1080 monitor with a 16:9 wide screen perspective. Its high brightness and high contrast settings provide an optimal viewing experience,
A built-in 2 MB Webcam makes it easy to conduct online meetings, video chat sessions, and video calls. Users can use it to record Web video clips and product highlight videos that can help with both online and traditional sales models.
The touch capabilities of this Dell 22" LCD with Webcam make it easy to edit photos, upload multimedia, surf the Internet using Internet Explorer or perform other common tasks on computers with Windows 7 Home Premium or better installed.
The Dell SX2210T multi touch monitor is available from Dell for just under $330.00.
ViewSonic VX2255wmb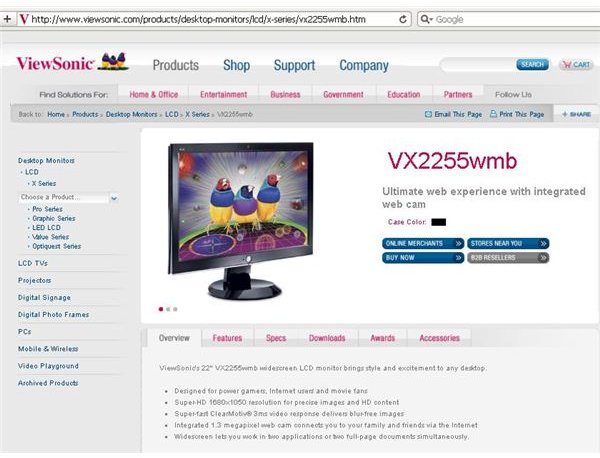 The VXDS2255wmb 22" LCD widescreen monitor from ViewSonic brings high quality, high definition video to the desktop without the additional expense of an integrated touch screen. A screen resolution of 1680 x 1050 and an ultra fast 3 millisecond response time makes this a perfect monitor for gamers, graphics design, and other exacting applications.
An integrated Web cam features a 1.2 megapixel resolution, but is still capable of video chat and video conferencing that is perfect for home and office users.
Productivity enhancements with a monitor of this size and resolution should not be overlooked: users can display two full size pages side by side simultaneously, making it incredibly easy to create reports and PowerPoint presentations and to develop software applications.
The ViewSonic VX2255wmb costs $180 at the ViewSonic Web site.
AOC V22+
Another strong competitor to the Dell 22" LCD with Webcam is the AOC V22+. It comes equipped with cutting edge WLED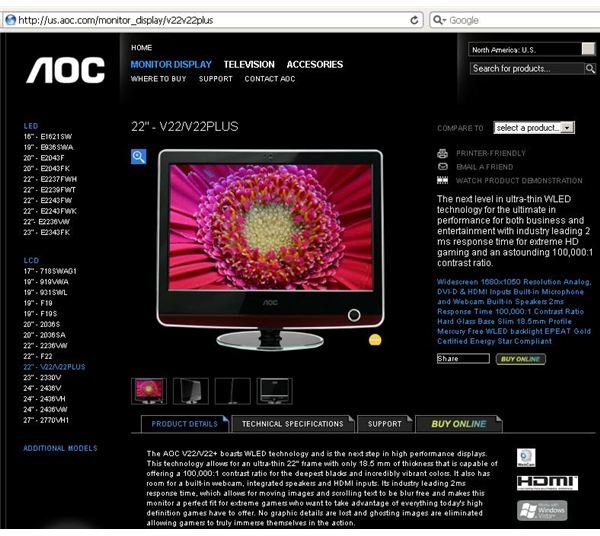 back light technology and features an ultra-thin profile design, an ultra-high 100,000:1 contrast, and HDMI inputs to make this a perfect solution for practically any user. An impressive 2 millisecond response time guarantees that games, videos and movies will be displayed with consistent smoothness that is hardly matched by competing solutions in its class.
The AOC V22+ monitor with Web cam can be bought at CommEuro.net for just over $242.
Summing it Up
The Dell 22" LCD with Webcam is just one of a variety of versatile high definition, high resolution monitors with integrated Web cams that can fill numerous roles at home and at the office. Shoppers should carefully consider the strengths of each model and select the one that offers the best fit for their needs.
Image Credits: Screen shots taken by Bruce Tyson