Overview
During tough economic times, management evaluates existing expenses to identify and control unnecessary costs. Because labor costs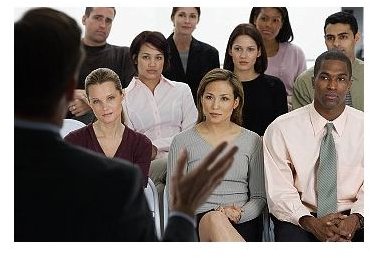 typically absorb the highest percentage of operating expenses, companies may temporarily or permanently reduce their workforce by laying off existing workers. When initially communicating this news, it is important that the proper message and tone are conveyed to ensure (1) employees immediately affected receive the information they need for a smooth transition and (2) other stakeholders perceive management's decision as purposeful but also sympathetic.
Additionally, employers must set a tone that is in compliance with any local, state, and federal laws in effect. In this article, we will review the essential components to include in a general layoff letter as well as provide a brief overview of the Federal Worker Adjustment and Retraining Notification (WARN) Act.
Image: Corbis Royalty Free, Tom Grill
What They Need to Know
When preparing a layoff letter, the first paragraph should be used to explain the employee's state of employment, and the remaining paragraphs should describe how management's decision will impact the employee in the near future. The letter should clearly communicate to the employee any information relevant to immediately understand the purpose of the letter and the information should be provided as succinctly as possible. A sample layoff letter can be viewed in Bright Hub's Human Resources Media Gallery. Generally, a layoff letter should include the following:
An official statement that the employer is reducing its workforce and the employee's position will be ended.
An explanation for the reduction in the workforce.
Whether the layoff is temporary or permanent.
The employee's separation date and, if temporary, an approximate return date.
Details regarding any available severance package, including details regarding available benefit packages. (To learn more information regarding severance packages, read Bright Hub's article entitled Sample Severance Packages.)
Explanation of any state or federal regulations, such as COBRA, that may affect the employee.
If applicable, overview of the company's Employee Assistance Program and any enrollment requirements.
Name and phone number of the HR person who will be the employee's contact during this transition.
The Federal Worker Adjustment and Retraining Notification Act (WARN)
Finally, if the organization meets certain requirements, it must provide the affected worker's notice of a potential layoff under the Federal Worker Adjustment and Retraining Notification Act, or WARN act. Under these guidelines, you must provide employees notice 60 days prior to the layoff. You must provide the WARN announcement to affected workers or their representatives, such as a labor union, regarding mass layoffs as well as plant closings. A notice must also be provided to the appropriate division of local government as well as the State's dislocated worker unit.
For WARN to be in effect, the employer must have at least 100 employees who are employed at the location for less than six of the last 12 months or who work less than 20 hours per week. WARN requires employers to provide notice if a site will be shut down and that the shut down will result in an employment loss of 50 or more employees during a 30-day period. WARN considers a mass layoff to be an employment loss during any 30-day period of 500 or more covered employees.
The law requires that specific information is included in a WARN notice. So, it can be helpful to use a sample layoff letter specifically tailored for these circumstances. To meet WARN requirements, HR should include the following:
Whether union bumping rights exist
Name of unions representing affected employees
Name and address of the chief elected officer for each union
To learn more information regarding the WARN act, please visit the United States Department of Labor's website.