Most of us do not have a 100% ideal home office. Keeping your workspace to yourself during your work hours can be difficult, but maintaining your workspace during homework hours or during someone's Myspace coma proves even more difficult. There are some simple ways to keep complexity and organizational disasters from ruining your home office feng shui.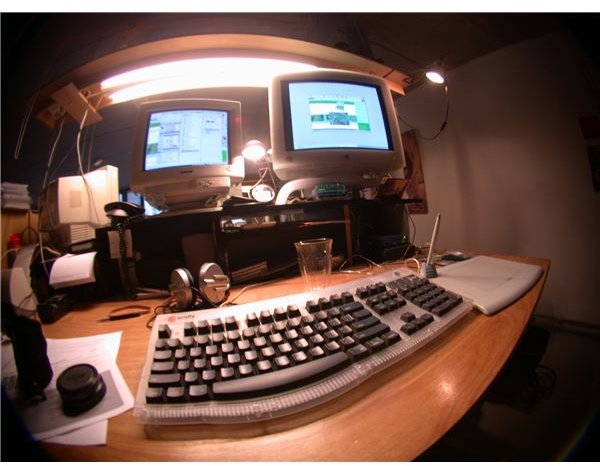 Furniture
Label Makers
If you don't have a label maker, you should get one, especially if you have children. Sharing space with others means you need to define what is yours and what is theirs. Young children and non-work from home spouses will benefit from a clear definition of what they are and are not allowed to touch, rearrange, set their drink on top of, etc.
Drawers
If you have a desk with a row of drawers, a file cabinet with empty space, or even a shelving unit that can be parceled out, make some room for others. You can label the drawers with each person's name and allow them to store the items they need in their own drawer. It is easier for everyone if each person has a space within reach of the computer where they can store the things they need quick access to, like pens, paper, or homework notebooks.
Bins
Stackable desktop bins can help everyone's to-do list. Assigning a bin for each person to sort their mail, assignments, and urgent items is a great way to keep everyone on task when they're working in your office. This also makes it easier to jot notes to the family or roommates and stick them in their bin, without leaving your desk area. If you're a Post-It or whiteboard family, you will appreciate the efficiency of personal inbox bins.
Large stackable bins can be tucked into a corner of your office to store larger items that are needed less often. Every item that doesn't need to be in the immediate area of the desk and computer should be stored in the large bins. There are inexpensive plastic bins that you can find almost anywhere or you can get a shelf with cloth drawers/bins that slide out for a fancier look.
Student Desks
If you have the space available in your office, purchase a small desk or a small task table and chair for work that doesn't involve the computer. You can also create a homework area for your kids in a corner of your office. Student desks can sometimes be found at yard sales and thrift shops. Buying them new can be expensive, but finding them cheap is a serious hunting job. An inexpensive computer desk might also serve the same purpose.
If you're on a really tight budget, consider buying stackable bins with flat tops and a table top, or even a sheet of plywood. Use the bins as the table legs. Just make sure it's not wobbly before you allow children or accident-prone individuals to use it.
Computers in a Shared Home Office
Desktops
If you haven't done so already, create accounts on your computer for each person in your household who uses your computer. It allows everyone a bit of privacy and cuts down on accidental deletion. Each person may then customize their desktop to have access to the programs they need most often, organize their folders to suit their own needs, and cut down on time spent digging through files to find something.
Online Calendars
Getting everyone's schedules together can be tough. Forget using pen-and-paper planners for multiple people. Have each person in your household sign up for an online calendar like Google Calendars. You can all share your calendars with each other. If one of your kids has a huge project due that will require some long hours in your office, then you will know ahead of time that you won't be able to do any after hours work on days when she is working on her project. Getting everyone's schedules coordinated can save time, money, and arguments.
Cost Concerns When Sharing a Home Office
If you have a large office and a bunch of money to spend, buying small desks for each person and creating a lovely organization system should be a much simpler task. Check out The Container Store or Ikea. If you're on a tight space-and-money budget, try Bed, Bath, and Beyond, Wal-mart, and Big Lots. They often have great sales on office furniture and organizational tools like drawer dividers, bins, and desktop organizers.