Overview
GnuCash is a fre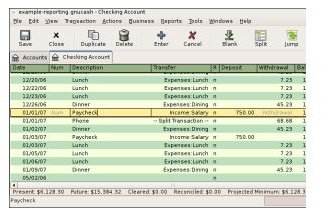 e, open source double entry accounting program meant specifically for personal finances or small businesses. It is based on professional accounting principals which makes it easy to maintain balanced books and produce professional reports.
As a personal finance tool, you can as well as stocks, bonds and loans. As a small business tool, it can be used to track customers, invoices, and employees. You can even create files for both your personal finances and your business and switch back and forth with ease.
Features
It is incredibly easy to set up. When you start a new file, you will be asked what set of accounts you would like to create. Examples of the account sets include business accounts, and household accounts. The business account has categories such as Sales and Accounts Payable, while the Household account has categories such as Mortgage and Car Loan. Once you select a set of accounts, you can add or delete categories to meet your particular needs.
GnuCash allows for the import of both .QIF files (used by Quicken) and .OFX (Open Financial Exchange) files. Which means you can download your information from your online banking account and import it directly into GnuCash.
There is detailed documentation. Many open source programs work great if you know what you are doing, but do not have good documentation. The documentation for GnuCash consists of a complete help menu as well as a detailed tutorial. The tutorial even has an overview of basic accounting principals.
What it can't do
At this time, GnuCash does not have an integrated payroll system. You can track payroll expenses but the calculation of taxes and deductions is not supported.
You cannot export .QIF or .OFX files. If you need these types of files for your accountant, this is probably not the software for you.
Although it has an online banking feature, it only allows you to access German accounts. Instead, you have to download the information in .QIF or .OFX format and import it.
Conclusion
If you are looking for a full featured accounting program to track your personal or small business finances, GnuCash is a viable alternative to the more expensive software. However, if you need payroll support, prefer online banking support, or send .QIF files to your accountant for tax purposes, this software will not meet your needs.