Credit Card Guidelines for Businesses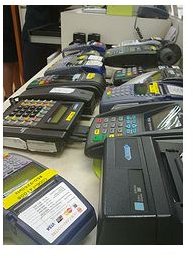 If you're a new business owner you've probably opened up operating and payroll accounts at a bank. The easiest way to ensure you are following correct credit card machines for business procedures is to utilize the credit card merchant services your bank offers, however, they may not be the cheapest.
Along with offering credit card merchant services, your bank can help you lease or purchase a credit card machine that is approved by the Federal Trade Commission or FTC. This is the safest route, but there are many ways to find deals on approved credit card machines while still remaining within FTC guidelines.
Since December of 2006, the FTC states the credit card receipt you give to your customers must be "truncated" or only include the last five digits of their credit card number and the expiration date must not be visible. For example:
ACCT: ************12345
EXP: ****
For more information on the FTC guidelines, visit the FTC's website on credit card slip requirements.
Affordable Credit Card Machines
The credit card machine for a business you lease or purchase must be what is called Payment Card Industry compliant or PCI compliant.
Leasing a Credit Card Machine – Because you will probably use a credit card machine for quite some time, it's better to purchase one than lease it. As with some equipment leases, you may have lease fees and lease end options that aren't favorable. Some credit card machine leases will require you to pay fair market value for the machine at the end of the lease or enter into a new lease for the same machine. To save dollars, skip the lease option.
Purchasing a PCI Compliant Credit Card Machine – The most affordable place to find a PCI compliant credit card machine is through eBay. Often you can find a machine that meets your needs for under $300 and replacement rolls can be purchased through any office supply center. Be sure you are bidding on a PCI compliant machine or ask the seller a question before you bid. Hypercom and Verifone are two reliable brands.
Credit Card Merchant Services
As stated earlier, you can utilize your bank for your credit card merchant services account, however, some banks require you lease a credit card machine directly from them and banks may not charge the lowest merchant fees. Here are a few places and tips to find the best credit card merchant services:
Advanced Payment Solutions – This Company guarantees to offer you the lowest rates on merchant services or they will pay you $500. They also offer free equipment, however, inquire on the free equipment. You may have to pay monthly fees that cost more than purchasing a credit card machine on your own.
Sam's Club – If your business is a member of Sam's Club, they offer discounted rates on merchant services. Business rates for processing VISA and MasterCard are as low as 1.49% with transaction fees of $0.20.
Rock Bottom Merchant Accounts – Here, they promise rates as low as 1.09% per swiped card transaction and 1.79% for a keyed transaction. Again, although free equipment is offered, ask about monthly equipment fees and charges for supplies.
So you understand how fees work, if a person charges $50 and you have a 1.49% fee per transaction, the merchant services company will deduct $0.75 from the $50 charge.
How to Get the Best Rate For Merchant Services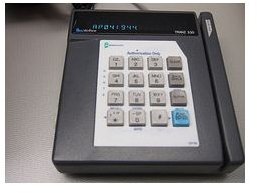 All merchant credit card service companies compete with each other and will often match your current carrier's rates. To do this, all they will require are the last three consistent months of your current carrier's statements. Do this at least every two years to ensure you are getting the best rates for both swiped cards, keyed cards, and telephone authorizations.
If you are new to merchant services, ask about different rates for different types of businesses. The type of business you are in and the higher the usage of your machine, the lower your transaction rates will be. For example, restaurants often have a high credit card usage and are offered lower rates than say, a gift shop.
Tips on Credit Card Services & Equipment
Keep these tips in mind when seeking out credit card merchant services:
VISA/MasterCard – Every merchant service company will process both VISA and MasterCard for the rate promised at the time you sign your contract. They will also be able to handle Discover and American Express, however, both of these credit card companies charge a fee on top of the fee you pay the merchant services company. This is standard in the industry so if you don't utilize your credit card machine often, you may consider only accepting VISA and MasterCard and skip Discover and American Express.
Warranty – When you purchase a credit card machine most come with a warranty, even if it is a refurbished machine. Make sure you buy one with a warranty.
Supplies – Some merchant services companies will tell you they will handle your supplies such as paper rolls or printing heads. If you own your machine, skip this route and purchase your supplies from an office supply chain, they'll be much cheaper.
Transaction Fees – Make sure you understand all the merchant service fees. Companies charge different fees for a swiped transaction and a keyed transaction. They may also charge fees for telephone authorizations. Ask to see a sample statement to ensure you understand how fees work or ask your representative to visit you after you receive your first monthly statement. No matter what merchant services company you choose, there will be standard monthly fees so find a company with the smallest fees available. Ask about merchant service chargeback fees as well.
Training – Make sure your merchant services rep assists you in set up and training. Even if you don't purchase a machine from them or use their equipment, all representatives are familiar with all types of PCI compliant machines and can easily help you train you and your staff on how to utilize their services.
A Final Word on Credit Card Machines For a Business
If you are strictly or partially an Internet-based business where people enter their credit card information via your website, be sure you have a secure server. The FTC will fine an Internet business that doesn't utilize an SSL secure server when accepting a person's credit card online.
It's also a good idea to check with your local Better Business Bureau on merchant service companies in your area to ensure they don't have any unresolved complaints. Finally, remember to revisit your credit card services every two years to keep your merchant fees reasonable.